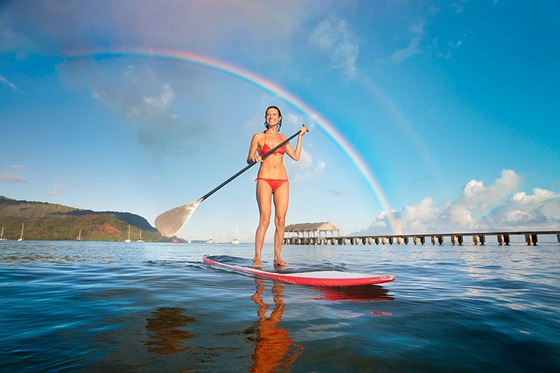 Spending time in the ocean with or without waves is one of the best ways to train your body for surfing. Stand up paddle boarding or SUP as it's known, is one of the fastest growing water sports in the world at the moment and a great sport to try on your
surf holiday
. You'll see people out in all conditions, and especially on still flat days. So what is all the fuss about?
Stand up paddle boarding started in the 1960s when surfers would use their longboards to paddle out back and then stand up on their boards to take photos of their friends learning to surf. Longer and larger surfboards have extra stability and enable surfers to fully stand up even without moving the board itself. So when combined with a long paddle it is very easy to propel yourself over the water and even catch waves early on in the line up.
SUP boards are very large, usually between 9-12ft in length, and very wide, all to create the plateau for stability. They are usually made out of a foam core centre with epoxy resin exterior, although some boards also have a wooden centre. In order to be able to carry the board to the ocean they will have a central handle in the very centre of its surface.
SUP-ing is a brilliant work out for core stability and strength, so it is often used by surfers when there is no surf to get out on the water. Balance improves, and your micro balance muscles are engaged as you balance on the board, and use your long paddle to gently push yourself over the water. A massive benefit for European surfers, is that you are out of the water, so even in the depths of winter you can be warm and enjoy those sunny cold days at sea.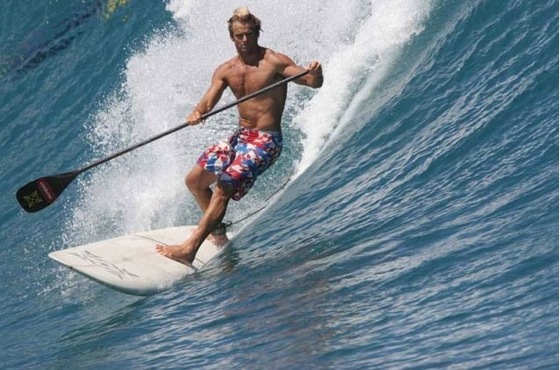 New developments in the sport of stand up paddle boarding have come about since the infamous Hawaiian water men Laird Hamilton and Dave Kalama have promoted the sport around the world. You can now do Pilates work outs on SUP boards at sea, helping to deeply work your core and balance muscles. The more time you spend on different boards, and out in the water, the better your ability to adapt in the ocean to surf different types of waves. Take a look at our
surf holiday locations in Portugal
for places to stay where you can surf and also hire SUP boards.