On those rainy lazy days when you can't face the drizzle or even moving off the sofa, there are some excellent women's surf magazines out there to get you inspired. Whether you want to view it all online, or prefer cracking open a new (recycled paper) magazine, we've put together some of our favourites to help you get motivated again. So get reading, and start planning your next
surf holiday
to help make you feel more alive.
Curl Magazine is obsessed with surfing and doing it well. Based over in New Zealand, the magazine offers advice to up and coming surfers on every aspect of surfing from 'how-to's' to competitions. It gets behind the Kiwi girls in contests as well, and even sponsors some events.
https://cooler.mpora.com

This magazine makes its way around Europe nicely as a hybrid surf/snow/skate women's edition. It is essentially British in flavour, and run by London publishing house Factory Media. It always has lots of tips on what's going on, who's doing what in the surf scene and runs a good fashion section.
Running since 2006, online magazine Jettygirl is all about the Californian way of life. Expect lots of inspiring photos, interviews with the pros and of course- SoCal fashion. Even though the surf and weather in California can make those of us in northern Europe jealous, reading Jettygirl is a little drop of that infamous sunshine and relaxed attitude.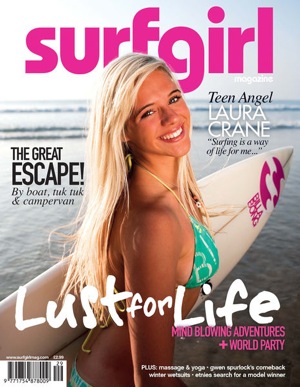 Newquay based Surfgirl has grown a lot over the last few years. Originally starting out as an extra magazine given free with UK guy's surf mag Carve, it became so popular that it was launched in it's own right. Over the last couple of years the magazine has launched it's own guide to surfing, focused on the World Championship Tour women with great interviews, and encouraged the local Cornish girls to go for it in the water.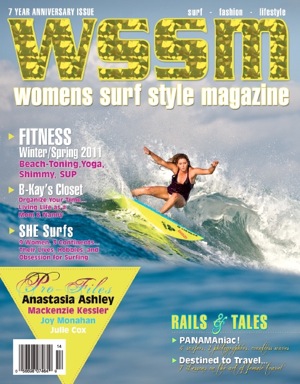 This list wouldn't be complete without the Hawaiian entry of WSSM- ie Women's Surf Style Magazine. Based over in Honolulu, Hawaii WSSM is free to the lucky surfers of Hawaii, but is paid for around the USA. WSSM has done very well and is now the number 1 women's surf magazine in the USA. The mag focuses on unknown surfers, telling the stories of great unsponsored female surfers to inspire its readers regardless of whether they are landlocked or live on the coast.