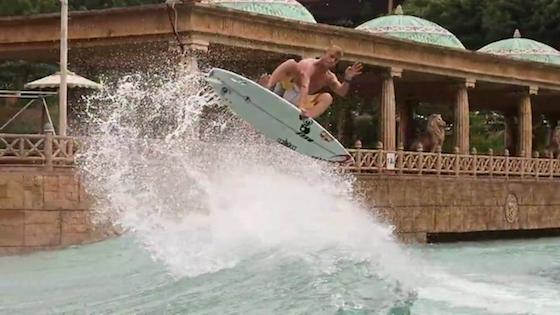 Imagine having the best wave to yourself. Then imagine that you can ride that same wave again and again, because it forms perfectly every single time. Sounding too good to be true? It might have been a dream, but amazingly there are surf wave pools all around the world that provide consistently amazing waves for surfers… if they are willing to pay for the pleasure of the experience. There are a lot of pools to choose from, however we have picked our top 5 for you to be inspired by. Check them out and possibly plan a surf trip with a difference:
1- Sunway Lagoon, Kuala Lumpar, Malaysia
Malaisie / Surf spot / Sunway Lagoon from ouisurf.ca on Vimeo.
In the heart of Malaysia lies one of the worlds biggest surf wave pools. Sunway Lagoon in the Malaysian capital of Kuala Lumpar is home to 13,000 squared metres of attractions, one of which is the amazing artificial beach and wave park. Take a look at the clip for a taste of the Malaysian style of park and just how creative you can get on the man-made waves.
2- Siam Park, Adeje, Tenerife

For anyone living in Northern Europe, the hot surf and weather of Tenerife is always a draw. For those who can't wait for the great surf found in the winter months is the Siam Park in Adeje in the south of the island. The artificial wave is perfect for fast take offs and hacking rides. For a bit of a different glimpse of the park take a look at Coolie kid and ASP world championship competitor Julian Wilson smack some airs at night.
Wave Pool Session with Mick Fanning and Owen Wright, Rip Curl Edit from wavegarden on Vimeo.
In the Basque Country in northern Spain there is the beautiful Wave Garden. Designed to consistently deliver left and right hand waves it has attracted some of the best surfers in the world. Watch top pro surfers
Mick Fanning
and Owen Wright tear into the perfectly formed 4-5 foots above.
4- Wadi Adventure, Al Ain, United Arab Emirates
If you feel like going on an Arabian surf adventure then you need to visit the Wadi Adventure park in Al Ain. The artificial wave pool defies logic as it is set out in the heat of U.A.E, so is literally an oasis for surfers looking for pumping 4ft waves. Get inspiration from one of the world's best female surfers
Sally Fitzgibbons
as she shows how to ride the seemingly endless waves.
5- Wave Pool of the future- Surf City Hui, west coast, Oahu, Hawaii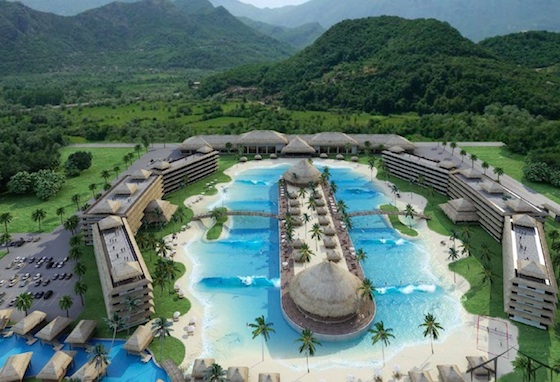 We may have heard about the top 4 wave pools, but Oahu, Hawaii is the location for yet another wave pool. Despite the North Shore of Hawaii being the epi centre for the best waves in the world, boasting the 7 mile miracle of wave upon wave, developers feel there is a place for a wave pool on the western shore of the island. The plan is for a pool that can create different types of waves, so you could even have your own custom wave. Keep a look out for more details as it develops as it is set to open in summer 2017.