It's never been easier to score perfect waves, with surf forecast websites showing where the waves are going to fire at destinations all around the world, which are often updated every hour.
We've taken a look at all the sites out there and have come up with the top 5 surf forecast websites below, ensuring you never miss out on pumping waves!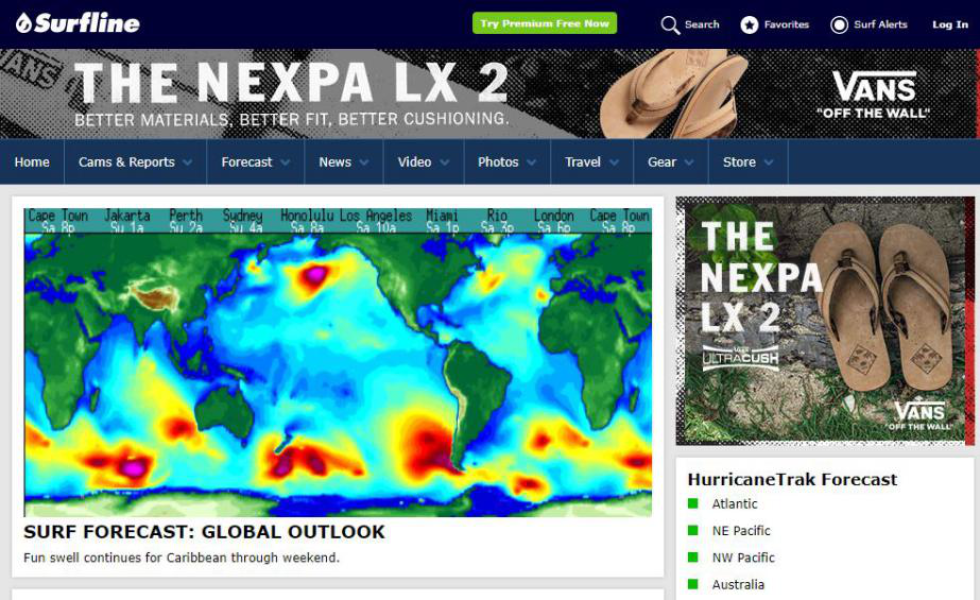 Surfline provides accurate reports for thousands of spots all around the world and is one of the most comprehensive and progressive for surf forecasting on the internet. It provides you with all the necessary data for checking your favourite surf spots around the world with some spots having hourly updates, so you can know exactly what conditions are awaiting you.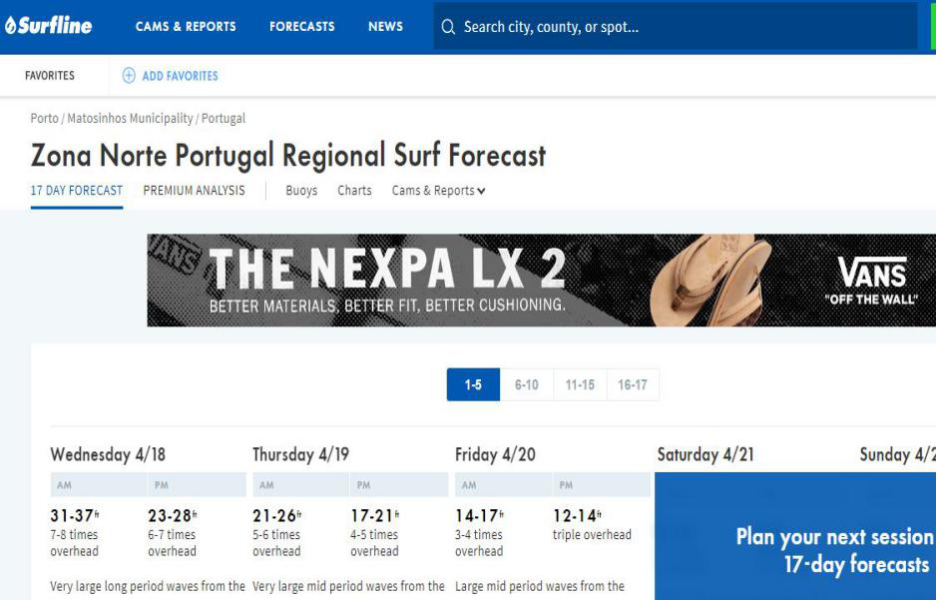 It has renowned surf forecaster Sean Collins at the helm and his teams weather and wave predictions bring in close to 100,000 site visitors per day. Aside from the surf conditions you can browse live web cams from hundreds of spots from around the world, daily weather conditions, real-time wave buoys and wave models that will give you a 5-day forecast.
Pros
Simple to use
Free
Live web cams
Travel guides
Large volume of spots
Simplified forecast
Cons
Adverts
Easy to get sidetracked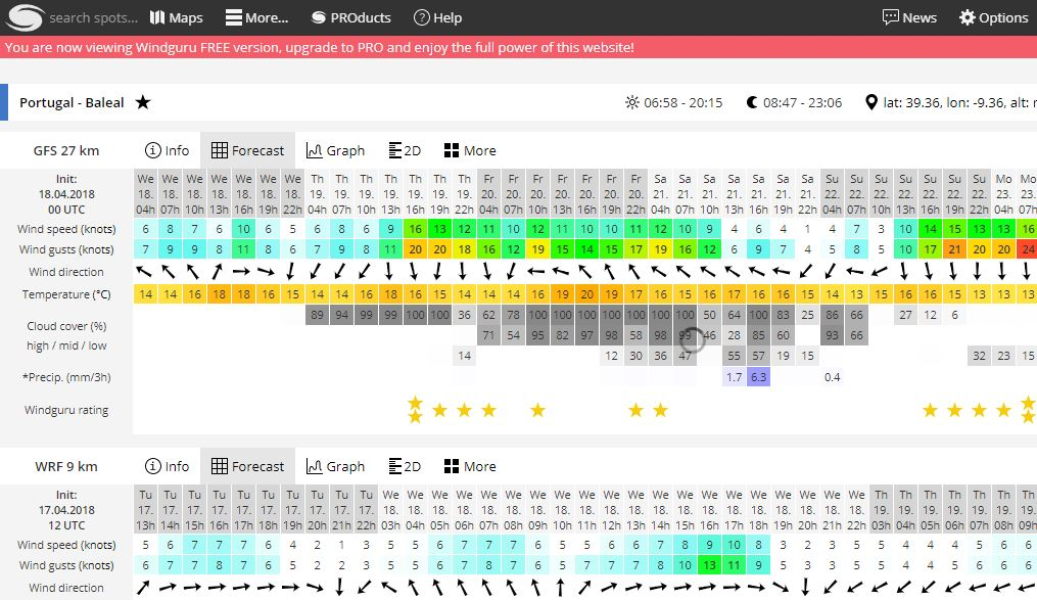 Windguru is a comprehensive wind and weather forecast site that offers reports for locations all around the world.
Simply select the region you want and Windguru will display a comprehensive graph detailing everything from swell size and direction, wind gusts, sea temperature and everything else in between.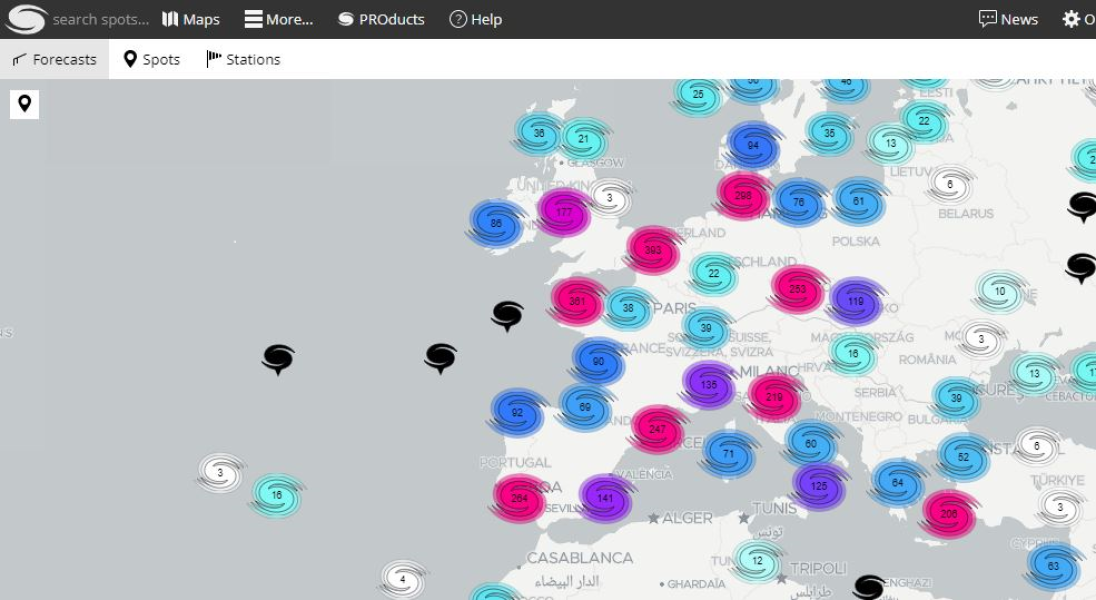 They have a spot map which allows you to select anywhere on earth as well as the top forecasts for that week, allowing you to jet off and score the best places for a surf holiday.
Pros
Extremely detailed
Hourly forecast
Live swell buoys
Cons
Hard to read if you're a beginner
Large volume of numbers and data
No live cams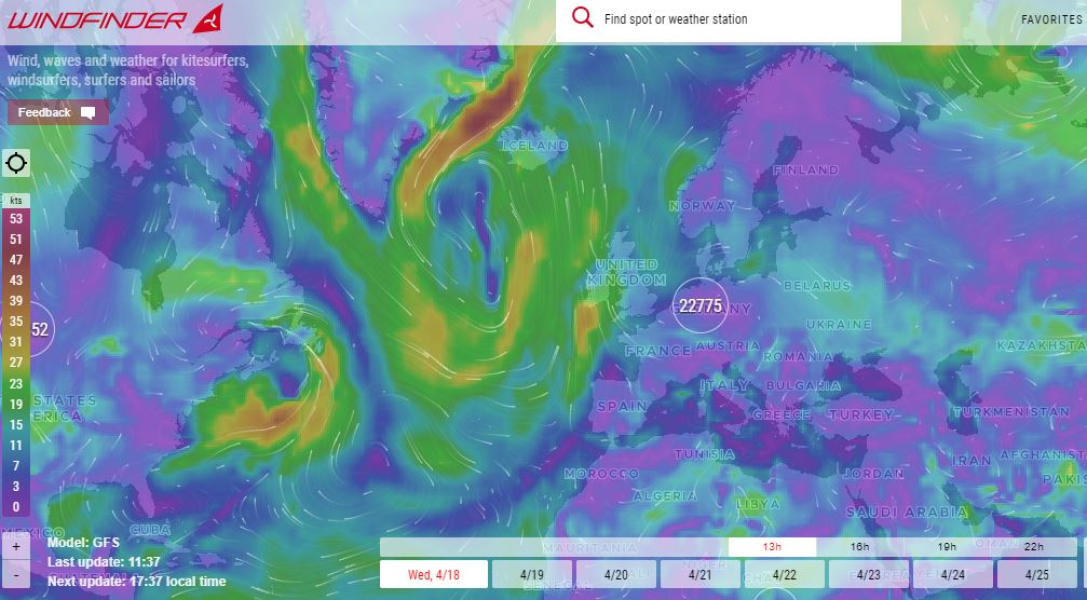 Windfinder displays wind and weather reports and forecasts for over 40,000 locations across the world.
With the detailed forecasts allowing you to find the surf spot with the best wind, waves, and weather conditions for your surf session and the current wind measurements and weather observations allow you to make your own weather predictions that will give you a head start over the other surfers.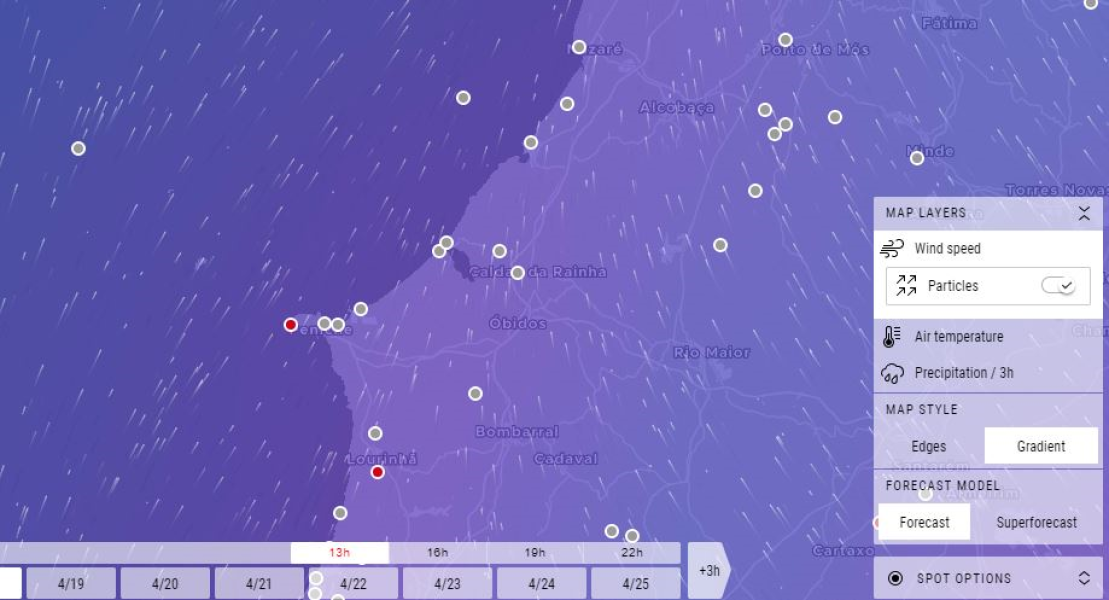 Provides details on the level of rain, density of clouds, wind speed and land and sea temperature by the hour and whilst not fancy in design, it's one of the most accurate surf report websites out there.
Pros
Clear and concise information
Easy to use
Clean layout
Hourly updates
Cons
Adverts
No simplified surf forecast
No live cams at surf breaks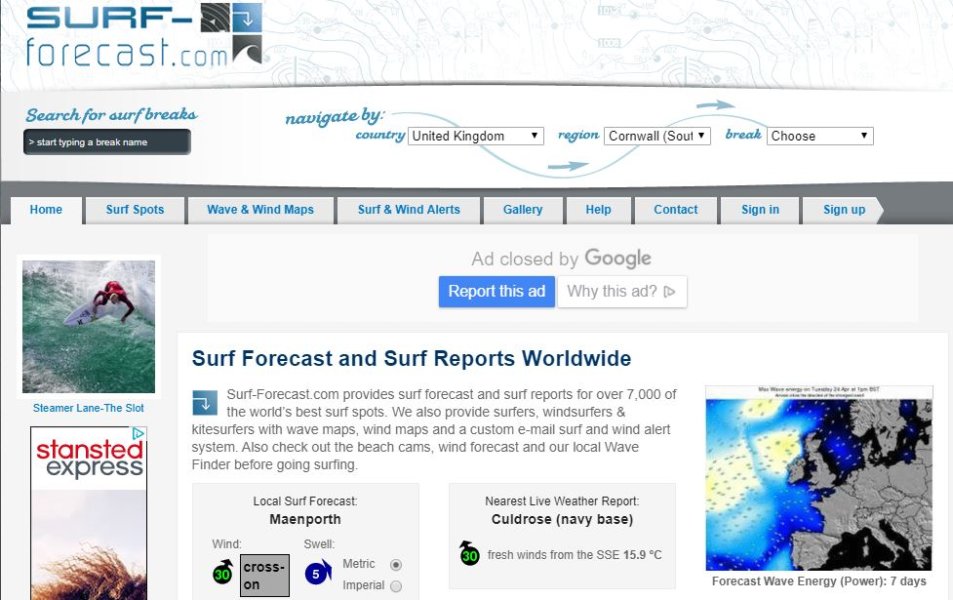 Surf forecasts and surf reports for over 7000 of the world's best surf spots, that are the perfect platform for when you're away on your surf holidays or simply trying to score a local break before the crowds.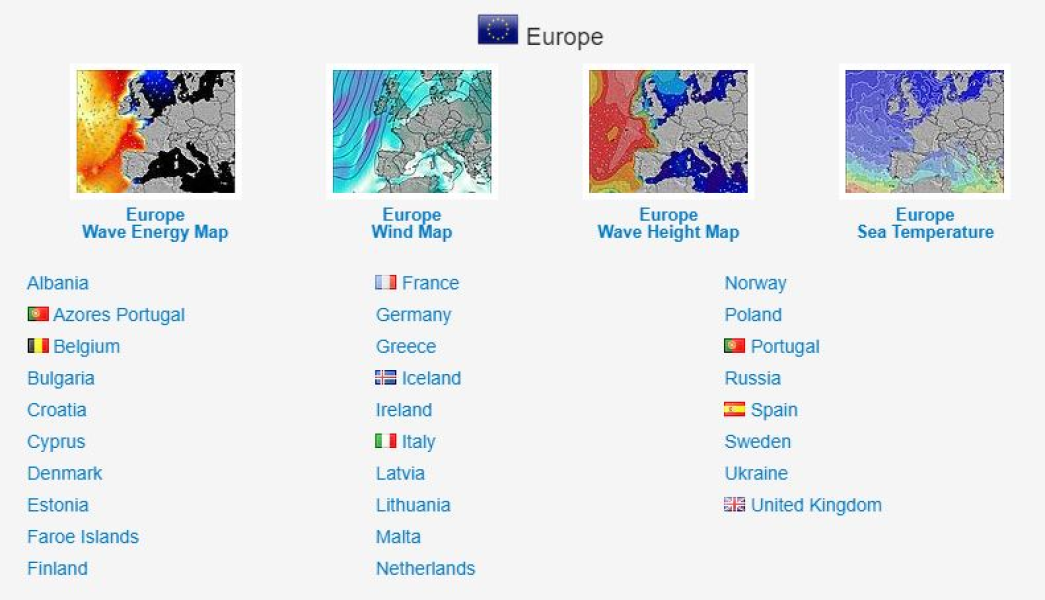 Surf-forecast has a collection of swell, wind and wave maps that will help you to see what a particular spot is going to do, along with an email alert system, which will send you a message when the waves are going to pump at your selected surf spot.
Pros
User friendly
Live swell maps
User photos uploaded to surf spots
Email alert
Cons
No live surf cams
No app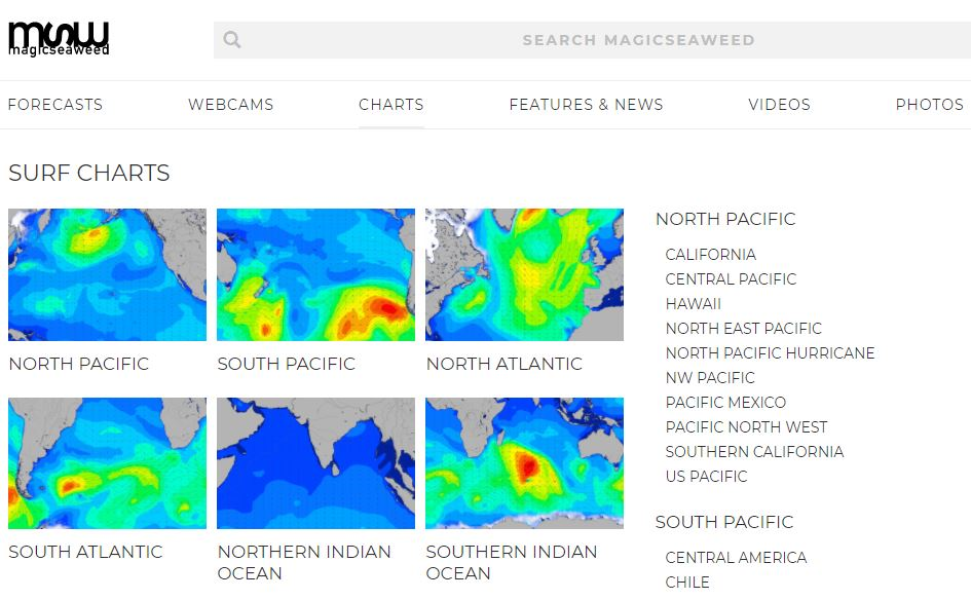 Magicseaweed is the world's largest online surf forecasting platform with 2m+ users a month, providing weather and wave forecasts over 5000 beaches around the world.
They compile their site data from offshore weather buoys, web cameras on selected beaches, and its own long-range forecasting by their in-house oceanographers working from their HQ in Devon.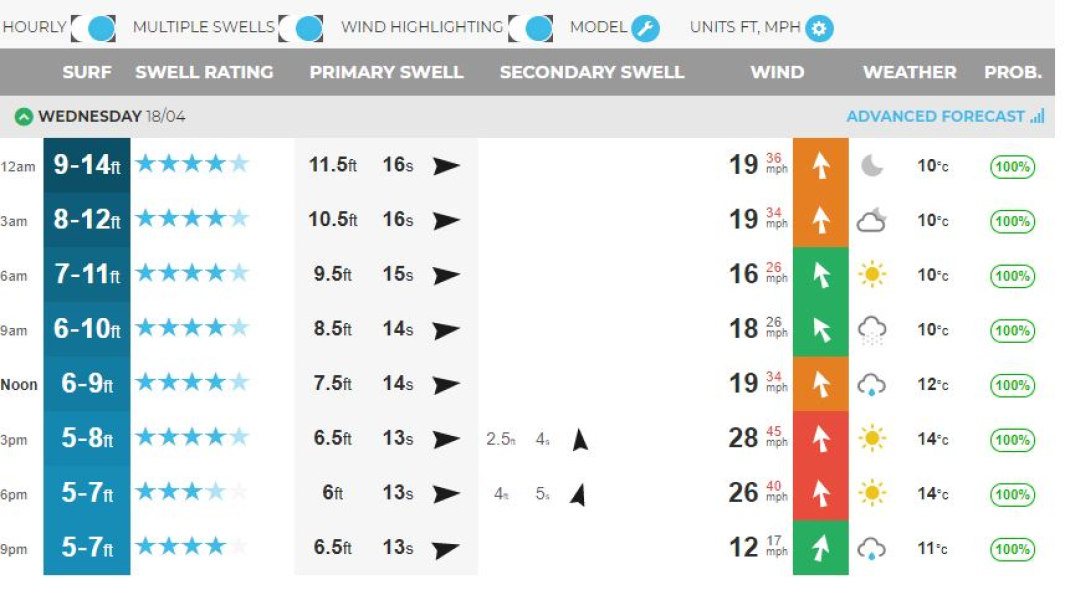 They have live cams, detailed maps and long range swell forecasts that are easy to navigate, and when you select a spot you are shown every bit of data for that break, from air and sea temperatures, wind direction, primary and secondary swell directions, user uploaded photos and Magicseaweed's own star rating for that given moment.
Pros
Easy to use and navigate
Large volume of locations
Surf cams available
Detailed weather and swell maps
Cons
Predicted wave height can be inconsistent
Adverts
To sum up
With the birth of the internet, we were given new access to the worlds weather conditions, and for surfers, that meant we were able to spot swells and weather patterns days in advance, allowing us to score perfect waves, whether that was at the local beach break or somewhere further afield for a surf holiday.
Gone are the days where surfers would be glued to the weather forecast on TV, watching for the pressure graphs and wind directions to see where the best waves would be in the coming days. The best surf forecast websites are a result of swell and wind chart analysis and they track the direction, strength and duration of incoming waves and winds, making sure you never miss a session.
For those who are wondering where these sites get the data from, and want to try their hand at surf forecasting themselves, visit the National Oceanic and Atmospheric Administration.