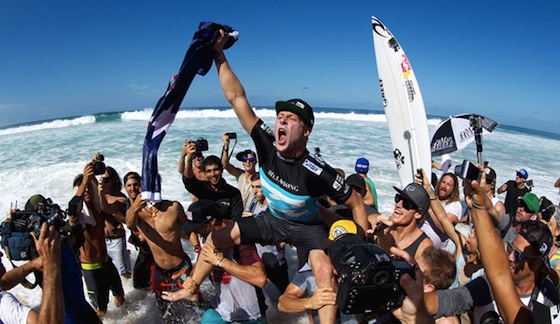 Name:
Mick Fanning
Nicknames: Micktor, Eugene and White Lightning
Hometown: Tweeds Heads, New South Wales, Australia
Age: 32 (dob 13 June 1981)
Stance: Regular
Sponsors: Rip Curl, Red Bull Energy Drink, Reef Footwear, Dragon Eyewear, Vertra Sunscreen, Creatures of Leisure Accessories, Ford Ranger, Skull Candy Headphones and Zen Nutrition.
On Saturday 4th December in the churning waves of the infamous Pipeline, Hawaii, Australian surfer Mick Fanning achieved a phenomenal third World Tour Champion title. Back in 2010 we featured Fanning in our surfer profiles, already at the top of his game, he had over come a long list of obstacles in his life to achieve not one, but two world titles... and he's only gone and done it again.
This time Fanning put everything on the line at the Billabong Pipeline Masters, and somehow managed to beat defending world champion and living legend Kelly Slater by 250 points to win the ASP's world tour. No mean feat when you consider Slater has won the title eleven times. It all came down to having the confidence to keep his cool, and go for massive scores when the waves came. Fanning's composure enabled him to defeat former world champion CJ Hobgood in round 5, and Yadin Nicol in the Quater Finals, before being defeated by an in form John John Florence.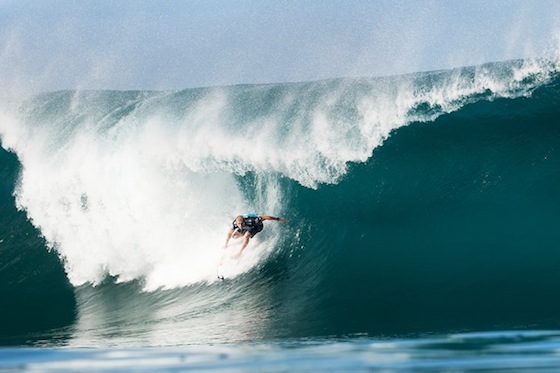 Fanning's third world title puts in on par with other surfing legends such as Tom Curren, and Andy Irons who tragically passed away in November 2010 and whom the Billabong Pipe Masters is in memory of. When asked about his thoughts by the ASP on the third world title, and the company he now keeps he said "I've never put myself in the same circles as Tom Curren and Andy Irons... Tom is such an enigma and was so instrumental to injecting style into our sport. Andy…what hasn't been said about Andy? He was such a legend and he was such a good friend. I'm honoured to be a part of this group. I was happy with one title and I was overwhelmed with two. With three? I don't have words for that."
What makes Fanning so extraordinary is his fierce drive for the sport, especially after overcoming a horrendous surfing injury in 2004, when he suffered a wipeout that ripped the tendon from his leg. He had to undergo extensive surgery to reattach the tendon, and physio to complete his rehabilitation. If that's not enough, when he was only 16 years old Fanning's older brother Sean died from a car accident. Sean's loss devastated the family, but also became the source of courage for Fanning as he progressed in the surfing community.
Thousands of surf fans around the world recognise Fanning as one of the strongest and competitive surfers on the tour. However one of the defining qualities that has arisen over the years is the fierce loyalty that exists between his compatriots. Known as one of the Coolie kids, as he heralds from Coolangatta, Queensland, Australia. Fanning grew up surfing in amazing waves off the Goldcoast with fellow world champion Joel Parkinson and free surfer Dean Morrison. Although Fanning and Parkinson still compete on tour, and Parkinson was aiming for the world title as well this year, they have always been there to support each other, even when one bests the other.
So now that 2013 is over Fanning has a couple of months off to enjoy his win... and then it's all go again as the tour starts 1st March over in home territory of the Goldcoast, at the Quiksilver Pro Gold Coast. However if you can't wait that long to see Fanning in action check out the clip below...