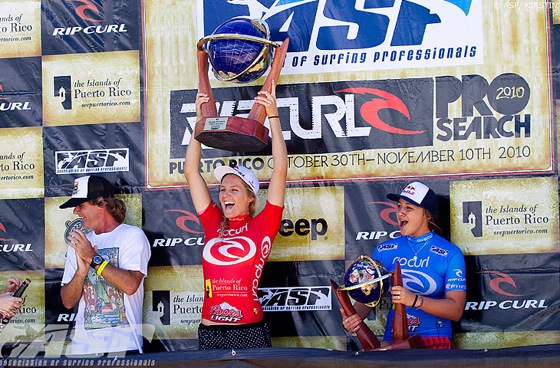 Name:
Stephanie Gilmore
Nicknames: Steph
Hometown: Tweed Heads, New South Wales, Australia
Age: 22 (dob 29.01.88)
Stance: Regular
Sponsors: Rip Curl Wetsuits and Clothing, Ford Automobiles, Cole Clark Guitars, DHD Surfboards and Creates of Leisure Accessories, Up and Go Vive by Sanitarium

It's official, Stephanie Gilmore has set a new world record for a near perfect surfing record on the ASP's world tour.

The young Australian has been on the tour for 4 years, and has not only dominated, but has just claimed her fourth championship title in a row. Yes that's right- she's achieved four out of four, a feat that has never been achieved before, not even by Kelly Slater or Layne Beachley.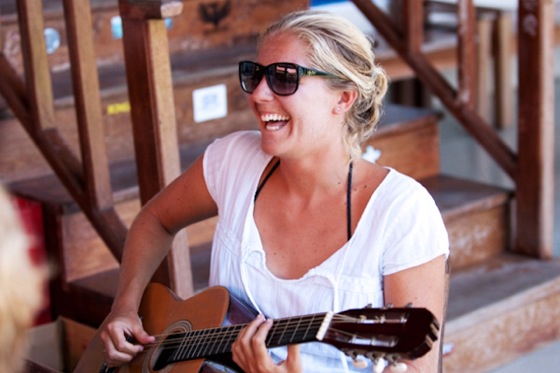 So who is this phenomenal surfer from down under? Gilmore has been surfing since aged 10, and competiting throughout her teens, but it was a combination of event titles that really launched her career on the professional circuit. Back when she was only 16 years old she became the Junior ISA Champion in 2004. Then, just the following year, she was invited as a wildcard to compete in the Roxy Pro Gold Coast which she proceeded to rip apart, and claimed the title at the young age of 17. To say she'd arrived would have been an understatement.
After exploding onto the professional scene with her progressive, fast surfing, Gilmore ground it out in the World Qualifying Series in 2006. Finally consolidating enough points to place on the World Tour in 2007, Gilmore used her rookie year to carve it up...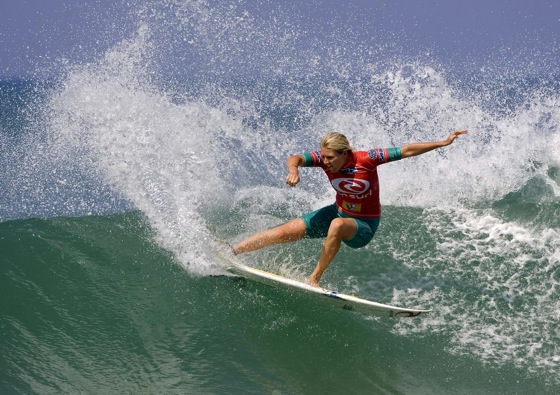 On her first year on tour in 2007, she won 4 out of the 8 events:
Rip Curl Pro Bells Beach
NAB Beachley Classic
Mancora Peru Classic
Billabong Pro Hawaii
Gimore's amazing surfing changed the surf scene immediately, especially when she claimed the world title in her rookie year.

In 2008, she came back in blazing form, winning 5 events, suffice it to say she won another world title. Then in 2009, she won 2 events and was the most consistently high finisher in the tour, so cue a third world title.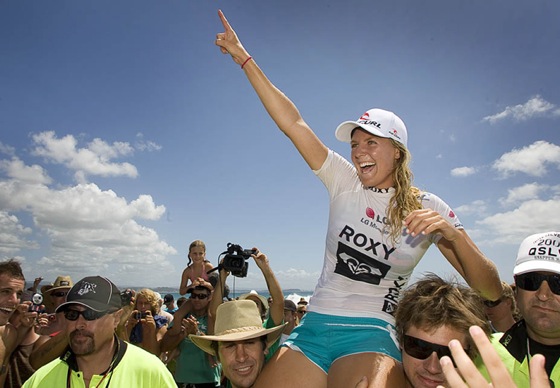 However, it was 2010 that had everyone talking. There has been an influx of new talent on the women's tour. Leanne Curren (legendary Tom Curren's daughter), Coco Ho (Hawaiian waterman Mason Ho's daughter), Beth Mason, Bethany Hamilton, Melanie Bartels and Carissa Moore. These girls have been giving Gimore a run for her money and title. However, this year's threat has been Aussie Sally Fitzgibbons, pushing Gilmore to up the ante with her surfing. And somewhat unsurprisingly Gilmore has taken it further.
Gilmore has just claimed the Rip Curl Search Puerto Rico, meaning that she has now won 5 out of 7 events, with Hawaii still to come. Her historic win in Puerto Rico has cemented not only her fourth world title, but her place in surfing and sporting history. Inspiring and beautiful to watch, Gilmore is raising the bar. So now it is a joy to see what she does next...