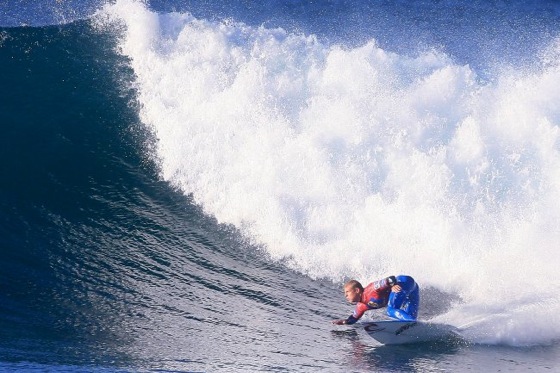 Name:
Mick Fanning
Nicknames: Micktor, Eugene and White Lightning
Hometown: Tweeds Heads, New South Wales, Australia
Age: 29 (dob 13 June 1981)
Stance: Regular
Sponsors: Rip Curl, Reef, Dragon Eyewear, Red Bull Energy Drinks, Creatures of Leisure Accessories, Vertra Sunsceen, Skull Candy Headphones and Zen Nutrition
Mick "White Lightning" Fanning is known for being one of the fittest professional surfers on the ASP tour. He has won 2 world championship titles, one is 2007 and 2009, has 13 elite tour wins under his belt and has overcome losing his brother and a nasty ligament injury to boot, yet his story is far from over.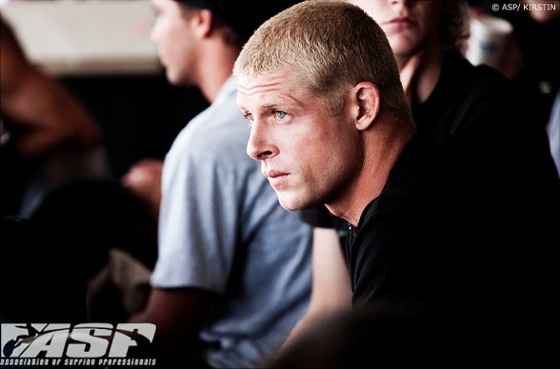 The 29 year old surfer from New South Wales was brought up surfing in and around Coolangatta with phenomenal surfers Joel Parkinson and Dean Morrison. The groms were known as the Coolie kids and they exploded onto the world tour scene. However, when Fanning was only 16 years old his brother Sean, who was also a promising pro surfer, was killed in a car accident.
Fanning was very close to his older brother Sean, and his death greatly affected him. However, it was Sean's death that pushed Fanning's desire to make it in the surfing world even more.
At the age of 21 in 2002 Fanning had qualified for the ASP's world tour. He blew everyone away with his amazing ability, and finished an extremely impressive 5th in the world. He finished 4th in 2003, but in 2004 he only completed 4 events as he suffered a horrendous injury to his leg.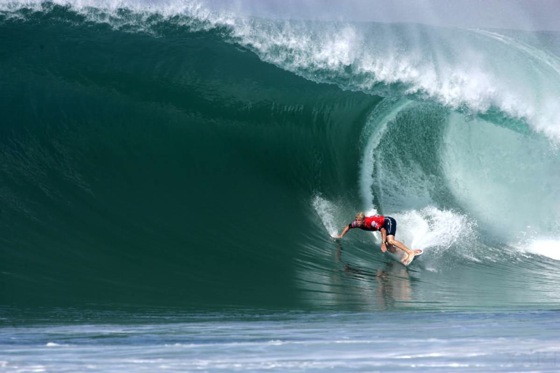 During a routine surf session in Indonesia a wave crashed down on him, tearing his hamstring away from the bone. He had to undergo surgery to graft the ligament back onto the bone. It would be 6 months of physiotherapy before he could get back onto a surfboard again.
However, in amongst the major set backs in Fanning's career, there seems to be a theme of 'what doesn't kill you- only makes you stronger'. Fanning has been incredibly driven, and has trained harder and upped his fitness levels over the years so much so that when he's in form, he's nigh untouchable.
By 2005 he was 3rd in the world and again in 2006. However it was 2007 that was Fanning's year. Winning 3 of the 10 events, Fanning charged to victory for the first time, defeating fellow Aussies Taj Burrow and Joel Parkinson, and legendary Kelly Slater to the world title.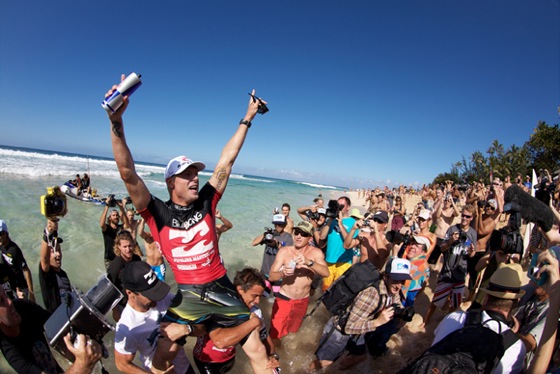 After 2008, which was a bit of an off year for Fanning, as he finished 8th in the rankings, Fanning came back in to his blazing form towards the end of 2009, with a hat trick of wins:
France
,
Spain
and then
Portugal
. Then, over looking the thunderous waves of Pipeline, Oahu, Fanning regained his world championship crown again.
Now everyone wants to know if he can do it again? He's just won the Quiksilver Pro France, and is about to compete in the Rip Curl Pro Peniche, and currently sits 3rd in the ratings. So follow his progress at
live.ripcurl.com
and
www.mickfanning.com.au
and see what "white lightning' does next.