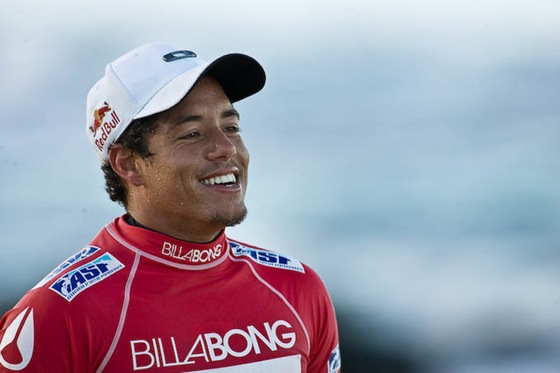 Name:
Adriano De Souza
Nicknames: Mineirinho
Born: Guaruja, Sao Paulo, Brazil
Hometown: Laguna Niguel, California, USA
Age: 23 (dob 13 February 1987)
Stance: Regular
Sponsors:
Oakley, Red Bull, Pukas Surfboards, FCS Fins, Gorilla Grip Accessories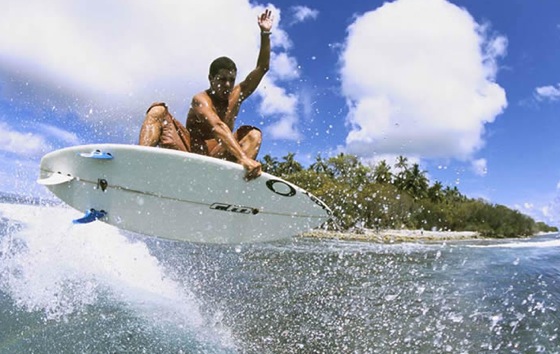 Superb Brazilian surfer Adriano De Souza is currently number 7 in the ASP's world title race rankings. He holds the record for the youngest surfer to win the Junior World Championship title back in 2004 at the young age of 16, and he has consistently placing in the top 10 in the world over the past few years. So who is this master aerialist from Brazil?
De Souza started surfing when he was only 8 years old, and he's never stopped since. Highly motivated with the talent to go far, he not only won the Junior World Title, he went on to qualify for the ASP's dream tour almost immediately after his world title win. De Souza smashed his way from 'The Grind' aka the World Qualifying Series onto the elite tour in 2005 by winning the WQS by one of the biggest leads surfing history. None too shabby for a 17 year old.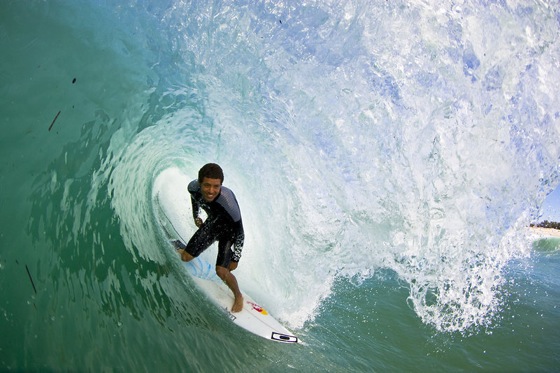 Known for his aerial and beach break stunts and maneuvers, De Souza spent his first two years on tour learning the ropes and working out his rankings. In 2006, in his rookie year, he placed 20th; and in 2007 he posted a 28th, not bad but still not nearly showing just how good his was at surfing and competitng.
However, cue the entrance of 2008: De Souza was on fire and finished the year not only in the top 10, but in 7th place. He'd finally found his footing and was blazing a new trail for Brazilian surfers everywhere. Last year he stepped it up again and finished an extremely impressive 5th in the world, ahead of current world title race leader Kelly Slater.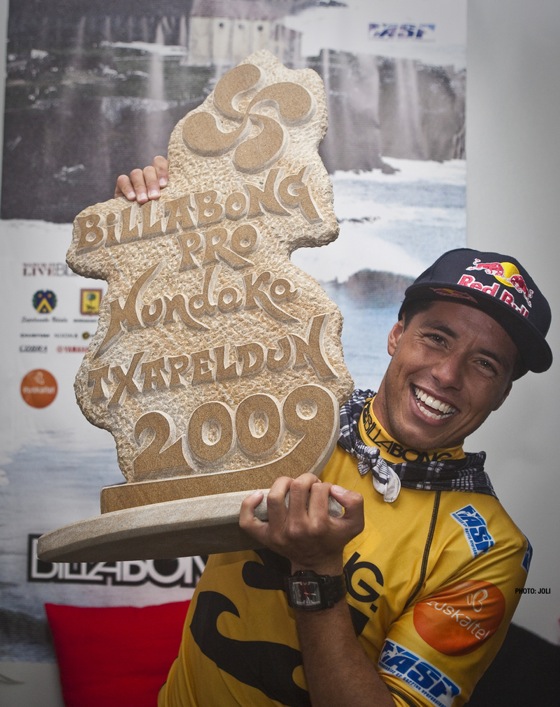 So what can we expect from De Souza from the remainder of this year's competitions? Last year he claimed his first world title race contest win. Over in the beautiful Spanish Basque Country De Souza claimed the Billabong Mundaka Pro title for the first time. Defeating Aussie Chris Davidson 16.40 points to 11.83 in the sunny 2-3 foot conditions, De Souza proved to all that he is not only one of the best surfers in the world, but that he is capable of winning contest titles. The question now remains as to whether he could challenge for the world title?
There are now 4 dream tour events still to run: the Quiksilver Pro France in Hossegor, the Rip Curl Pro Peniche, in Portugal, the Rip Curl Search, somewhere in Costa Rica, and the Billabong Pipeline Masters over in the homeland of the north shore of Oahu, Hawaii. De Souza has a chance to really kick himself into gear and push himself up the rankings and maybe even try for Brazil's first ASP world championship title.
Watch him in action at the Quiksilver Pro France from 25th September - 5th October at
https://quiksilverlive.com
and check out the vid of him tearing it up at Trestles below.