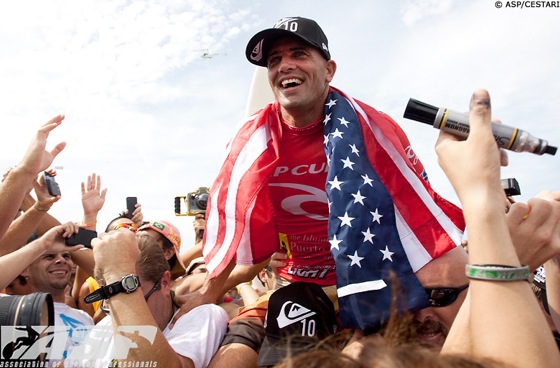 It's all over. Kelly Slater won the Rip Curl Search Puerto Rico 2010 on Saturday 6th November, and claimed a completely incredible 10th world championship title en route. To say it's been a week of extremes doesn't even come close.
Everyone has wondered throughout the year if 2010 would be when Slater would claim his tenth world title. He has dominated the world surfing circuit since 1992 when he won his first world title and 18 years later his is still ripping it.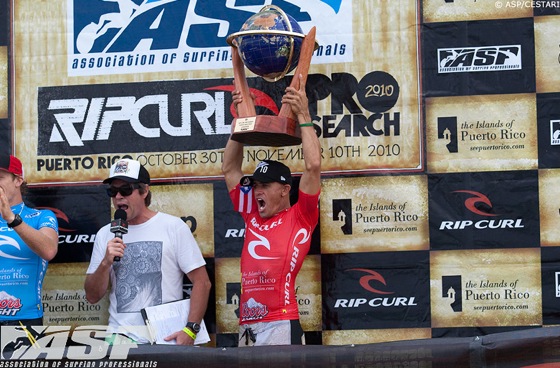 It has been one of the most heart wrenching of weeks on the professional tour, the Rip Curl Pro Search Puerto Rico has placed itself in the history books. Whilst this could have been for the waves, the competition or even Slater historic crowning, it will always be remember for the week that x3 world champion Andy Irons passed away.
The surfing world was shook to its core on Tuesday 2nd, when it came out that AI had passed away from Dengue fever. He was only 32 years old, and left behind a pregnant wife, family and friends. The sadness and loss was palpable in and amongst the ASP's surfers, crew and families at the Search. Everything stopped, and two lay days were called at the contest to give time to grieve, to remember and to be there for each other.
One of the lasting images of the contest will be of the paddle out held at Middles, Puerto Rico on the Wednesday. Over a hundred surfers came together to send their thoughts, prayers and grief out. Wishing AI peace and his family love and support.
From that shell shocking place, the Search experienced the highs of jubilation with Slater's crowning. The waves had been superb. Barrels, glassy right handers and steep walls of water ideal for aerial maneuvers brought about some completely amazing surfing. Slater and Taj Burrow both achieve perfect 10s, and there was more than a few aerials thrown in for good measure.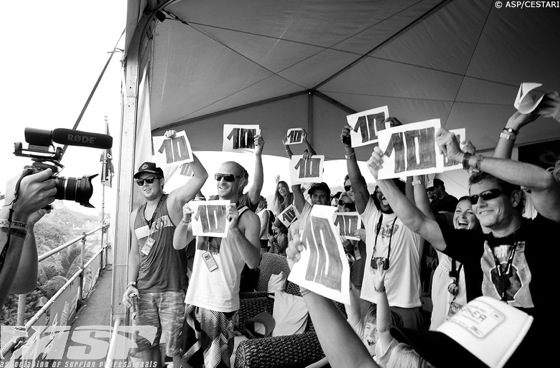 It seems as though it will be only a matter of time before the likes of Dane Reynolds, Taj Burrows or Jordy Smith change surfing further. They brought critical turns, carves and rails and combined them with speed, agility and airs. Soon it will be the norm to pull a superman or alley-op in contests. The Rip Curl Search saw more of the progressive maneuvers as the ordinary, however nothing comes close still to the ability of Kelly Slater to adapt and not only compete with the rookies and newbies on tour, but to school them.
So what next? The tour returns home to Hawaii and the hallowed beach of Ukai where the legendary Pipeline is found. The Billabong Pro Pipeline will be held 8th to 20th December and can be watched online at
www.billabong.com/eu/event/18/billabong-pipeline-masters
. Even though Slater has broken all records with his 45th elite tour win and his 10th world title, you can be sure that he and his fellow surfers wont stop competing when they reach Hawaii.