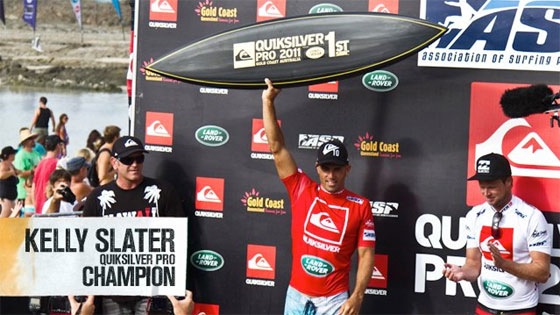 It's all over, Kelly Slater has won the Quiksilver Pro Gold Coast at Snapper Rocks. It seems as there is no stopping the King of Surfing, as his win brings his elite tour victories total to a massive 46.
Quiksilver's opening contest of the year build to a climax over the holding period of 26th February to 9th March, as the beginning of the contest was put on hold due to poor surf conditions. However, with the combination of both the men's and women's contests to run simultaneously, there was plenty to look forward to.
The Quiksilver and Roxy Pro Gold Coast events mark the beginning of the ASP's world championship year long contest. The importance of both events for the surfers was to get off to a great start in the leader board, and start amassing points immediately.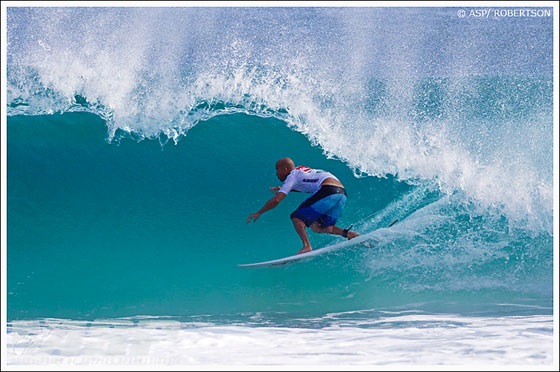 Last year it was Australian surfer Taj Burrow who dominated the event and claimed the victory. However, this year, despite surfing like a grom, throwing aerials and achieving 9 point rides (out of a possible 10), he was pipped to the post by Slater in the final. Slater used he legendary skill for tactics, combined of course with his untouchable talent, to best Burrow, and defeated him 11.20 points (out of 20) to Burrow's 10.17.
Other stand outs in the men's division were South African Jordy Smith, who was the only surfer on tour last year to put the pressure on Slater for the world title; and Portuguese Tiago Pires, from one of our favourite surf breaks of Ericeria. Tour rookie Alejo Muniz from Brazil demonstrated why he has managed to break into the dreamtour this year, making it through to the quarter finals, only to be defeated by a powerful Jordy Smith. Definitely a talent to watch in the coming contests.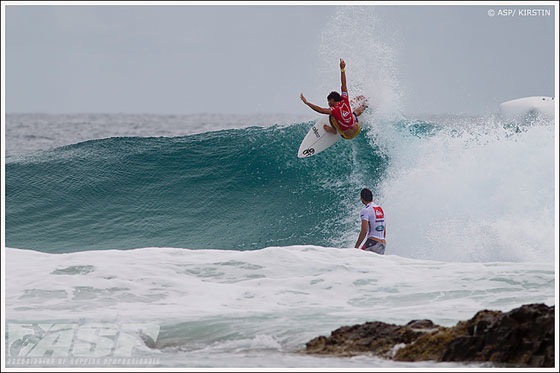 Even though the men's contest was partly delayed by the small waves, the women's contest was able to run and be wrapped up a day earlier. One of the big changes to the results podium was to be found in the women's contest.
Current world title holder for the past 4 years, Stephanie Gilmore (AUS) was a shoo-in to win the contest. However, even though Gilmore was in form and is only 23 years old, it seems as though the youngsters were claiming the spot light. It was 18 year old Carissa Moore (HAW) who took the win, defeating 16 year old Tyler Wright (AUS) 15.34 points to 14.37. This year is looking to be an interesting one already.
Here are how the top 5 men and women's ASP rankings look at the end of the events:
1- Kelly Slater (USA)
2- Taj Burrow (AUS)
3- Jordy Smith (ZAF)
3- Tiago Pires (PRT)
5- Matt Wilkinson (AUS)
5- Brett Simpson (USA)
5- Dusty Payne (HAW)
5- Alejo Muniz (BRA)
1- Carissa Moore (HAW)
2- Tyler Wright (AUS)
3- Laura Enever (AUS)
3- Sally Fitzgibbons (AUS)
5- Stephanie Gilmore (AUS)
5- Silvana Lima (BRA)
5- Coco Ho (HAW)
5- Chelsea Hedges (AUS)
If you missed any of the action check out the highlights of the final day: