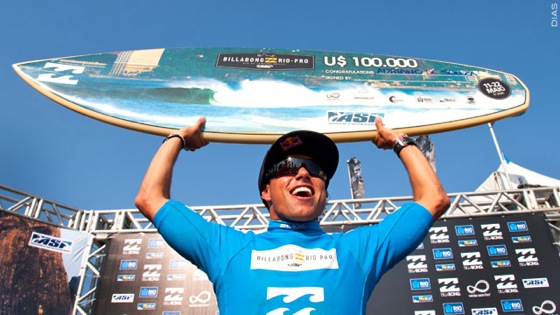 Adriano de Souza is one happy Brazilian. He's won stop number 3 of 11 of the ASP's world championship surf tour in Rio de Janeiro, Brazil. De Souza bested an outstanding performance by fellow competitor Taj Burrow (AUS) in tricky waves at Barra Da Tijuca on 20th May at the Billabong Pro Rio.
In front of a massive home crowd De Souza defeated the talented Burrow 15.63 to 12.17 points out of a possible 20. De Souza was on fire for the whole contest, springing airs and feeling the support of his home crew. Burrow was on form, and posted some of the best waves and highest scores throughout the contest, but couldn't quite find the points when it came to the final.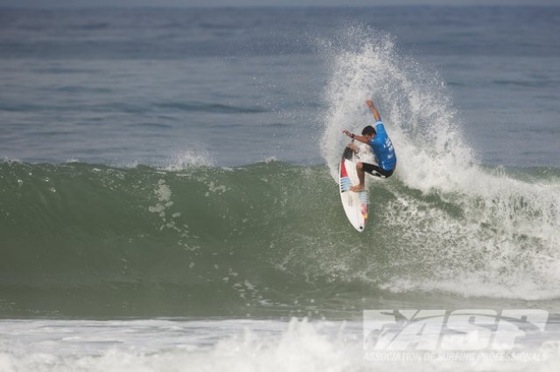 De Souza's win has shaken things up for the world rankings, as former rantings leader Kelly Slater (USA) has now slipped to third place as he finished 13th, and De Souza has leaped up to first place. Australian Gold Coast surfer Joel Parkinson is waiting in the wings in spot number two, after placing 5th in the Billabong Pro Rio.
French surfer Jeremy Flores from
Hossegor
represented our Euroforce by finishing 3rd at the event. Flores had been out of action for the past event with a severe knee injury, but he seems to be back in form and doing Europe proud.
Now it's time for the surfers to get training in preparation for the Billabong Pro Jefferys Bay that runs 14th until 24th July over in South Africa.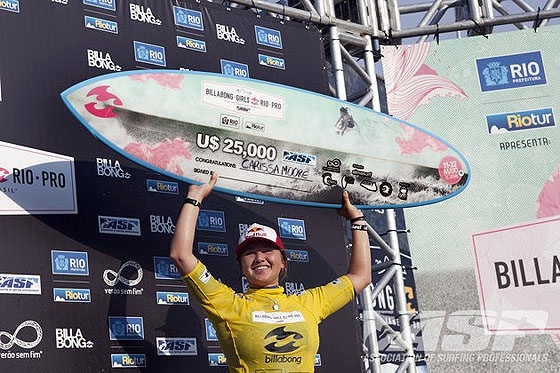 It's all change for the women's tour as well, with Carissa Moore (HAW) dominating the scene. She won the contest on 15th May in small 2-4ft waves at Barra Da Tijuca. Moore dominated at the event and defeated world number two Sally Fitzgibbon (AUS) in a very close final where Moore won 14.87 to Fitzgobbon's 13.80 points.
Moore's win means that it is now a two horse race for the women's world championship title, as x4 world champion Stephanie Gilmore (AUS) is knocked out of the running with her semi final finish. It's the first time since Gilmore came on the tour that she wont be in the running for a title. So this year will see within the next two events on the women's tour, who will be the world champion.
Next up on the women's dreamtour is
Biarritz, France
for the Roxy Pro. The event is set to go from 14th to 17th July, and will celebrate surf inspired music and art during the contest.
If you missed all the action at the Rio Pro, check out the final day video below to get a feel for the fun beach break waves: