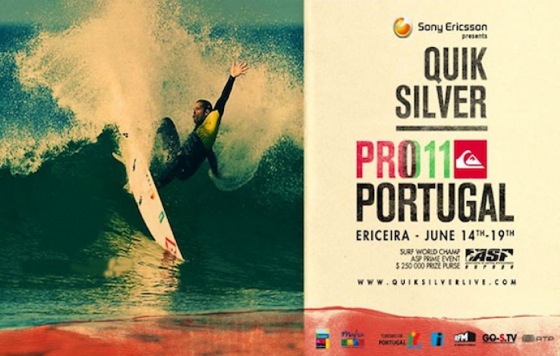 Over in the beautiful surf town of
Ericeria
, Portugal they get some of the best waves in Europe. Rolling sets and a surf culture creates the ideal location for surf competitions, so naturally Quiksilver has chosen to hold its Prime surf contest there after a very successful 6* event last October.
The Quiksilver Pro Ericeira surf competition will be held at the infamous beach called Ribeira D'Ilhas in Ericeria from 14th to 19th June. The move to the 'Prime' status means that the prize purse is now a hefty $250,000. The upgrade will attract some of the best surfers in the world, and solidifies Ericeira's status on the ASP's world qualifying series as one of the main spots to surf. There are only eleven 'Prime' events around the world this year, and two of them are in Portugal. The other contests are held in Brazil, Australia, USA, and South Africa, so Portugal has laid claim to the only Prime events that will appear in Europe.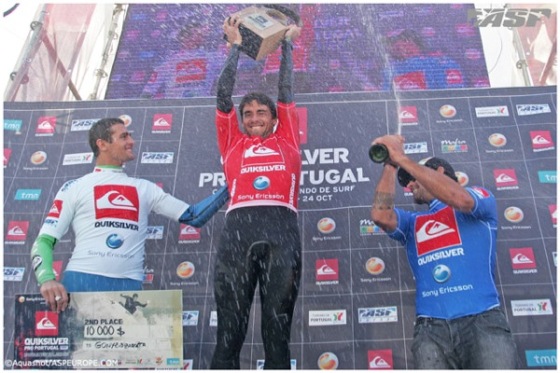 Some famous faces will be making an appearance at Quiksilver's event this year, especially as the Prime series is now so important for WQS surfers to make the jump onto the ASP's world championship tour. Look out for world number nine and Portuguese national hero
Tiago Pires
. He is from Ericeira itself, so expect to see huge crowds come out to watch him surf. Other European's flying the home flag will be Jeremy Flores and Marc Lacomare both from Hossegor, France, as well as last year's winner Basque surfer Hodei Collazo and fellow compatriot Aritz Aranburu.
View Larger Map
The break at Ribeira D'Ilhas is a stunning point break and is often compared to Bells Beach in Australia. It is a natural arena, so it is ideal for attracting crowds of people who love to watch the surf. There is also extra flexibility for the event in the form of a mobile set up. So depending on the conditions at Ribeira D'Ilhas, the contest can always move to further south to the breaks of 'Reef', 'Pedra Branca', 'Foz Do Lizandro' or 'San Juliao'.

People will travel to watch the pros ripping apart the waves as surfing in Portugal is massive and always gaining in popularity. However, because the coastline is littered with good breaks there are always spots to surf that aren't crowded even if the contest itself attracts a lot of spectators. So for those who are planning on going over to watch the contest they can always get a good amount of surfing in.
The contest will be broadcast online at
https://quiksilverlive.com/proportugal2011
/ It will feature all sorts of fun and games since Australian former pro surfer Jake Patterson will be commentating, and for anyone who knows of him, he's always entertaining. Surfholidays.com have some great
accommodation in Ericeira
so have a look and book a last minute ticket as the European summer season gets under way.