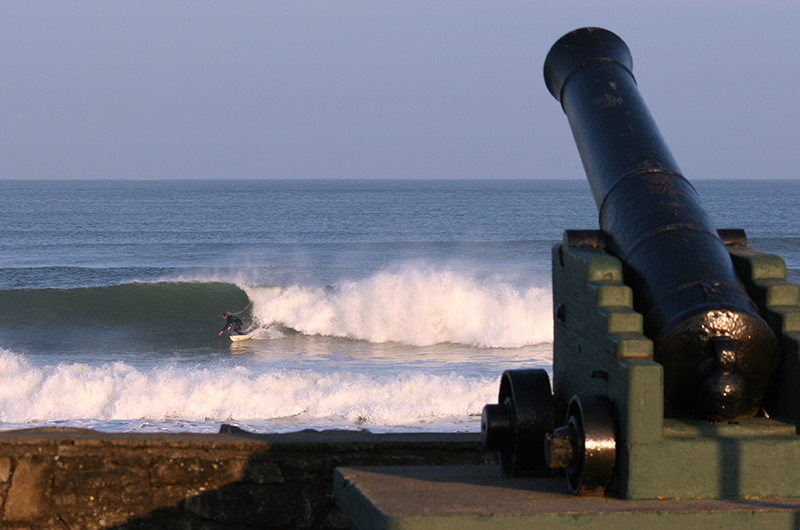 Photo by Aaron Pierce
1) Strandhill. Co.Sligo
Our number one spot to stop for a surf on the Wild Atlantic Way is Strandhill.
Strandhill is a small surfing village 6km outside Sligo town on the west coast of Ireland. Nestled at the foot of Knocknarea Mountain, the village is an eclectic mix of surfers, locals and travellers who have now made the village their home. If you're looking for a surf trip in Ireland you have found the perfect spot.
The village has in recent times become a surfing mecca for surfers from far and wide. The beach itself breaks on all tides and picks up almost any swell direction, making it super consistent. There are a number of other breaks nearby including a super fun point break, but we will have to let you figure that out yourself! For the more experience surfers, Strandhill is the perfect place on the coast to base yourself.
Here you are 35 minutes from Bundoran with its world class reefs and points, and in the other direction you are 35 minutes from Easkey which again has its own share of slabs, point breaks and epic set ups.
Depending on the swell direction, you can wake up in Strandhill and decide which direction to drive in search of perfect Irish waves. Wind direction, big tides, swell directions and many other variables play a part in every break around here, so be sure to do your homework, or befriend one of the locals over a Guinness! Drop into the Strand Bar for a pint, Shells café for lunch or enjoy a soak in a hot seaweed bath at Voya.
Check out iSurfIreland School of Surfing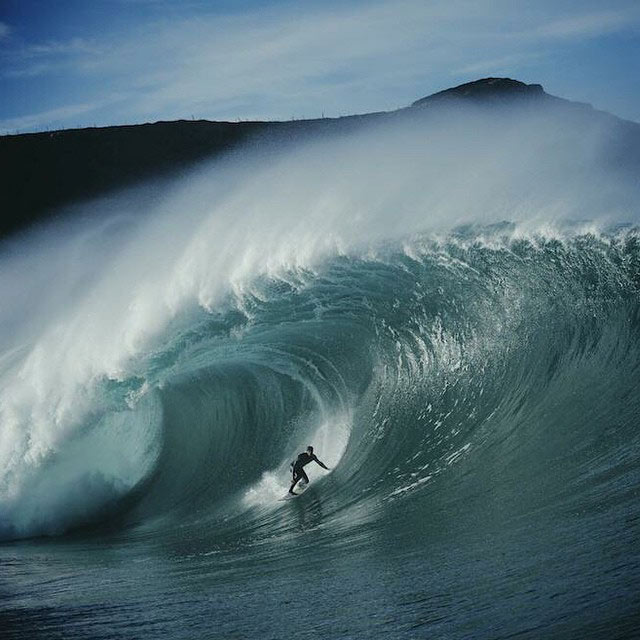 Photo by Mickey Smith
2) Lahinch. Co. Clare
Number two on the Wild Atlantic Way to find a wave is Lahinch, or L.A as the local surfers like to call it. This is a great place to either stop off in or base yourself while travelling Ireland. It's a small town on Liscannor Bay, on the northwest coast of County Clare.
The beach itself is perfect for beginners while the surrounding coastline has countless points, slabs and reefs to suit all abilities. The town itself has its fair share of surf shops and of course numerous spots to stop off and enjoy a perfect creamy pint of Guinness. This part of the Irish coast picks up every swell direction and is renowned for having more surf during the summer months.
A short drive away to the Cliffs of Moher will land you in the path of one of the world's scariest big wave spots, Ailleens. Only surfed by a handful of locals up until recent years, a big day here is well worth a watch. Grab some food and head down the trail to watch the locals and passing surfers trade some of the best waves in the world.
Crab Island is a challenge to even the best surfers around. It's a long paddle to this heaving barrelling right-hander. Steep take-offs over a shallow slab make for some interesting wipeouts but if you're lucky you can watch some of the locals navigate some epic barrels and even get a few yourself.
Grab a pint at Kenny's Bar and share some stories with the locals. Look out for some of the big wave chargers passing through when the real big swells roll in.
Check out Ben's Surf Clinic for all your surfing needs.

3) Bundoran. Co. Donegal
Bundoran in. Co Donegal is renowned for surfing and it's easy to see why. This small stretch of coastline hosts some of Europe's best waves and Ireland's most consistent spots. Out front 'The Peak' one of the best waves around breaks on mid- low tide and is surfable on all conditions. It's best at 4-6 foot and clean with south winds. Perfect A frame peaks that are world class by any standard.
It gets crowded but wait your turn, be friendly to the locals and you will be rewarded. A short drive away in Tullan Strand which is perfect for beginners or the spot to go for a grovel when the rest of the coast is flat. Back towards Tullaghan you will find more world class spots like Pampa, an epic left hand barrelling slab, but beware its super shallow.
Blackspot, Tullaghan right and left are all within walking distance and break consistently throughout the winter if you can bare the cold.
Call into the Richie Fitz in Surfworld for a chat, a cupa and some advice on where to surf.
Head up to Rossnowlagh and grab a surf lesson with Neil at Fin McCools for all your surfing needs.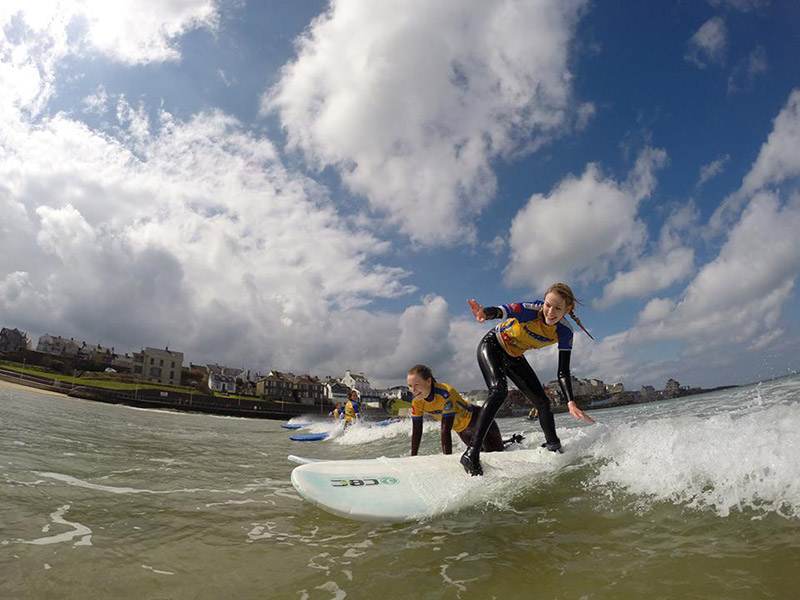 Photo by Troggs Surf School
4) Portrush, Co. Antrim
Portrush in Northern Ireland is one of the most consistent spots in the country. Based close to the Giant 's Causeway there are spots for all abilities ranging from fun beach breaks to perfect points, if you can find them!
Portrush, the surf capital of Northern Ireland offers great restaurants, night clubs, quality hotels & family entertainment meaning it's a perfect base for that family surf trip. Some of the most notable waves around are West Strand, Black rocks and Castlerock which is perfect for beginners.
Call into Andy in Troggs Surf shop for a bit of banter and a surf report, he will send you in the right direction!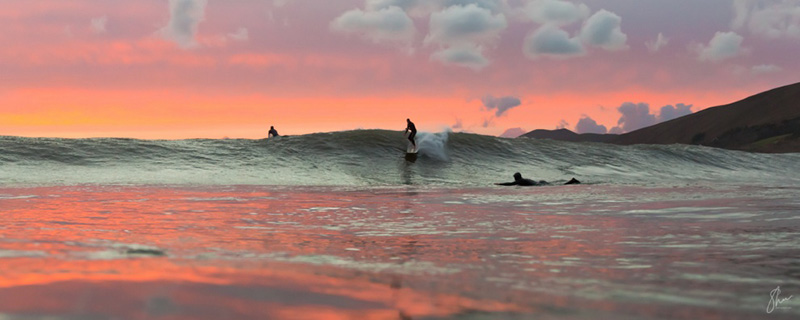 Photo by Shane Murphy
5) Ballybunion, Co. Kerry
When travelling the Wild Atlantic way Ballybunion in Co.Kerry is simply not to be missed. The town is located 15km from the Listowel with some amazing castle ruins and historic sites to see.
From anywhere in the country it seems a long way off, but the incredibly beautiful country side and the array of good waves will make the journey so worthwhile. This stretch of coastline tends to pick up more swell in the summer time so it can be a good bet when the North West coast has gone flat. Watch out for those southern swells hitting mainland Europe.
The main street boasts 26 bars offering everything from traditional Irish live bands, rock bands, two nightclubs as well as several excellent restaurants. Inch reef is Ireland's most mythical wave and is a super long, righthand reef that can peel for 400m on it's day. Super fun, great for longboards or a fish or for those moving up from surfing beach breaks.
Inch strand is a slow beginner friendly beach which again is perfect for a longboard and a long walk after.
With four miles of golden blue flagged beaches Ballybunion offers waves for beginners, intermediates and the atlantic cliff break provides exhilarating surf for the seriously advanced.
So here you have it, Ireland as you can see has some of the best waves in the world!
Check out our options here and come surf Ireland's Wild Atlantic Way.
Post Added by Allan Mulrooney. Follow Allan on twitter here: @almulrooney