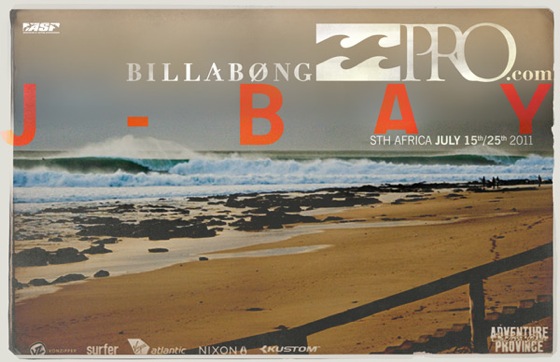 It's about to get very competitive out in the water of Jeffreys Bay, South Africa. The Billabong Pro J-Bay is about to start in a couple of days, and it will be the first chance in 2 months that all the elite tour surfers have got a shot at improving their ratings. All eyes are going to be focused on the best of the best: Adriano de Souza (BRA), Joel Parkinson (AUS) and as always Kelly Slater (USA).
Running from 14th to 24th July, the contest has been held in one form or another for 30 years, and specifically by Billabong since 1996. Jeffreys Bay is legendary for providing one of the longest right-hand waves on tour. Many a grinning pro surfer has complained about the thigh burning length of time that the wave can take up. It is the way in which the swell wraps around the coast that creates the long, often ruler straight, tubes that can line up to the horizon. No wonder surfers have been frothing to compete in its waves for decades.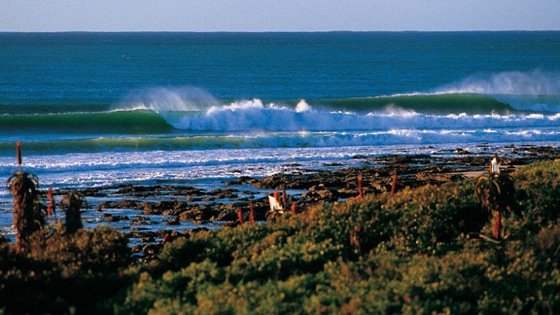 This year life on tour is looking interesting, so the J-Bay contest is set to mix things up or solidify someone's lead even more. The Billabong Pro is stop number 4 of 11 this year on the ASP's world championship tour (WCT), so it is essential for any surfer who wants to either keep his lead, or move away from the mid year cut off point, to gain a good result.
Brazilian surfer Adriano de Souza took everyone by surprise earlier this year by not only winning the Billabong Pro Rio, but by shooting up the ratings to take the lead. Usual favourites of Joel Parkinson and Kelly Slater are sitting in 2nd and 3rd place, after each winning a contest a piece this year, but it is all about whether De Souza can hold onto his lead.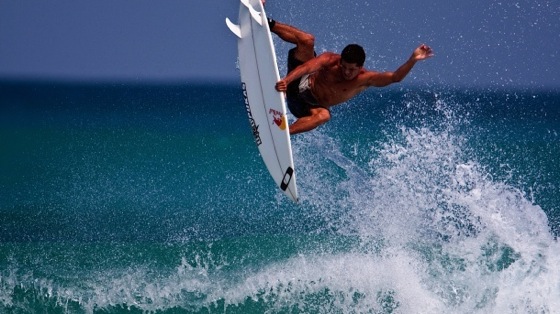 Things may change quite a lot for some surfers on the tour, especially if they've managed to get some good momentum from the Mr Price Pro Ballito which just wrapped up in South Africa. A very happy Pat Gudauska was crowned the winner, so with his new found motivation he'll be one to watch in the J-Bay pro.
As ever everyone will be looking out for South African native Jordy Smith who wowed everyone last year by taking the Billabong Pro title and with it, his maiden elite tour win. He only just missed out on the world title to the forever amazing Kelly Slater last year, but he's currently hovering at 5th in the rankings, so a definite threat yet again.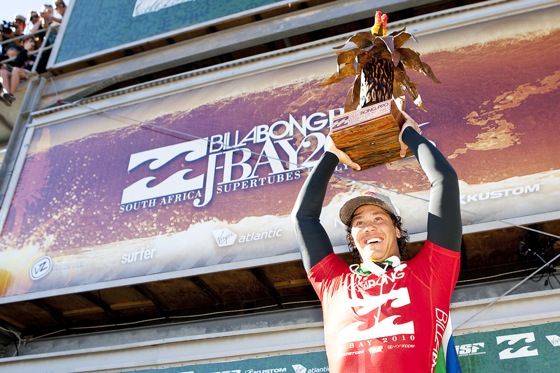 No pre-contest report would be complete without mentioning the ever classy Joel Parkinson. The Gold Coast pro is only just behind De Souza in the world title rankings, and for someone who has so almost been claimed world champion so many times, it feels like he deserves a break. Parkinson has been on form this year, especially after winning Bells Beach at Easter, so he'll be putting on a fine show no doubt.
To catch all the action as it happens, check out Billabong's contest website of
www.billabongpro.com/jbay11
if you're not one of the blessed ones who will at the contest. And for all of us that wish they had a
surf holiday
of some sort booked, here's a little clip to cheer us up...
Webisode 01 - All Eyes Focused on Jeffreys Bay and the Billabong Pro from Billabong USA on Vimeo.