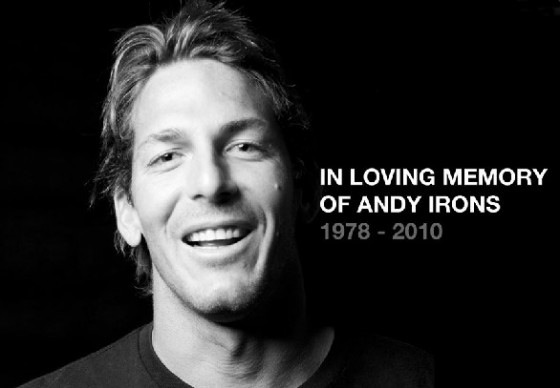 Andy Irons aka AI
x3 World Surfing Champion
From Hanalei, Kauai, Hawaii
24 July 1978 - 2 November 2010
Gone but not forgotten
This week the surfing community has been in shock from the loss of Andy Irons. An incredible surfer, caring human being and father-to-be, "AI" passed away from Dengue fever on Tuesday 2nd November. In tribute to this amazing man, we pay homage to some of the feats Andy achieved in his far too short lifetime of only 32 years.
Andy was something of a dark horse in his early teens, as it was his younger brother Bruce who shone in the surfing spot light. However, by the time he was 17 years old Andy had claimed the ASP's Junior Championship title and set the tone for things to come.
Whilst Kelly Slater dominated the sport during the 90s and prepared to retire, Andy was refining his world class technique and paying his dues on the "grind"- the ASP's world qualifying series. In 1998 Andy finally was granted access to the world championship tour, and it was on... It took a few years, but by 2002 Andy found his rhythm and his destiny. He was on fire, and claimed his maiden world title, much to the annoyance of a recently reinstated Slater.
There have been thousands of words written about the rivalry between Andy and Kelly, but now the relationship has taken on a different light. It was AI's ability to compete fiercely in the water that enabled him to do what pretty much no one else had done before- best Slater. Andy claimed another two world titles in 03' and 04', making a back to back hat trick, which even had Slater finishing in second place in 2003. It was Andy's incredibly talent and mentality that Slater now credits as a massive driving force in pushing his own surfing forward.
Over the past five years Andy changed his surfing and his life. He got married in 2007, took a sabbatical from life on the tour in 2009, and then received a wild card entry for the ASP's dream tour for 2010. Everyone waited to see what Andy would bring to the contests this year, and he certainly didn't disappoint. In the tropical waters off the coast of Tahiti, Andy silenced his critics when he won the Billabong Pro Tahiti at Teahupoo. It is so tragic that his life has been cut so short. It seemed like he was only just getting started, especially as his wife is expecting his baby soon.
Andy's death has sent shock waves around the world, and the sense of loss is palpable amongst the ASP's surfing family especially. As part of a way of paying their respects for the surfers on tour, the Rip Curl Search Puerto Rico contest was called off for the past two days. Both the male and female competitors took to the water on Wednesday 3rd November in a commemorative paddle out, throwing flowers into the water for their lost friend.
There are no words that will describe their grief. Andy Irons will always be remembered as one of the greatest ever surfers, a True Surf Legend.