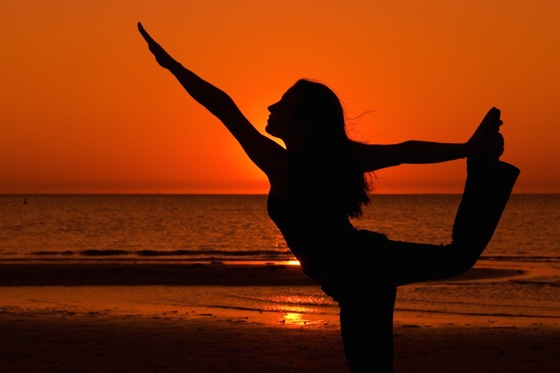 Do you ever get the feeling that your surfing could be better? Do you sometimes feel stiff and inflexible getting in and out of your wetsuit? The next time you are thinking about how to improve your surfing and fitness levels, think about taking up Yoga.
Yoga classes, DVDs or retreats can vary in length and intensity. Normally a class will be about an hour in duration, whereas DVDs are often broken down into segments and last anywhere between 30 minutes to 2 hours. Retreats are something special, here you combine a holiday with daily sessions that will help to tone and detoxify your body.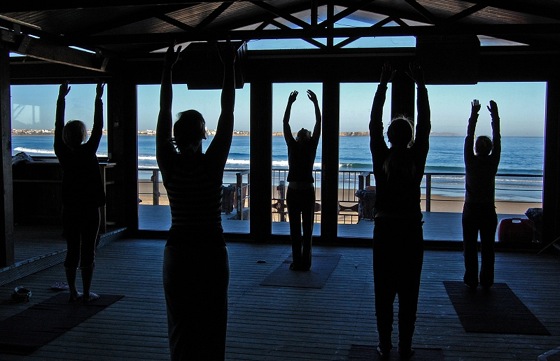 So what happens in your average yoga class? Everything is normally carried out on a yoga mat, on which you would sit, stand and stretch. This will help you to grip and stay in place as you move your body. A very basic 30 minute class could consist of the following:
1. Prana (Controlled breathing)
2. Lotus Pose (Meditation Seat)
3. Sun Salutation (Opening Sequence)
Standing

Arm Raise

Forward bend

Lunge

Down Face Dog

Plank

Cobra

Down Face Dog

Lunge

Forward Bend

Arm Raise

Standing
4. Savasana (relaxation position)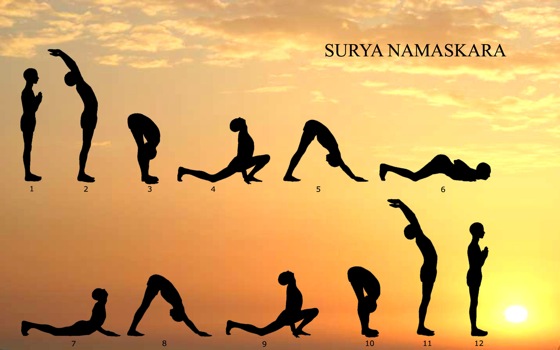 Depending on the different style of class you take part in, there maybe music on in the background, or some teachers will ask you to join in with an "Ohm" sound. This is never forced, just a great way to feel connected with your body. Your yoga teacher will guide you in each step of your yoga practice, helping you to learn new positions and learn about your own body. Here are some of the styles of Yoga often available:
Hatha
Formed on a collection of postures, Hatha is based on the breath and exploring the body through stretching and relaxing the muscles and mind. Hatha is often considered the easiest form of Yoga for a complete beginner, however, as with all Yogas, it has varying degrees of challenge.
Feels: calming, refreshing and stretching.
Ashtanga
Based around a series of postures to be carried out in a specific order. Most practices will start with a Sun Salutation followed by standing positions, floor work and then a relaxation period. Ashtanga is dynamic, and will build core and upper body strength quickly.
Feels: like a cardio work out, and will leave you feeling like jelly the next day.
Vinyasa
Here a combination of postures are linked together as guided by a teacher. Although often using traditional yoga positions, the method of joining one position to another is more free flowing and can be in any given order. This allows for a more "free flowing" style which follows the yogi's breath.
Feels: like dancing, is always varied and interesting.
Bikram
Super hot Yoga is the key with Bikram. Classes are conducted in 40 degree C and are designed to purify the body through internal and external heat. The practice is based on 2 series of the same 26 postures. The first run through is the warm up, and then the second expression is the extension.
Feels: very sweaty, detoxifying and fun.
So whether you fancy the basics, core strengthening or training your mind and body for change, Yoga can offer a host of options. Go to a class, get a DVD for at home, bring some friends round, or even go to the beach and meet the day with a Sun Salutation. Your body and mind will thank you for the attention the next time you are on your
surf holiday
looking and feeling great in the surf.