Few destinations in the world can rival Bali for wave consistency and quality; the hard part is trying to decide which surf camp in Bali you should be staying at.
With a coastline liberally littered with exceptional breaks, it can be difficult to choose where to head when planning a surf holiday in Bali. We help to make the choice a little easier and explore 5 of the best surf camps in Bali, the land of a thousand temples.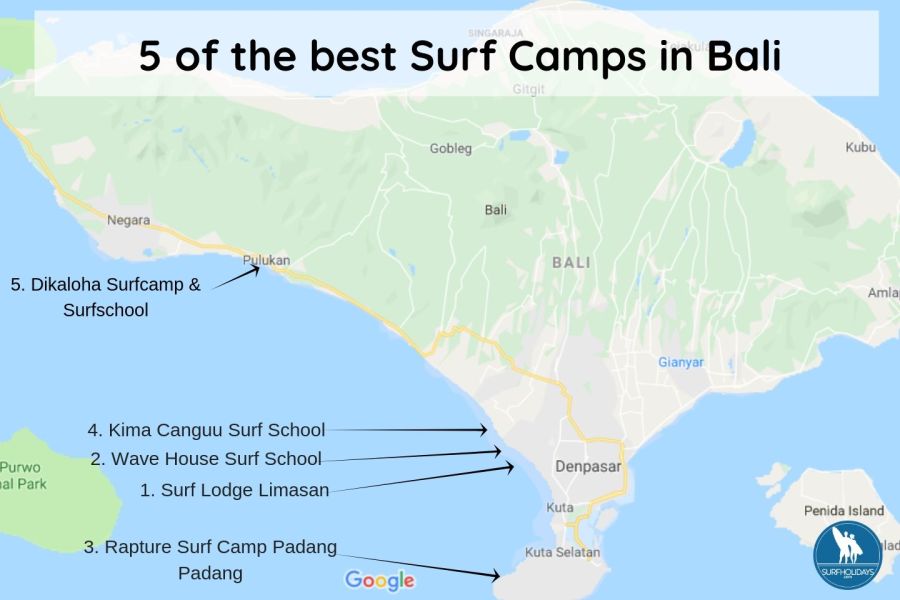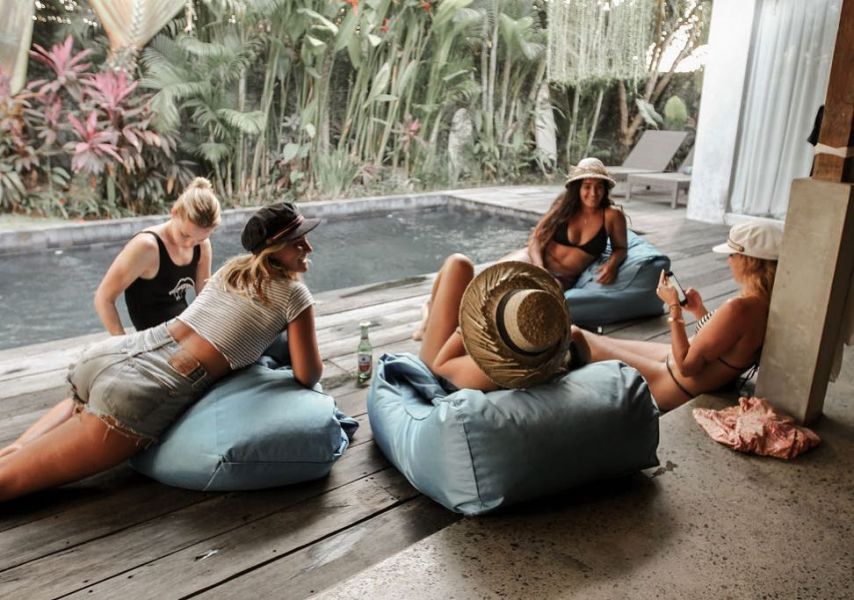 Sleeps: 12
Deal: 7 Night Beginner surf package including Dinner every night: €796
Location: Situated among the tiered rice fields of Kerobokan, the chic bars and boutiques of Seminyak lie just 5 minutes away from SurfLodge Limasan.
How to get there: 15 kilometres (30-minutes drive) from Denpasar airport
Owner: Gabe
Surf available: The waves north of Kuta are perfectly suited to those learning to surf. The beaches at Kuta and Legian offer forgiving sandy shores whilst nearby Canguu has a mix of beginner, intermediate and advanced waves rolling aground.
Nearest wave: 2 kilometres from the ample peaks stretching between Kuta and Legian
X-Factor: Stunning architecture, minimalist design, luxurious bedding, and traditional Balinese furniture make this a high-end retreat. And if that's not enough, the outdoor rainfall shower (large enough for two) should seal the deal.
---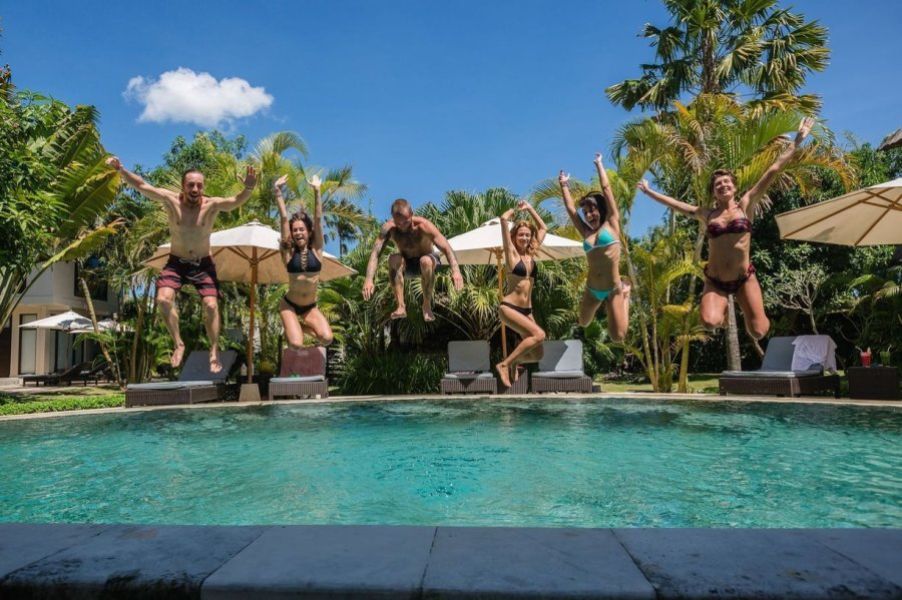 Sleeps: 28
Deal: 7 Night Surf & Stay course: €358
Location: Berawa, Canguu, just north of Kuta and Seminyak
How to get there: 15 kilometres (1-hour drive) from Denpasar airport
Owners: Wave House Team
Surf available: Benefiting from swell 365 days a year, there's always a wave somewhere in Bali. Wave House is situated within easy reach of Kuta Beach, Legian, and Canguu. For those looking to explore further afield, the famous waves of the Bukit Peninsula await just 20 kilometres to the south.
Nearest wave: Less crowded than its neighbouring spot of Canguu, Berawa Beach is 100 metres from the Wave House Team and all their facilities.
X-Factor: A great surf camp in Bali for beginners. It has 2 swimming pools, offering not only a space to relax but a chance to undertake some organised pre-surf training, mean that you'll enter the water ready to jump straight to your feet. The steam-room is an added bonus for soothing those heavy arms after a long day of paddling.
---
3) Rapture Surfcamp Bali Padang Padang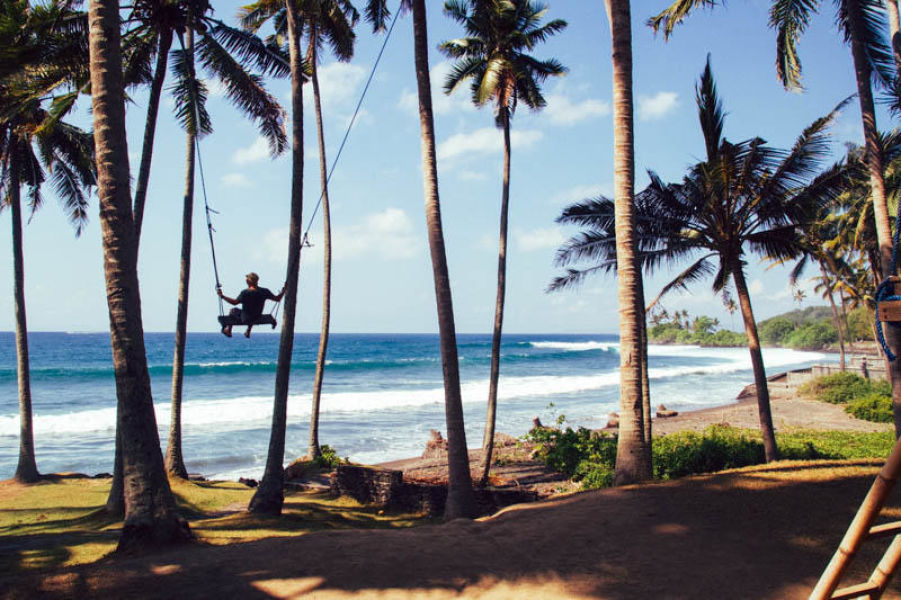 Sleeps: 25
Deal: Ultimate Surf All Inclusive: €266
Location: Surrounded by lush Balinese gardens, a stone's throw from some of the most famous place names in surfing, Rapture sits tantalisingly above the whitewater of Padang Padang.
How to get there: 28 kilometres (40-minutes drive) from Denpasar airport
Owner: Swardy
Surf available: 5 minutes from the world-class peaks of Uluwatu and Padang Padang, being situated on the Bukit Peninsula puts you firmly in the grasp of some of the best waves on the planet. Bingin, Dreamland, and Balangan add further to the list of quality breaks close by.
Nearest wave: 1 kilometer from the crystal clear blue lagoons of Padang Padang
X-Factor: Rapture has a room for every budget, from deluxe dorms to private villas, you're sure to find accommodation that matches your exact needs.
----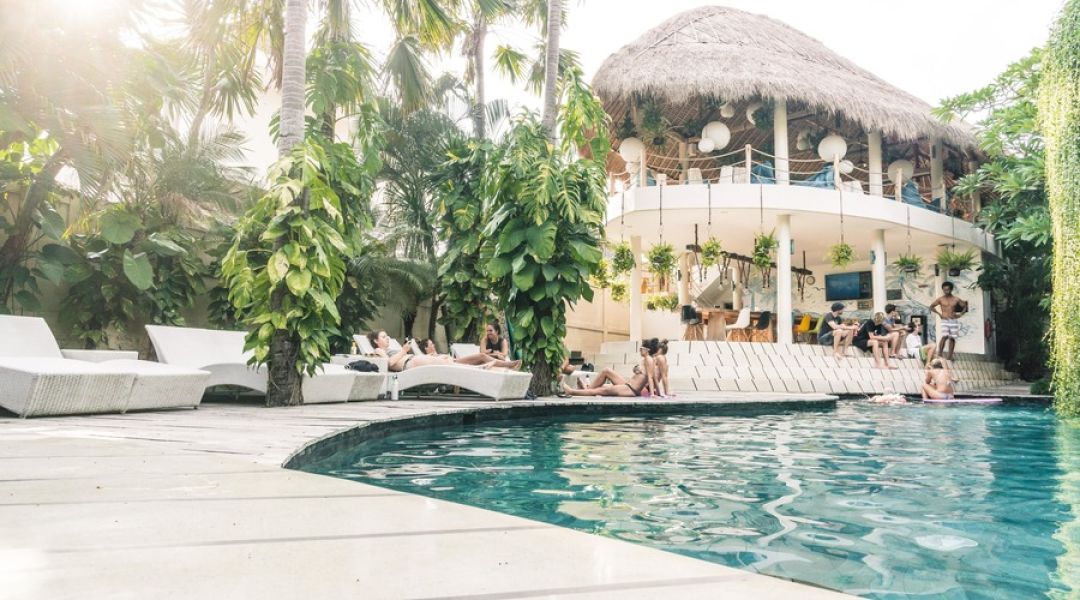 Sleeps: 56
Deal: Surf, Stay & Yoga: €319
Location: Practically on the beach, 10 kilometres north of the bustling neon lights of Kuta, Kima Canguu is the perfect place to detach from the frenetic pace of daily life.
How to get there: 21 kilometres (59-minutes drive) from Denpasar airport
Owner: Ari
Surf available: Easy access to all of Northern Kuta's most famous breaks: Batu-Bolong, Berawa Beach, and Padma to name a few. For those wishing to branch out further, the infamous Kuta reefs are a short boat or scooter ride away.
Nearest wave: The perfect reef and beach breaks of Echo Beach and Perenenan are an easy walk from the surf camp in Canggu.
X-Factor: Traditional Balinese design meets modern luxurious fixtures and fittings, a unique place to stay in a spectacular environment. Free use of the surf camp bikes means travelling around the local area is low-hassle and low-emission.
---
5) Dikaloha Surfcamp & Surfschool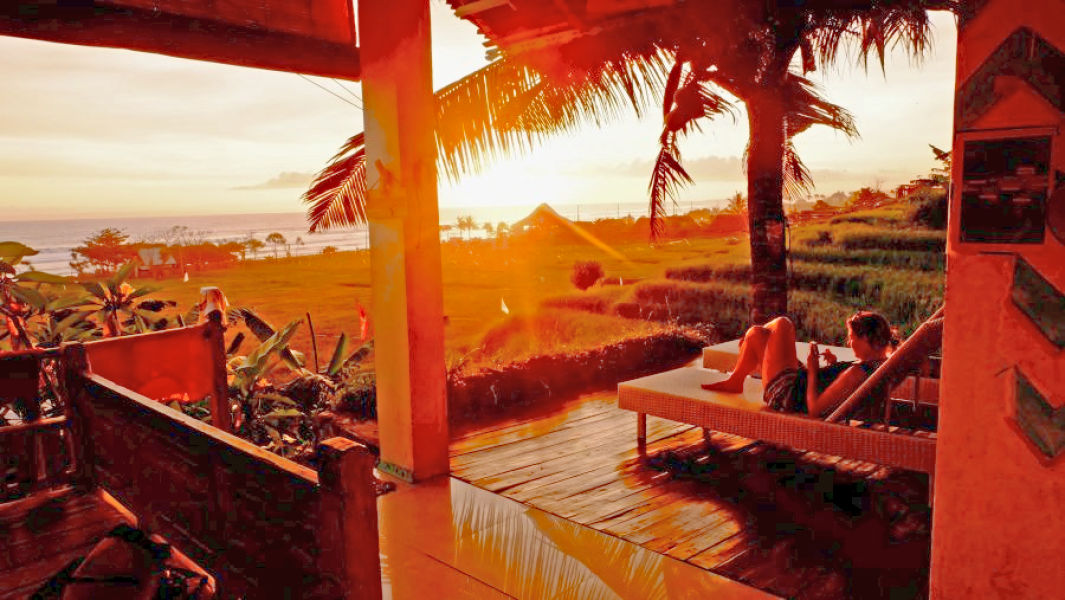 Sleeps: 12
Location: The beach house is located in the small fishing village of Medewi on the west coast of Bali. This small dwelling is populated mainly by farmers and fishermen.
How to get there: 100 kilometres (2-hours drive) from Denpasar airport
Owner: Dika
Surf available: Coming a little further north from the usual trappings of Southern Bali means thinner numbers in the water. 18 kilometers north of the river mouth break at Balian, the main surfing action in Medewi focuses around the long left-hand point break.
Nearest wave: 50-metres from the long steep walls endlessly peeling around the point at Medewi
X-Factor: A chance to experience an authentic side of Bali. Picturesque rice fields and beautiful coconut lined beaches, this is a far cry from the wildly developed resorts of Kuta, 100 kilometres south.
--


As you might expect, surf camps in Bali cater for surfers of all abilities. Guides are on hand to take experienced wave riders to lesser-known spots, utilising their local knowledge to make the most of the conditions, whilst surf camp instructors will help those new to the sport in their quest to get up and riding on the ocean waves. Come join us and experience the trip of a lifetime...