Just a short flight from the major US airports, take your surfing up a level in some of the most perfect waves in the world at the best surf camps in Costa Rica.
Whilst there are many awesome places available, we thought we'd give you a helping hand by taking a closer look at the top surf camps Costa Rica offers below: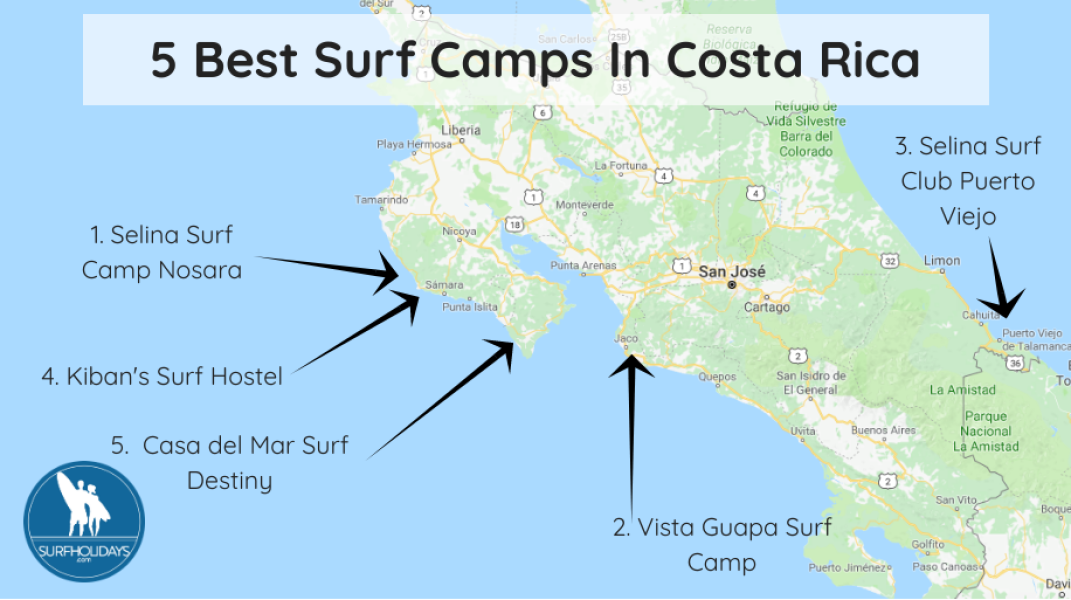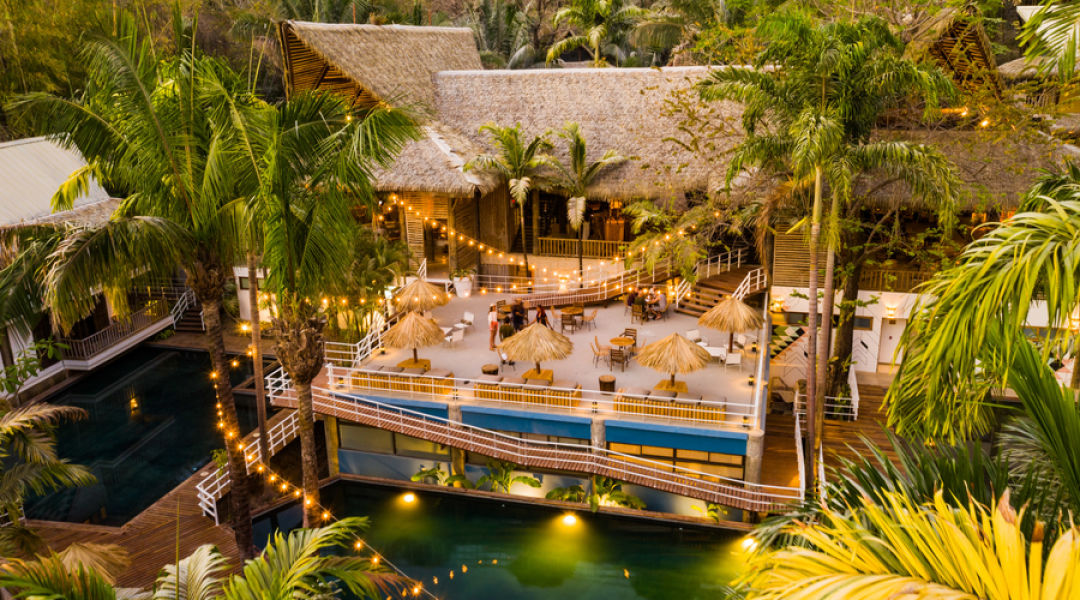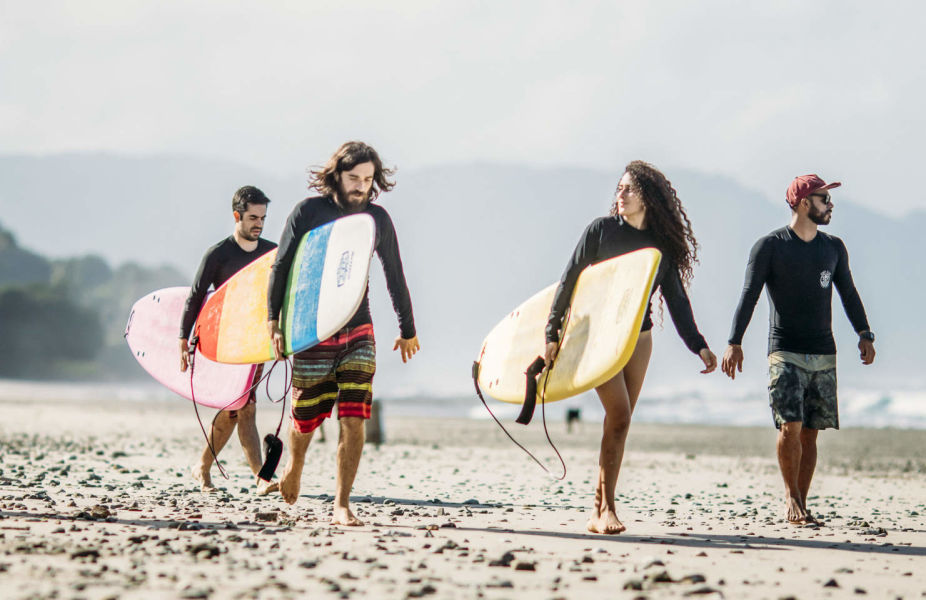 Location: Nosara, Nicoya Peninsula.
Nearest big airport and distance: Liberia, 2.5 hrs drive away. Airport transfers available through Selina Surf Camp as well as public bus services. From San Jose its a scenic 5 hour drive.
7-night surf camp package: Their surf package includes daily breakfast, 6 lunches/picnic and 3 dinners during your stay, surfboard and equipment hire, 6 daily 2 hour surf lessons in the morning, free surf time all afternoon, transport to the days best spots, surf tips and coaching as well as organised nights out around Nosara.
Nosara was a long hidden secret until the early 2000's and has now grown into a perfect little surf town that not only has world class beach break peaks but delicious restaurants thanks to some ex-pat chefs and plenty of sights and activities to keep you full of stoke away from the ocean as well as plenty to keep you chilled out and relaxed with some of best yoga retreats in Costa Rica. For those who love being about in nature, there are wildlife spotting excursions, Montezuma's waterfalls and the opportunity to hike around Cabo Blanco, the oldest nature reserve in Costa Rica.
Nestled among the trees and sitting right on the sand, the Selina Surf Camp Nosara is arguably one of the best surf camps in Costa Rica in one of the most beautiful spots in the country. The beach out front provides excellent waves for all levels of surfers as well all the amenities to make your time on your Costa Rica surf holiday the most relaxing and enjoyable one possible.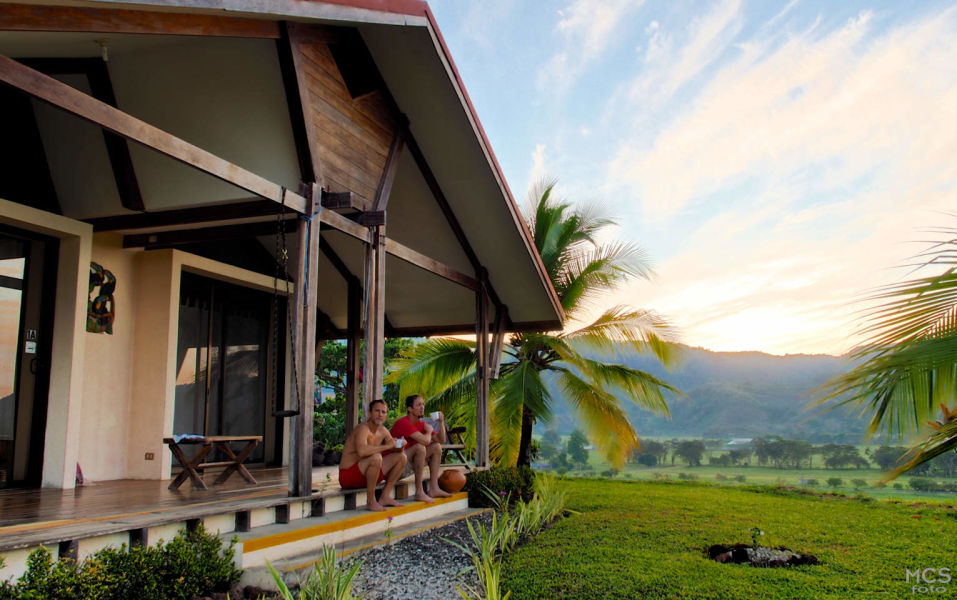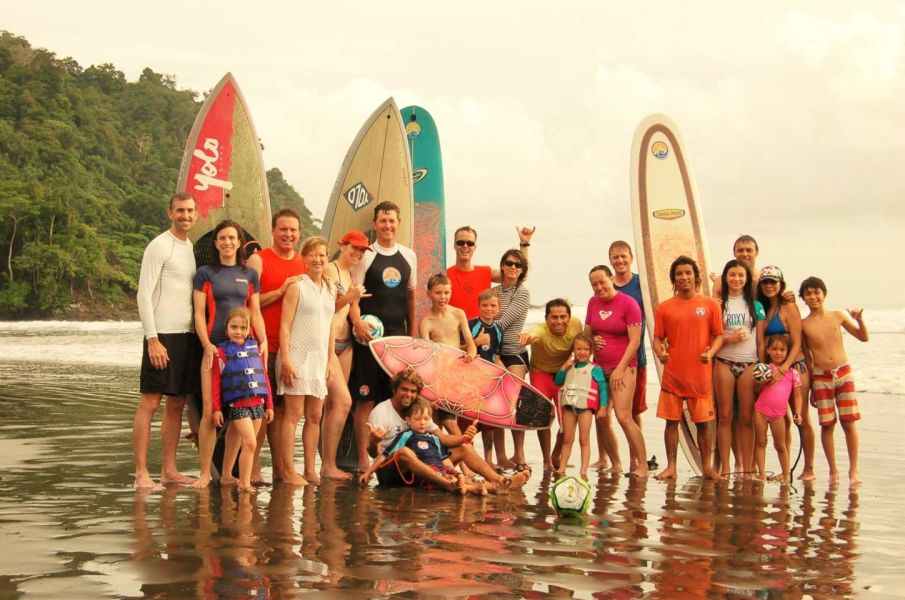 Location: Jaco, Central Pacific
Nearest airport and distance: San Jose Airport, 85kms away. Private transfer included in package.
7-night surf camp package: This is the perfect surf holiday for couples looking to add an element of luxury with plenty of activities to keep you both occupied, the surf package includes return transportation to San Jose Airport, private air conditioned and ocean view accommodation, daily breakfast and dinner, 1 excursion with our naturalist guide to Manuel Antonio National Park and 5 Surf or SUP lessons with transportation, professional instructors and equipment and hire boards.
Vista Guapa Surf Camp sits on five acres of exquisite landscaped gardens where three beautiful bungalows with wooden deck porches overlooking the ocean from the hillside. The surf camps features a main house where guests can recharge in hammocks and relax by the swimming pool, limber up with daily Yoga and pilates classes or simply wander around the gardens lined by fruit trees and flowers keeping an eye out for Costa Rica's exotic wildlife.
Vista Guapa prides itself on getting the most out of their guests in the water, this is due to their awesome team of instructors led by Alvaro Solano, 8 x Costa Rican national surf champion, who will have you improving your surfing level within a few days. Jaco has plenty to offer away from the water such as ATV tours, waterfall tours, zip lines, kayaking, horseback riding, deep sea fishing trips and much more.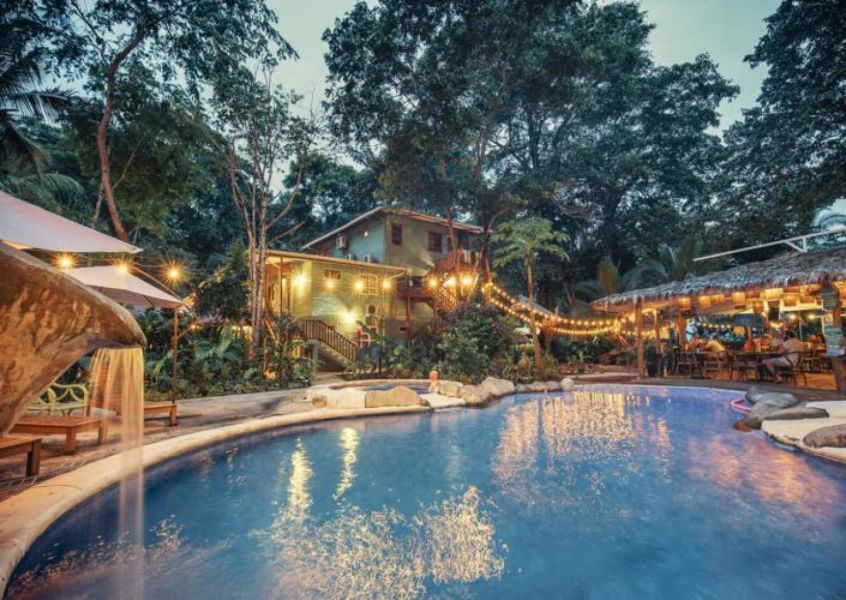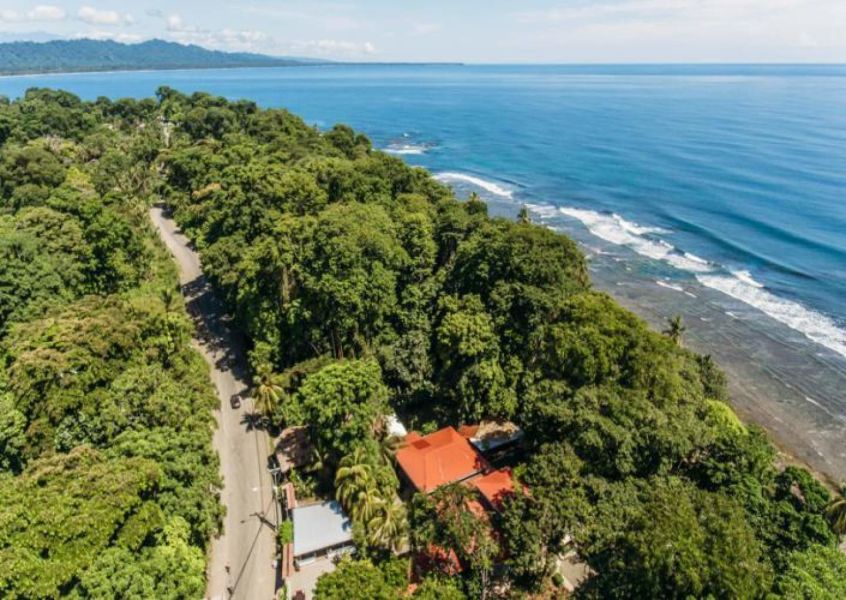 Location: Puerto Viejo de Talamanca, Puerto Viejo.
Nearest airport and distance: San Jose Airport, 215kms away. Public transport available as well as private transfers that can be reserved when booking.
7-night Jungle Surf package: Their Jungle surf package is one of our favourites and includes 7 nights accommodation, daily breakfast, 4 lunches or picnics and 3 dinners, 4 daily surf lessons at your ability level at the days best surf spots, Jungle Adventure excursion, rafting Pacuere adventure, as well as nights out to the towns best spots for those who like their surf holidays with a party vibe.
Selina Surf Club adds another of their locales to the list of the best surf camps in Costa Rica with their Puerto Viejo location, found on the white sand Caribbean side of Costa Rica, this surf camp is the quintessential tropical getaway.
This is a surf camp experience like no other, where the ocean and the jungle meet, oozing reggae vibes and friendly smiles, where aside from the fantastic waves for all abilities, you'll never be short of things to do, from kayaking, snorkelling, yoga, jungle night walks, dancing until the small hours at the Dance Hall Reggae Night, cooking classes and guided park tours.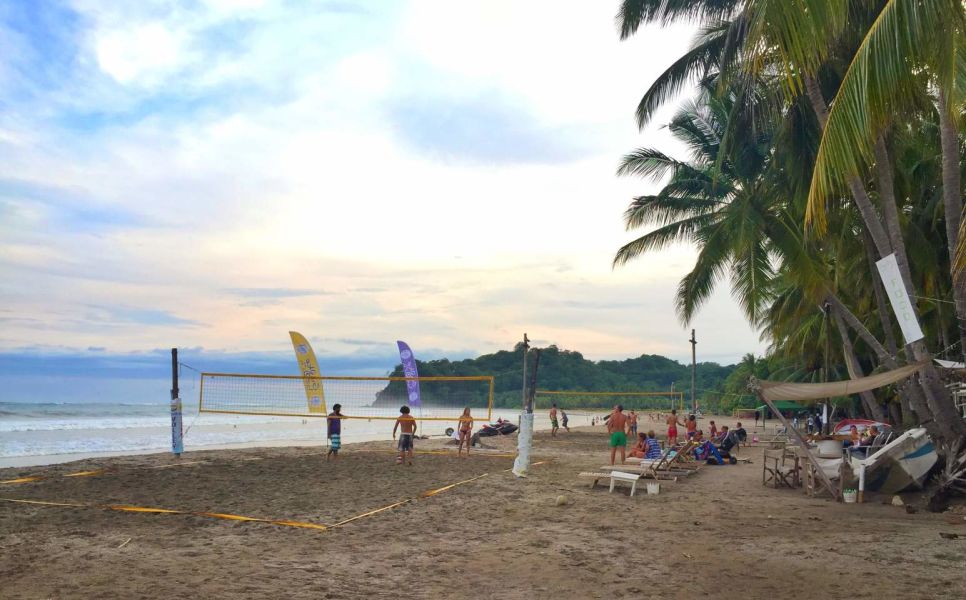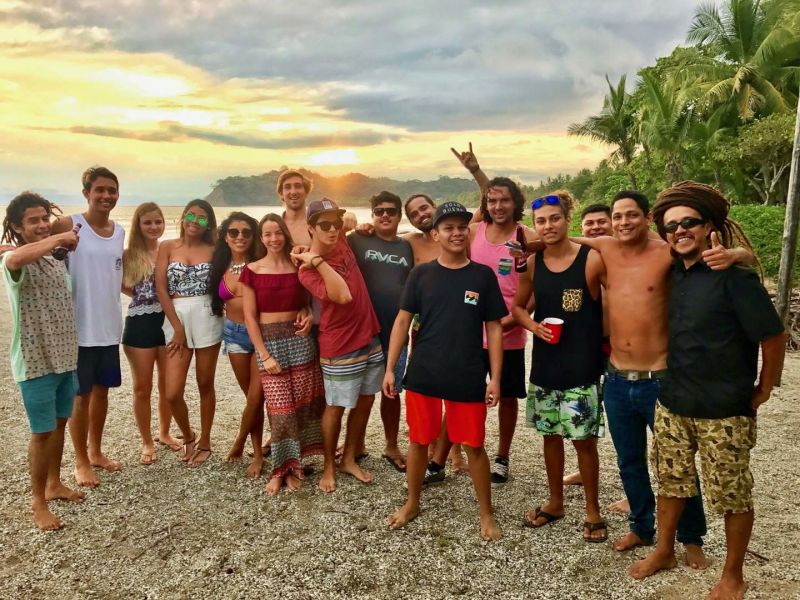 Location: Sámara, Guanacaste.
Nearest airport and distance: Libéria Airport, 75kms away. Transfers available through booking page as well as public transport links at the airport.
6-night Surf, Yoga and Diving package: What we love most about Kiban's is their yoga, dive and surf package, the perfect escape for those who like to to keep active on their surf trips, whilst still focusing on health and well-being. The package includes surf and yoga lessons everyday, snorkelling and diving trips, accommodation, and nightly bbq's and bonfire parties.
Kiban's Surf Hostel is one of the best surf camps in Costa Rica for those looking to get beneath the water as well on their surf holiday. Known for there excellent diving instructors and excursions, this surf camp will show you the beauty that Costa Rica offers beneath the waves when you're not riding them! Located about one hour south of Nicoya, Kiban's offers one of Costa Rica's most beloved beaches, where a reef protects the long crescent shape beach from strong waves, making it safe for swimming, surfing, snorkelling and kayaking.
Playa Samara is a small, but lively community, blissfully off the beaten path and still somewhat undiscovered, retaining the old school Costa Rican charm that has drawn surfers to the country for years.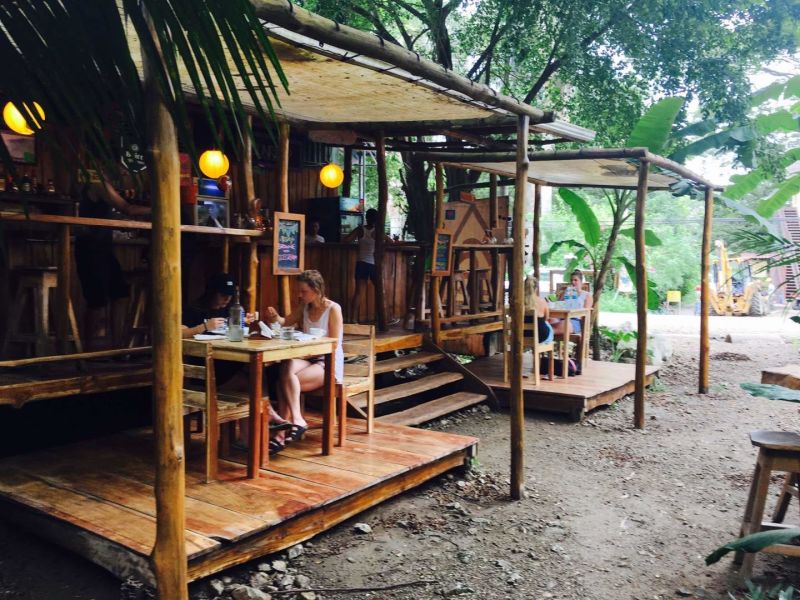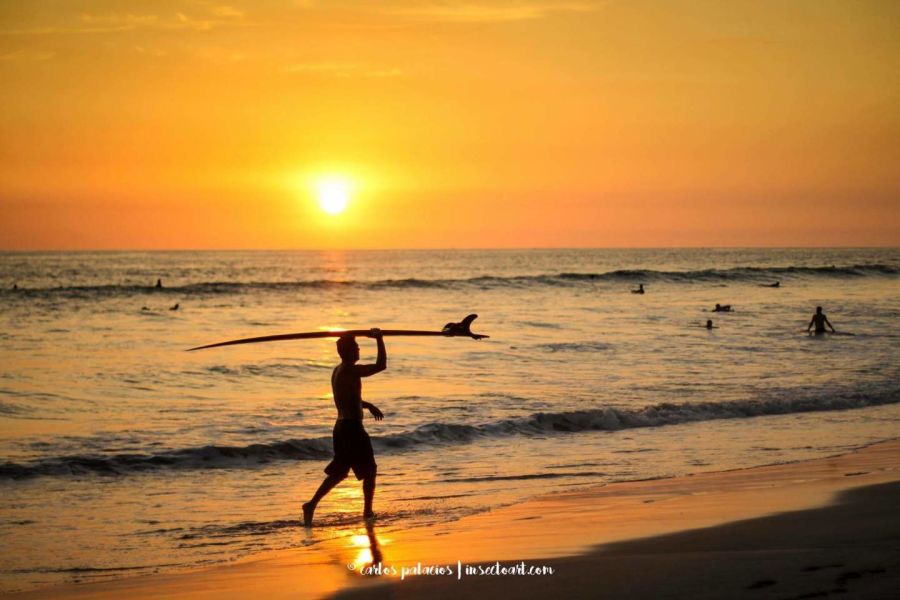 Location: Santa Teresa, Nicoya Peninsula.
Nearest airport and distance: San Jose and Tambor Airport. Airport transfers available through surf package
9-night Surf Camp package: The Surf Camp package is a fantastic way to experience the full Costa Rica lifestyle over 9 days and includes airport transfers, lodging for 10 days/nights in shared accommodation or optional private double cabin, lunch or dinner during the week at the camps restaurant, 5 x 2 hours surf lessons including all equipment, use of equipment during your entire stay, pre-surf fresh fruit and coffee, full post-surf breakfast, snorkelling tour at the gorgeous Tortuga Island, fishing tour, 3 yoga sessions, a massage session plus a rash guard gift.
Casa del Mar Surf Destiny is located in between the world famous surf beaches of Playa del Carmen and Santa Teresa and consists of 4 Dorms, 4 Private Cabins and a beautiful communal area with kitchen and hammocks to relax in after surfing beach break peaks all day.
It's all about taking advantage of the areas jaw dropping beaches crystal clear waters, whether that's fishing, snorkelling or SUP-ing in between waves is up to you! Yoga and spa services are available as well as plenty of activities away from the coast, such as chocolate making work shops, jungle canopy tours and 4x4 tours.
To sum up…
With a wave for everyone's ability along one of Costa Rica's hundreds of beaches, reefs and points you'll get plenty of time in the water, and with many spots you'll often get a peak to yourself, allowing you to get as many waves as you can paddle into on your Costa Rica surf holiday.
Due to unpaved roads, secrecy and jungle vegetation, there are plenty of waves that have no names and are just known among the locals. The instructors on your surf camp are more than happy to show you waves off the beaten path that will have you feeling as though you are surfing your own secret spot paradise.
When your not pulling into beach break barrels or relaxing on one of the many jaw-dropping beaches, there is plenty to see and do, from jungle excursions where you can spot exotic wildlife, beautiful waterfalls and lagoons, mouth-watering cuisine and a wide range of activities to keep even the busiest of tourists occupied, a Costa Rica surf camp should be on every surfers bucket list.