Sintra Surf School
Sintra Surf School
Surf School in Sintra, Portugal
About
I was Born in Portugal in 1985 and grew up in Sintra where I began Bodyboarding at the age of 7!
We are a dedicated company combining travelling, surfing, and bodyboarding.
Our staff are highly qualified surf/bodyboard coaches and lifeguard trained so you will be in the safest and most experienced hands at all times.
We are Sintra's only Surf & Bodyboard School!
Kids Surf
Beginner Surf
Intermediate Surf
Advanced Surf
Private Surf
Praia do Magoito, praia das Maças and Praia Grande
Lessons

Prices

Getting There

Reviews

Waves

Terms
Due to changing tides exact surf lesson start times are not decided until the week of your lesson.
After you book we will contact you the week of your lesson to tell you your lessons start time.
Kids Surf
We offer lessons for kids starting at 8 years old. ! - 2 hours in the water depending. All necessary equipment (board and wetsuit ) are included.
Beginner Surf
Our lessons are about 2 hours long and include all necessary equipment (board, wetsuit and fins) we also split up into small groups according to everyones skill level.
Intermediate Surf
We will rate your level of surfing and adjust your surf lesson accordingly to get you to the next level. Our lessons are about 2 hours long and include all necessary equipment (board, wetsuit and fins)
Advanced Surf
When you book a Sintra Surf Surfari we endeavour to go out of our way to find some really high quality waves and share some of Portugal's infamous secret spots.
Private Surf
Private lessons means one on one guiding you step by step thru your lesson. More attention means you will progress faster
Surf Guide
Coaching and guiding. We'll use all our experience to find the best waves on any given day. Our world class coaches will fine tune the day so that you can progress as quickly as possible.
Prices from 03 January to 30 December
| Prices per person | 1 Day | 2 Days | 3 Days | 4 Days | 5 Days |
| --- | --- | --- | --- | --- | --- |
| Kids Surf Lessons | €35 | €65 | €90 | €120 | €150 |
| Beginner Surf Lessons | €35 | €65 | €90 | €120 | €150 |
| Intermediate Surf Lessons | €35 | €65 | €90 | €120 | €150 |
| Advanced Surf Lessons | €35 | €65 | €90 | €120 | €150 |
| Surf Guide | €90 | €180 | €270 | €360 | €430 |
Private Surf Lessons
Prices per person
1 Day
2 Days
3 Days
4 Days
5 Days
1 Person
€65
€130
€195
€260
€325
2 People
€120
€240
€360
€480
€550
3 People
€160
€320
€420
€520
€620
We pick you up from your accommodation
5 REVIEWS
Florence
London uk
September 2019
Travelled with friends
How were the surf lessons?
Best surf school we've tried! Nicolas is the best surf instructor we've come across, and his team were great. We felt so relaxed even paddling out to get our first green waves, and all improved across our two days in beautiful Sintra. He also knows the best recommendations to explore the area and get away from the crowds. Already planning our return! Thanks so much! Namaste x
Max
Amsterdam
July 2019
Travelled with family
How were the surf lessons?
Professional, Personal and Portugal at its best
For more then 4 years we are enjoying our holidays in the surroundings of Sintra and every time we meet up with Nicolas Rosner and his team of Sintra Surf School. His personal approach and professionalism combined with portugese quality of life has made us come back every year. Our boys are looking forward to it every year and they learn from him while he is capable of looking at the level and talent of every child on its own. This is not a surfschool that wants to make money by the bulk of students but bleieves in the stength of quality and personal approach. See you again in 2019 Nicolas!
Maria
Rio de Janeiro brasil
June 2019
Travelled as a couple
How were the surf lessons?
A memorable experience
Nicolas was the best teacher I could have asked for my very first surf experience. He was very professional, laid-back and made sure I felt safe and confident at all times in the sea. I loved the first lesson so much I booked another one straight away and got to know another amazing beach in Sintra. I highly recommend Nicolas and Sintra Surf School. Book a lesson and I am sure you'll have a blast!
- Less
How were the surf lessons?
Best surfing experience ever I have had a couple of surf lessons in the past with various schools, but the lesson with Nicolas was simply the best! He explained everything really well, from the currents and wave structure to the focus and balance once you're up on the board..! Nicolas was so patient with us and really made sure that my boyfriend and I had fun!! As we were staying for a few days in Sintra, Nicolas also has kindly given us some recommendations on places to see and good local restaurants, acting as a great tour guide as well :) thanks so much Nicolas, we'll be back for sure!!
Rosie
London
March 2019
Travelled solo
How were the surf lessons?
Fantastic experience from start to finish - can't wait to go back!
I chose Sintra Surf School firstly because of the location and I wasn't disappointed! Although it's in a world-class location for surfing and bodyboarding, the beaches aren't overly developed and don't feel touristy. My instructor Nicolas picked me up from Sintra and we had a beautiful drive out through the forests and meadows towards the ocean. Nicolas grew up in Sintra so he knows the area like the back of his hand and was committed to finding the beach with the best waves for our lesson. He knew all the local surfers out that day and there was a real community feel.

The lesson itself was really well structured and well paced - although we were in the water and on the boards for most of the time, Nicolas took just the right amount of time at the start to explain the techniques we'd need to use in the water, tailored to our differing levels of knowledge and experience, and to lead us through some stretches to warm up. Sintra Surf School keeps its classes smaller than a lot of the other surf schools in the area, so the instructor can spend more time with each student and help them make progress.

Nicolas was friendly, encouraging and great at giving specific feedback to help me learn. He is passionate about surfing and bodyboarding, and completely dedicated to making sure all of his students have a great time! As a beginner I had total confidence in his ability to keep me safe on the water and I would trust anyone who has been trained by him.

Communication was great - when I booked the lesson by email, I got a reply within the same day and while I was out there it was really easy to get hold of Nicolas by phone and WhatsApp.

My experience with Sintra Surf School has inspired me to keep learning and I would definitely book with them again. I can't recommend them highly enough - thank you Nicolas and team, you are the best!
+ More Reviews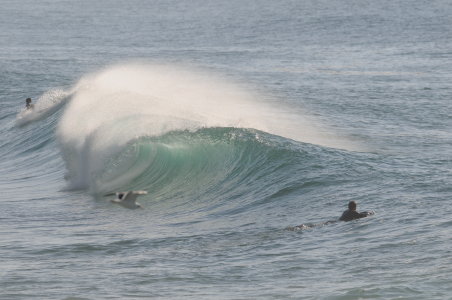 Sintra coastline
Level: All Levels
Sintra benefits from picking up any swell the Atlantic is producing. The summer months can be flat elsewhere in Europe, whereas the local beach breaks around the Sintra area rarely see the waves disappear.Sintra's microclimate often produces glassy surf conditions while other regions in Portugal suffer from small swells and windy onshore waves, especially during the summer months.
Surf conditions in Sintra:
Beginners:

JAN

FEB

MAR

APR

MAY

JUN

JUL

AUG

SEP

OCT

NOV

DEC
Intermediates:

JAN

FEB

MAR

APR

MAY

JUN

JUL

AUG

SEP

OCT

NOV

DEC
Advanced:

JAN

FEB

MAR

APR

MAY

JUN

JUL

AUG

SEP

OCT

NOV

DEC
Rain
Wetsuits
JAN/FEB
MAR/APR
MAY/JUN
JUL/AUG
SEP/OCT
NOV/DEC
Sintra's two main beaches are
Praia das Macas and Praia Grande
. Both are perfect beginner/intermediate beaches and are some of the most consistent surf beaches in the whole Lisbon-Sintra area. North and South of these beaches are many small coves and beautiful hidden beaches that provide any exploring surfer with plenty to get excited about!
Close by is
Praia Guincho
, a spectacular long beach with different peaks, perfect for learning and can get big and windy in the afternoon, so morning is always the best bet here.
Ericeira
is only 30 minutes drive and is definitely worth a day trip at least, it has dozens of surf beaches to offer including the famous point break Ribeira D'Ilhas and also the relaibale beach break Foz do Lizandro.
Further South is Cascais and Lisbon with an endless supply of different surf beaches for all standards.
Come Surf Sintra with us!
Payment
A small deposit is required to secure your booking.
Your balance is due when you arrive at the beach.
Cancelling
To cancel go to the MyAccount section and log in or register and you can cancel from within your account.
Your deposit is non refundable but can be used for the same property/surf school within one year of your original booking.
What happens if the surf school cancel the Surf Lessons?
In the rare occasion that conditions do not allow for the surf lesson to go ahead you will be given a full refund.
Debit/Credit cards are not accepted on site – cash only.
Why use Surfholidays.com?
Book your accommodation & surf lessons/guiding in the one place
24/7 Support – phone & email
20,000 booked since 2009
Best price guarantee
Flexible payment: Only a deposit is needed to book
Flexible cancellation conditions
Manage your bookings online
You're in control of your booking. No registration is required.
Your booking is secure & details are protected by a secure connection.
Nicolas Rosner