Peniche Surf School
Peniche Surf School
Surf School in Peniche, Portugal
About
With the best location in Portugal and in the most consistent zone of waves in Europe, Peniche Surf School offers its students a healthy practice mode supported by the pedagogic guidelines agreed with the educational level and physical condition of their students.
ESP instructors are certified by local surfers Portuguese Surfing Federation, with lifeguard course and great knowledge of the beaches and waves of Peniche ensuring a high degree of safety in all sessions.
Kids Surf
Beginner Surf
Intermediate Surf
Advanced Surf
Private Surf
Lessons

Prices

Getting There

Reviews

Waves

Terms
Due to changing tides exact surf lesson start times are not decided until the week of your lesson.
After you book we will contact you the week of your lesson to tell you your lessons start time.
Kids Surf
The biggest concern in the Kids Lessons is their safety and a quick and effective learning. Students are always accompanied by qualified instructors, ensuring a more controlled and effective learning.
Beginner Surf
The goal of the classes for beginners is to provide the students with a first contact with sport, and initiate the essential techniques for a good evolution in the surf. Students are always accompanied by monitors present, in order to ensure a good learning and the necessary safety.
Intermediate Surf
In class for intermediate level students, the goal is to develop the techniques previously learned and learn some new ones. Improving the take off , the trimming , and the beginning of more complex maneuvers are part of this learning stage .
Advanced Surf
The classes for advanced level are characterized by having as objective the improvement of all kinds of maneuvers. Athletes should be prepared to surf any wave. The trainings are subjected to an analysis performed by the coach in order to achieve a good progress of the surf level.
Private Surf
The private lesson is the best option for those who want a quick learning. Because there is one monitor only at their disposal, students can catch the information easily and quickly get results .
Prices from 01 January to 31 December
| Prices per person | 1 Day | 2 Days | 3 Days | 4 Days | 5 Days |
| --- | --- | --- | --- | --- | --- |
| Kids Surf Lessons | €25 | €48 | €70 | €95 | €110 |
| Beginner Surf Lessons | €25 | €48 | €70 | €95 | €110 |
| Intermediate Surf Lessons | €25 | €48 | €70 | €95 | €110 |
| Advanced Surf Lessons | €25 | €48 | €70 | €95 | €110 |
Private Surf Lessons
Prices per person
1 Day
2 Days
3 Days
4 Days
5 Days
1 Person
€50
€95
€140
€285
€235
2 People
€48
€92
€136
€280
€230
3 People
€48
€92
€136
€280
€230
We pick you up from your accommodation
2 REVIEWS
Michael
Gothenburg, Sweden
July 2019
Travelled with family
How were the surf lessons?
I'm a total newbie so I booked a private lesson to get the most out of the time in the water. My instructor was very professional and helpful. Not only when it comes to surf techniques but also about how to read the waves and such.
I would recommend anyone to do this. It was great!
Michael
Cardiff
July 2019
Travelled with friends
How were the surf lessons?
We really enjoyed our surf lessons. They were relaxed and very informative.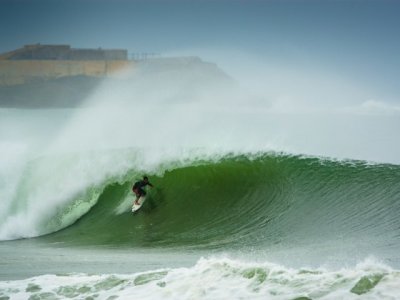 Supertubes
Level: Advanced
A big barrel for the advanced level where the take off is really important.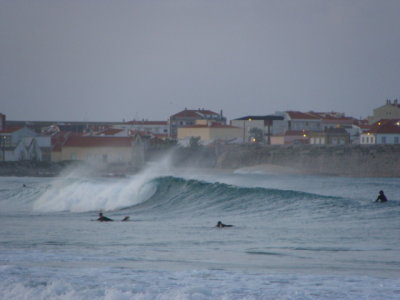 Middle of the bay
Level: All Levels
The type of wave the allows every surfer to improve them skills. Since big waves until small waves for beginners.
Surf conditions in Peniche:
Beginners:

JAN

FEB

MAR

APR

MAY

JUN

JUL

AUG

SEP

OCT

NOV

DEC
Intermediates:

JAN

FEB

MAR

APR

MAY

JUN

JUL

AUG

SEP

OCT

NOV

DEC
Advanced:

JAN

FEB

MAR

APR

MAY

JUN

JUL

AUG

SEP

OCT

NOV

DEC
Rain
Wetsuits
JAN/FEB
MAR/APR
MAY/JUN
JUL/AUG
SEP/OCT
NOV/DEC
The best thing about the Peniche & Baleal peninsula is that the beaches face both north and south, and are all within a few kilometres of each other. So on nearly all conditions there is surf - it is well known as one of Portugal's most consistent surf destinations and a great place for a Surfing Holiday.
The
WSL World Tour
comes to Peniche every year in October and is a great time to visit if you want to watch the worlds best surfers such as Kelly Slater, Gabriel Medina & Mick Fanning battle it out to win. Surf everyday while watching the event also.
The areas main surf beach is called
Cantinho da Baía
, its starts in Peniche and ends up in the area knows as Baleal. The spot is famous for its consistency and for being ideal for beginners and intermediate surfers and is where some of the best Baleal Surf Camps are located. Protected from the bigger swell by the headland makes it's almost always possible to surf here even when there is big swell hitting the coast. The beach stretches 4kms further west with many spots to surf - a great place to get away from crowds.
On the other side of the Baleal headland is Prainha, another great protected surf spot for beginner and intermediate surfers. And next to this is
Lagide
, a reef break and one of the best surf spots in Portugal if you have big swell and southerly winds. It's a long perfect left with a shallow reef at low tides - great for intermediate/advanced surfers.
On the other side of Peniche (south) is the area's and arguably Portugal's most famous break
Supertubos
. It's a powerful wave breaking in very shallow sand bar, advanced/pro surfers only! Other waves such as
Molhe Leste, Consolação, Porto Batel
and
Almagreira
are all close by giving every kind of alternative including many uncrowded areas; a great area to explore and Surf Portugal's best waves!
And don't forget you can head south and surf
Ericeira
- less than an hour's drive away.
Come Surf Peniche with us…
Payment
A small deposit is required to secure your booking.
Your balance is due when you arrive at the beach.
Cancelling
To cancel go to the MyAccount section and log in or register and you can cancel from within your account.
Your deposit is non refundable but can be used for the same property/surf school within one year of your original booking.
What happens if the surf school cancel the Surf Lessons?
In the rare occasion that conditions do not allow for the surf lesson to go ahead you will be given a full refund.
Debit/Credit cards are not accepted on site – cash only.
Why use Surfholidays.com?
Book your accommodation & surf lessons/guiding in the one place
24/7 Support – phone & email
20,000 booked since 2009
Best price guarantee
Flexible payment: Only a deposit is needed to book
Flexible cancellation conditions
Manage your bookings online
You're in control of your booking. No registration is required.
Your booking is secure & details are protected by a secure connection.
Carlos Fidalgo