Moana Surf School
Moana Surf School
Surf School in Cascais, Portugal
About
Moana Surf School has been running since 2003 and is on a perfect beach.
We also have a great bar/restaurant next to the school. The beach is wild and unspoilt
and is perfect for relaxing and surfing all day long. Moana Surf School offers safe surf classes with professional and very friendly instructors. We want you to have fun as much as anything else! Hope to see you soon. Obrigado!
Kids Surf
Beginner Surf
Intermediate Surf
Advanced Surf
Private Surf
SUP
Lessons

Prices

Getting There

Reviews

Waves

Terms
Due to changing tides exact surf lesson start times are not decided until the week of your lesson.
After you book we will contact you the week of your lesson to tell you your lessons start time.
Kids Surf
We pick you up from accomodation. We ask parents to be with kids when we pick up. lessons are 1 hour 30 mins - 2 hours long. All equipment provided.
Beginner Surf
Lessons are 2 hours long. We provide a safe and solid surfing base to improve from. All equipment provided. Pick up provided.
Intermediate Surf
We get you started on green waves and some turning skills! Lessons are 2 hours. All equipment provided. We pick up from accommodation.
Advanced Surf
We look for nice green waves and try our best to fine tune your surfing skills. We look to make you as fast and efficient as possible on the wave and in all aspects of surfing. We provide pick up from accommodation.
Private Surf
We offer one to one training. 1 hour 30 mins lesson. All equipment included. Classes are very intensive but learning curve is steep!
Surf Guide
We have a surf guide who can take you to off the track locations and secret spots.
SUP
All our SUP classes are one hour long and include all equipment
Prices from 01 January to 31 December
| Prices per person | 1 Day | 2 Days | 3 Days | 4 Days | 5 Days |
| --- | --- | --- | --- | --- | --- |
| Kids Surf Lessons | €25 | €45 | €70 | €85 | €100 |
| Beginner Surf Lessons | €25 | €45 | €70 | €85 | €100 |
| Intermediate Surf Lessons | €25 | €45 | €70 | €85 | €100 |
| Advanced Surf Lessons | €25 | €45 | €70 | €85 | €100 |
| Surf Guide | €50 | €100 | €150 | €200 | €250 |
| SUP Lessons | €25 | €50 | €75 | €85 | €100 |
Private Surf Lessons
Prices per person
1 Day
2 Days
3 Days
4 Days
5 Days
1 Person
€50
€100
€150
€200
€250
2 People
€45
€90
€135
€170
€215
3 People
€35
€55
€85
€100
€135
We pick you up from your accommodation
18 REVIEWS
Ewa
Hertford, United Kingdom
August 2019
Travelled with family
How were the surf lessons?
1 private lesson with Moana surf school. Very friendly and great with my young son
Tamara
Vialonga, Portugal
August 2019
Travelled with friends
How were the surf lessons?
It was great. The people were awesome and lots of fun. It was hard to get to the school as we walked a lot to get there but it was so worth it. We had a wonderful time.
David
Colchester,UK
August 2019
Travelled with family
How were the surf lessons?
Surf lessons were amazing... the guys were very cool, worked brilliantly with the kids and were very patient with us adults! Also very fun before after and during lessons. We were made to feel very welcome to hang out at the surf school base all day if we wanted and they took care of us transporting us at any time we wanted to leave.

The beach at Guincho is of course amazing and we stayed there most of the day! And they have a great bar/restaurant there where we had lunch every day.

And we all got up on the boards eventually!
- Less
Hugh
London, UK
August 2019
Travelled with family
How were the surf lessons?
Surf lessons were good although a little shorter than expected however time was made up. it was very busy - maybe a bit too overcrowded but then it was August!
Alex was doing a good job and instructors were good. Felt safe in the water.
Beaches were very good and clean.
Geraldine
Waterford, Ireland
July 2019
Travelled with family
Lasse
Finland, Helsinki
May 2019
Travelled as a couple
How were the surf lessons?
They are THE GREATEST! Great people, and very very good instructors. I had a blast, and leaned a lot. Didn't expect that more than the board and wetsuit rental, plus that someone is having a look that your are sort of safe;) But got so much more. I can't praise Alex, Eric, Gabby and the guys enough. Really happy and definitely going back to Moana Surfing School at Guincho Beach.
Michelle
London, United Kingdom
February 2019
Travelled solo
Maria
Dublin, Ireland
February 2019
Travelled solo
How were the surf lessons?
I did the lessons with Moana surf schools - they were excellent. Alex collected me every morning from my accommodation and the lessons with Bruno were super. Guincho beach is beautiful - with some strong waves!
Simon & Bobby
Pembrokshire

The surf lessons with Alexand Nick were absolutely fantastic. They looked after both me and my son very well in every lesson and adapted to suit our levels of experience and ability. They knew when to push you onto the next level and when to back off and let you rest - nothing seemed too much trouble. Our surfing ability has progressed pretty well and we now both have the confidence to keep going and as a result we'll be getting in the water as much as possible back home. The boards and wetsuits were in good condition and there was plenty of choice. We only surfed in Guincho beach - about a 5 min drive away. It was lovely - clean sands that were well looked after, a nice slowly shelving beach, lovely clean water, plenty of waves and a fantastic cafe to chill out after an exhausting day in the surf. All in all we had an absolutely superb time and whilst our bodies were aching from the amount of surfing we did, we really didn't want to go home and one day will go back again
The surf lessons were great too. We really liked the smaller groups and it made it a bit more interesting. The pick up in the morning was great and it gave us the whole day at the beach. We also enjoyed walking it quite a few times. Guincho beaches was great, we didn't explore the others but will next time.
The surf was great, Alex was very patient with us :) Chilling out in the Bar da Guincho in the afternoon was so relaxing and felt like a million miles away!
The surf lessons were just what I wanted; simple, effective instructions and the freedom to practice them. The fact that I got a smaller board when I started to progress was really great, something I wish surf schools I've been to in Ireland did. After the weeks lessons I feel confident about getting my own gear and exploring the wesht. Bar do Guincho is easily the best beach bar we have ever been to.
Neil
Donna and Girls, Dublin

Alex at the surf school was fantastic, very sincere and enthusiastic, with a great staff. Superb at looking after kids and very helpful with regard to lifts each day. Girls had a blast, really enjoyed it.
Noel and family
St Albans

The real highlight was the surfing on Guincho Beach. Alex and his surf school team looked after us extremely well. Importantly we all got up and standing on the boards :). We originally planned one week in Villa Gale and a second week in Sintra but we enjoyed Guincho and the surfing so much we ended up spending most of our second week there as well. So yes, a great holiday made better by Alex and his team
The surfing was just exhilarating, emotion runs even as I recall it to tell you. Each of the instructors were super: fun, safety conscious, and encouraging
Surfing was great craic – loved the beach and the set up at Bar do Guincho – we had a few good nights there too! We went surfing here in Cork last weekend and the instructor said we didn't need anymore lessons so we're all a bit chuffed! All in all a great holiday
4 of the group went surfing and really enjoyed it. Alex picked us up every morning and he was really good with us
Surf lessons great, good instruction , well organised , friendly crew. Safety consciousness evident too . Weather and beaches ideal . No complaints.
+ More Reviews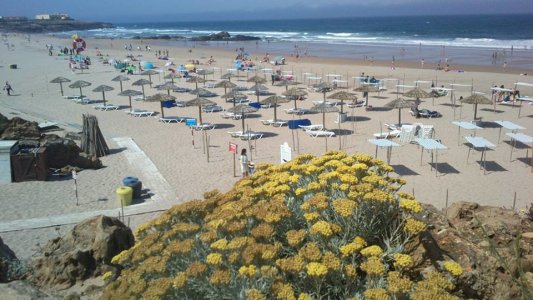 Guincho Beach.
Level: All Levels
Waves are good for learning during summer months. High tide not good. Great beach to learn to surf in summer and relax and chill at the Bar do Guincho. Moana Surf school located next to Bar do Guincho. In the winter sometimes to big and messy.
Surf conditions in Cascais:
Beginners:

JAN

FEB

MAR

APR

MAY

JUN

JUL

AUG

SEP

OCT

NOV

DEC
Intermediates:

JAN

FEB

MAR

APR

MAY

JUN

JUL

AUG

SEP

OCT

NOV

DEC
Advanced:

JAN

FEB

MAR

APR

MAY

JUN

JUL

AUG

SEP

OCT

NOV

DEC
Rain
Wetsuits
JAN/FEB
MAR/APR
MAY/JUN
JUL/AUG
SEP/OCT
NOV/DEC
Cascais is the perfect place to learn how to surf. The town is surrounded by many different types of beaches. The best beginners/intermediate surf beach is
Guincho
(pronounced Ginchu) 5 km's north west of Cascias town. It's a beautiful kilometre long stretch of beach.
Further north are two excellent beginners beaches
Praia das Macas
&
Praia Grande
. They are well worth the trip as they will take you past Cabo da Roca, mainland Europes most Western Point with a pretty impressive cliff top view.
A few hundred metres East of Cascais is
Monte Estoril
beach which has a small righthand wave that breaks regularly. There is a car park at its base accessed from a slip road above.
Follow the road east of Cascais along the Tagus river (Tejo in Portuguese) towards Lisbon and you will come across beach after beach offering a vast amount of surf:
Bica
is a great longboarders break on
Sao Pedro
beach. The beach has a few surf bars and restaurants and is a great place to spend the day.
Closer to Lisbon is Carcavelos beach - as the Stormriders surf guide call it: "the original and still one of the best Portuguese surf spots". Its a very consistent beach break and home to some of Portugals best surfers.
Its also worth taking the trip across the river Tagus to
Costa Caparica
- driving over the spectacular Ponte 25 de Abril bridge leaving Lisbon behind you. Costa Caprica is a 30 km strip of coast with some of the most consistent surf in Portugal.
Come Surf Cascais with us....
Payment
A small deposit is required to secure your booking.
Your balance is due when you arrive at the beach.
Cancelling
To cancel go to the MyAccount section and log in or register and you can cancel from within your account.
Your deposit is non refundable but can be used for the same property/surf school within one year of your original booking.
What happens if the surf school cancel the Surf Lessons?
In the rare occasion that conditions do not allow for the surf lesson to go ahead you will be given a full refund.
Debit/Credit cards are not accepted on site – cash only.
Why use Surfholidays.com?
Book your accommodation & surf lessons/guiding in the one place
24/7 Support – phone & email
20,000 booked since 2009
Best price guarantee
Flexible payment: Only a deposit is needed to book
Flexible cancellation conditions
Manage your bookings online
You're in control of your booking. No registration is required.
Your booking is secure & details are protected by a secure connection.
Vasco