Lisbon Surf Camp & School
Lisbon Surf Camp & School
Surf School in Cascais, Portugal
About
LX SURF
Headed by Tomas Abreu , our surf school is based on 38 years of surfing experience and adventure – for fun, in competition and as the Surf school's technical director.
LX Surf school specializes in providing stoked surf, bodyboard and SUP lessons and experiences to visitors to Portugal, whatever your level. Our instructors are fully certified by The Portuguese Surfing Federation to ensure you have the best support and surf at your best. Aloha
Kids Surf
Beginner Surf
Intermediate Surf
Advanced Surf
Private Surf
SUP
Lessons

Prices

Getting There

Waves

Terms
Due to changing tides exact surf lesson start times are not decided until the week of your lesson.
After you book we will contact you the week of your lesson to tell you your lessons start time.
Kids Surf
Our Kids surf lessons are always in Carcavelos, ages 6-12 years old, and with a max ration students teacher of 5. Lessons include all insurances as gear for practice, theu take around 2 hours and are divided in Gear choice Warm up Theory Practice Conclusion We also offer shuttle hotel-beach-hotel. Aloha
Beginner Surf
Every day we hold 2 lessons, one in the morning and the other in the afternoon, which includes theory and practice. Locations: Carcavelos @ our surf school Lx Surf Camp&School located at Pérola Bar/Restaurant (you can walk from the train station to the beach) see map here » Guincho @ Bar do Guincho Pick up at Cascais train station. Call US! Aloha
Intermediate Surf
We will pick you up at your accomodation and take you to the best spot according swell forecast and tide for the day. We can provide you gear and video analysis under request. Come ride the best spots around Lisbon with experienced professional surfers. Please email us with surf experience and what gear are you use to ride. You also can bring your board and suit. See you soon in the water!Aloha
Advanced Surf
Here we try to have a minimum ratio teacher student, ideal 2-5 max. We pick you up and take you to best spot according your surf level. Normally with two sessions a day, we film in the morning and go in the water in the afternoon to help them to correct the morning mistakes, after taking a look to the morning session in video, at lunch time. Come Ride The Best waves With Us. Mahalo
Private Surf
Beginners surf lessons are the most comon private lessons with max 2 persons teacher/student ratio. Here we get full teacher attention to all your waves and a imediate correction helping you to progress your surf level quicker and easier. for sure you will enjoy it as all teachers are certificated and experienced surfers. Aloha
Surf Guide
Surfguide is done under consultation and availability. Thank you and write us with all your questions.
SUP
Steady water or surfing SUP we offer the best spots with personalized lessons for 3-5 students only at the time, so you can take the best of it. You will have a blast for sure. Aloha
Prices from 01 March to 04 November
| Prices per person | 1 Day | 2 Days | 3 Days | 4 Days | 5 Days |
| --- | --- | --- | --- | --- | --- |
| Kids Surf Lessons | €25 | €50 | €75 | €100 | €125 |
| Beginner Surf Lessons | €50 | €80 | €120 | €140 | €150 |
| Intermediate Surf Lessons | €60 | €100 | €150 | €180 | €200 |
| Advanced Surf Lessons | €60 | €100 | €150 | €180 | €200 |
| Surf Guide | €75 | €145 | €215 | €295 | €355 |
| SUP Lessons | €60 | €120 | €175 | €225 | €275 |
Private Surf Lessons
Prices per person
1 Day
2 Days
3 Days
4 Days
5 Days
1 Person
€90
€180
€270
€360
€450
2 People
€80
€160
€240
€320
€400
3 People
€70
€140
€210
€280
€350
We pick you up from your accommodation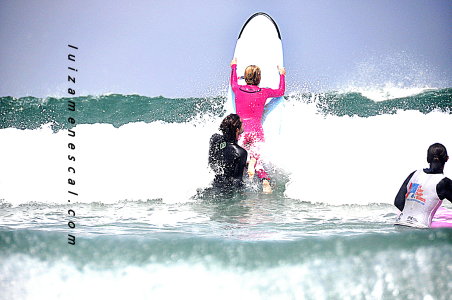 Carcavelos beach
Level: All Levels
Carcavelos beach is our school home! Here you will find our headquarters at the Restaurant/Bar Pérola. Carcavelos It's on the railway line linking Lisbon to Cascais and has the most extensive sandy area of Estoril Coast. However, it can still be packed during summer because it's a main beach break location due to the short distance and excellent public transportation from Lisbon. There's also skate and voleybal courts. Carcavelos is great spot for learning how to surf and LX Surfcamp & School it's the place to do it with quality, fun and safety. Or just rent your surf/bodyboard gear.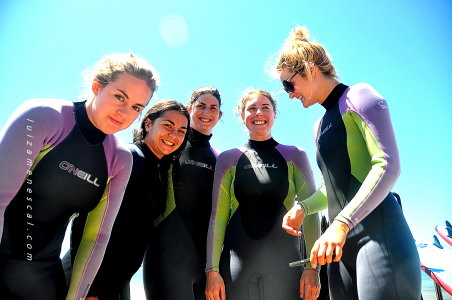 Guincho Beach
Level: Intermediate
Guincho lies within national park Sintra_Cascais and is one of the most Beautifull beaches of the Lisbon coast. It can be reached by bus from Cascais, but despite that It keeps a wild enviroment. The waves are powerful and the place can be windy – it has hosted windsurf and kite surf world. Guincho is different, due to its swell, wind directions and tides. South, Southeast and East winds direction are offshore. The strong swells form powerful waves, good for intermediate and advance levels, but also can be ideal for beginners in the small days.
Surf conditions in Cascais:
Beginners:

JAN

FEB

MAR

APR

MAY

JUN

JUL

AUG

SEP

OCT

NOV

DEC
Intermediates:

JAN

FEB

MAR

APR

MAY

JUN

JUL

AUG

SEP

OCT

NOV

DEC
Advanced:

JAN

FEB

MAR

APR

MAY

JUN

JUL

AUG

SEP

OCT

NOV

DEC
Rain
Wetsuits
JAN/FEB
MAR/APR
MAY/JUN
JUL/AUG
SEP/OCT
NOV/DEC
Cascais is the perfect place to learn how to surf. The town is surrounded by many different types of beaches. The best beginners/intermediate surf beach is
Guincho
(pronounced Ginchu) 5 km's north west of Cascias town. It's a beautiful kilometre long stretch of beach.
Further north are two excellent beginners beaches
Praia das Macas
&
Praia Grande
. They are well worth the trip as they will take you past Cabo da Roca, mainland Europes most Western Point with a pretty impressive cliff top view.
A few hundred metres East of Cascais is
Monte Estoril
beach which has a small righthand wave that breaks regularly. There is a car park at its base accessed from a slip road above.
Follow the road east of Cascais along the Tagus river (Tejo in Portuguese) towards Lisbon and you will come across beach after beach offering a vast amount of surf:
Bica
is a great longboarders break on
Sao Pedro
beach. The beach has a few surf bars and restaurants and is a great place to spend the day.
Closer to Lisbon is Carcavelos beach - as the Stormriders surf guide call it: "the original and still one of the best Portuguese surf spots". Its a very consistent beach break and home to some of Portugals best surfers.
Its also worth taking the trip across the river Tagus to
Costa Caparica
- driving over the spectacular Ponte 25 de Abril bridge leaving Lisbon behind you. Costa Caprica is a 30 km strip of coast with some of the most consistent surf in Portugal.
Come Surf Cascais with us....
Payment
A small deposit is required to secure your booking.
Your balance is due when you arrive at the beach.
Cancelling
To cancel go to the MyAccount section and log in or register and you can cancel from within your account.
Your deposit is non refundable but can be used for the same property/surf school within one year of your original booking.
What happens if the surf school cancel the Surf Lessons?
In the rare occasion that conditions do not allow for the surf lesson to go ahead you will be given a full refund.
Debit/Credit cards are not accepted on site – cash only.
Why use Surfholidays.com?
Book your accommodation & surf lessons/guiding in the one place
24/7 Support – phone & email
20,000 booked since 2009
Best price guarantee
Flexible payment: Only a deposit is needed to book
Flexible cancellation conditions
Manage your bookings online
You're in control of your booking. No registration is required.
Your booking is secure & details are protected by a secure connection.
Tomas Pinto Abreu