All-Inclusive Van Surfari Spain and France
All-Inclusive Van Surfari Spain and France
Arrutiegia Auzoa Auzoa, 26, Aia, Gipuzkoa, Aia - San Sebastian, Spain
Chat with a host who can help organise your trip...
The Place
Couples
Groups
Solo travellers
All-Inclusive Van Surfari Spain and France
The Stoke Travel Van Surfari is the Ultimate surf trip for surfers of all levels, get off the beaten track and explore the best secrets of the Spanish and French Coastline. Available over June through to September, operating on request for group bookings.

We start our days by exploring the awesome coastlines in search of the best waves to ride and coolest towns to partake in their culture. After a day of surf and adventure we either pitch our tents and stay overnight in an awesome spot, or we head back to the Surf House. No matter where we are you can always count on 2 hour surf lessons and three great meals daily, a story to tell and a fresh beer or sangria to top off the day.

The plan is to there is no plan! Surfari is about getting the most of the awesome spots we end up in, and there´s no time quite like the present! Hop in the Stoke surf van and see where the waves take you. The usual surf spots we hit up are in Biarritz, Hossegor, Zarautz, San Seb, St Jean de Luz, Hendaye, Anglet, Seignosse and Zumaia.

If we're not all surfed out, there's always some awesome nightlife or festival nearby we can drop in on! Party or chill, whichever we chose to do, we know we'll be waking up and cruising the coast to a new location looking for more waves the next day.
Location
Because the whole concept of a Surfari is to be out on the open road, hunting those perfect waves, you can find us pretty much anywhere up and down the Basque Coast.

Our base and central hub, however, is the San Sebastian Surf House.

We are uniquely located just off the beaten track in the beautiful Pagoeta Nature Reserve. Just a 10 to minute drive from Playa Zarautz and a 30 minute drive from the centre of San Sebastian. We offer our guests the rare opportunity to experience surfing Zarautz beach every day, partying and eating in San Sebastian, all while being able to retreat back to the surf house to take in the panoramic views of the forest, green hills and north Atlantic ocean. Fresh Sangria in hand of course!

Arrutiegia Auzoa 26 , bajo 1,20809 , AIA Gipuzkoa
Reviews

Facilities

Room types

Getting there

Surf Lessons

Waves

Terms
6 REVIEWS
Summary
Accommodation
Surf Lessons

Camille
Bordeaux, France
September 2019
Travelled solo
How did you like the accommodation?
This trip was unforgettable! I really enjoy it, and if I could I'll do it again.
I met amazing persons from all over the world, backpackers like me that were looking for having good time with open-minded persons that liked surf! What I like the most, is that when we were not surfing, there were always an activity to do (beach activity mostly)
The accommodation were confortable and enough for that we needed.
The 3 included meals were hearty and tasty, it was always a pleasure to eat after the effort!
The only negative point is that sometimes the campsite were a little bit far of the city. (Mostly in France)
September was the perfect period to do this road trip because there were not all tourists that usually have in summer.


How were the surf lessons?
Concerning the surf lessons, it was great, because the lessons were really adapted to the level of each person. Even if we were not surf expert, we could really enjoy it and improve our nivel! The instructors were here to give us advice and technical information.


Alex
France
August 2019
Travelled as a couple
How did you like the accommodation?
The beaches are amazing and the ambiance too. I liked that most of the things were already included in the price and didn't had to worry about the equipment or tent.
Unfortunately, the half of the trip was rainy, but we could surf in every case so it's the essential!
Concerning the location, it depends on the place, but in the most case it was well located. Not a lot to do, but wonderful landscapes!
How were the surf lessons?
I wished just we had more surf lessons.

Katy
Spain
July 2019
Travelled with friends
How did you like the accommodation?
The accommodation was perfect for relax after the surf lessons. The fact that we explore a lot of spots from Spain to France was really exciting, we could compare the waves, much better in France at that moment! The Stoke crew was really friendly and funny.



How were the surf lessons?
Talks about this lessons, the teachers were really patient, that was the first time that I surfed so... You can imagine!
- Less Reviews

Justine
France
July 2019
Travelled solo
How did you like the accommodation?
The ocean! The lunches and dinners were very delicious. Not having to do any work was a nice relief. The guys were great about handling the surfboards and making sure I had a beer in my hands.

Kathleen
Spain
June 2019
Travelled solo
How did you like the accommodation?
Because there were only 8 people in a house for 25-30 my friend and I had our own room. The food was delicious and the people who worked for Stoke were so cool and accommodating. We were lucky enough to all want to hangout and have fun together. We visited both the old and new parts of San Sebastian and went on hikes.
How were the surf lessons?
The instructors were very patient and willing to help. I because such a better surfer by the time the weekend was over and this was my first surfing experience. The beaches were beautiful and a good place for beginners or more advanced surfers.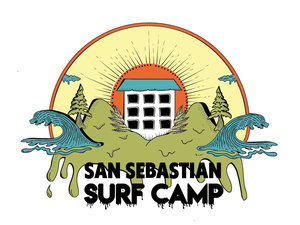 Reply from Matt
Awesome to have you stay with us Kathleen. We take pride in our food and our surf instruction so we're chuffed to hear you loved it as much as we do. We really hope to see you again soon at Surf Camp or another Stoke Travel trip.

Happy surfing!

Josh
England
June 2019
How did you like the accommodation?
San Sebastian is really a good spot for surfing!
The waves were perfect and I really enjoy surfing all day long!
The campsite was well located, near the city, restaurants, and bars, so for the night it was perfect!

I think I will do it again next year, I really enjoy!


How were the surf lessons?
Perfect spot for surfing!
Instructors were really helpful and here for us!
+ More Reviews
Number of people: 30
Extras:
Unlimited beer, cidre and sangria 10€/day

Guided trips to local Basque festivals (dates dependant)

Trips to Biarritz, Hossegor, Mundaka and more; Game of Thrones locations Zumaia and Bakio

Sidra House dinners (Unlimited cider and 4 course basque dinner in great old traditional house in the hills behind San Sebastian)
Local Winery Tour
San Sebastian Pintxos tours
San Sebastian Craft Beer Tour
Photo packages

Paragliding
Paintball
Horse riding

Prices TBC onsite

You can never get lost
When you book you will receive our confirmation email with full travel directions of how to get to us.
We don't provide airport transfers but you can book one easily here: Airport Transfers
- Nearest Airport: San Sebastian
- Distance from Airport in kms: 40
- Time from Airport in a car: 40 minutes
- There is no train from the airport
- There is a bus from the airport
Come Surf With Us
Surf Lessons can be added in the booking steps if they are not already included in a package.
Instructors
Think about it, about the concept, the wonders of a surf trip, combined with the adventure of a safari. Traveling up and down the coast across Spain and France hunting WAVES! Doesn't that just sound wonderballs!?
Main Surf Beach: The Stoke bus will surf, check-out and party in awesome locations along the French and Spanish coast. Some of the waves we could be hitting include: Zurriola, Mundaka, Biarritz, Hossegore, Hendaye, etc.
Surf Lessons we offer:
Beginner Surf Lessons
For beginners or those looking to improve, our experienced surf instructors are fun and friendly and surf lessons are included. After breakfast you will leave the campsite and in 10 minutes you will reach the beach, were the teachers will help you get up on the waves.
Intermediate Surf Lessons
After breakfast you will leave the campsite and go to the beach where the teachers will help you get up on the waves. Whatever your level is, you will find the rights waves!

Advanced Surf Lessons
After breakfast you will leave the campsite and go to the beach were the instructors will guide you to the best surf in the area and give you pointers on the specific breaks. Nat Geo says we're located in one of the World's Top 20 Surf Towns so we are sure you will find the right waves for your advanced level! All equipment is included.
Private Surf Lessons
For those who need private lessons, our experienced teachers are here to help you get up on waves. After breakfast you will meet your personal coach on the beach where you will trained attentively, no matter if you need to improve your advanced technique or you are stepping on a board for the first time!
Surf Guide
Our experienced surf instructor are fun and friendly and lessons are included. They will always be available to get you up on the waves from your first lesson!
Yoga
We offer daily yoga classes in a variety of styles
Surf conditions in San Sebastian:
Beginners:

JAN

FEB

MAR

APR

MAY

JUN

JUL

AUG

SEP

OCT

NOV

DEC
Intermediates:

JAN

FEB

MAR

APR

MAY

JUN

JUL

AUG

SEP

OCT

NOV

DEC
Advanced:

JAN

FEB

MAR

APR

MAY

JUN

JUL

AUG

SEP

OCT

NOV

DEC
Rain
Wetsuits
JAN/FEB
MAR/APR
MAY/JUN
JUL/AUG
SEP/OCT
NOV/DEC
---
San Sebastian is home to one of the most consistent beach breaks in Spain...
La Zurriola
. Located on the east side of this beautiful city, La Zurriola runs for 800 metres. San Sebastian surf lessons usually take place here. It's a perfect beginners spot and a great place to relax and chill out after a surf. The beach has great facilities including showers, volley ball, restaurants and cafés. It is surrounded by the stunning Monte Ijeldo and Monte Urgull mountains. The beach can pick up a lot of swell and is great for the more advanced also.
The town's other beach La Concha lies on the West side of the city. It's a sun bathing beach but next to it is
Onderatta beach
, there is a nice mellow beachbreak here.
East and west of the city you will find beach after beach to explore and surf - the water stays warm until the end of September thanks to the weather that the Bay of Biscay receives. San Sebastian is only a 30 minute drive from
Biarritz
, a direct bus will take you there in just over an hour - another great destination to surf and explore.
Spain's main surf town,
Zarautz
, is only 20kms West of San Sebastian, an easy train ride away...another great place with a 2.5km surf beach.
The Basque area offers a huge array of surf breaks waiting to be explored.
Come Surf San Sebastian with us…
PAYMENT
A small deposit is required to secure your booking.
Your balance is due to the property 14 days before arrival. The Property will contact you to collect payment. If you book within this 14 days then the property will contact you shortly after you book to collect the balance.
CANCELLING YOUR BOOKING
To cancel go to the MyAccount section and log in or register and you can cancel from within your account.
Your deposit is non refundable but can be used for the same property/surf school within one year of your original booking.
If you cancel 31 or more days from the product date, you will be fully refunded less 10% of the product price (minimum of 15€) as an administration fee*. If you cancel between 3 and 31 days from the product date, you will be fully refunded less 50% of the product price. If you cancel within 72 hours (3 days) from the product date, you will receive no refund.
The following cards are accepted at this property:
The Surfholidays Advantage
Easy messaging with a local surf host & expert to plan & book your dream surf holiday
1 Customize your surf trip with the help of a local surf host
Surfholidays has handpicked the world's top surf camps, accommodation & surf schools so you will have peace of mind and an unforgettable trip that meets your exact requirements.
2 Secure & easy booking
You can book instantly or message a host directly & request a custom option. Once you are happy with the trip, you can easily book via Surfholidays' secure payment platform.
3 Support before and after your trip
Our team at Surfholidays and your local host onsite are available before and during your trip to ensure things run smoothly.
4 Authentic travel experiences
Surfholidays hosts ensure that you will have the best experience based on up-to-date local insights. On top of that, the vast majority of your money will go straight to support and grow local surf towns.
Surfholidays offers a 100% satisfaction guarantee
If you are not fully satisfied, we'll work with you to make it right.