The Maverick Surfvillas Portugal
The Maverick Surfvillas Portugal
Rua das Fontes 15A, Toxofal de Cima, Lourinhã - Peniche, Portugal
Chat with a host who can help organise your trip...
The Place

Private & Shared room options
Couples
Families
Groups
Solo travellers
The Maverick Surfvillas Portugal
The Maverick is a Surf & Yoga Resort in Lourinhã / Portugal, one hour north of Lisbon and 15 minutes south of Peniche.

Your stay is an entire experience consisting of everything we love: surf, yoga, sun, sea, salt, food, friends, laughter and good vibes. Your holiday is just that easy at the Maverick.

The creative food deserves special mention, with wholesome breakfast (included in the room rate) and delicious dinners provided by our chef and team.

The Maverick Surfvillas are the perfect choice for active people (surfers and no to surfers) who like fun, beach, nature, sea, and most of all, a good and socializing atmosphere. The houses have a lively, warm and welcoming feel and are appropriate for all: solo travelers, couples and groups. to
The villas share one large beautiful garden, the perfect playground for young and grown to ups alike. Spend your days enjoying the infinity swimming pool, beach volleyball, yoga shala, slack to line, boules, basketball and our chillout wintergarden.

The house offers spacious communal areas which give you the opportunity of mixing with other guests. On the various terraces and balconies you'll will surely find a spot all day to enjoy the sun or watch the sunset in the evening.

The villa kitchens, BBQ and Pizza Oven are free to use for everyone to prepare your own meals. There are several good restaurants in the area that we are happy to recommend to you.
Location
The luxurious and comfortable houses are located in the countryside quietness, featuring great views and a huge garden with scenic swimming pool. The next beach is Praia da Areia Branca, a small summer beach town with lots of cafés, bars and restaurants. A small village with cafes and restaurants is in walking distance. It's great to relax and going for walks or taking a ride with our bikes. Close to scenic beaches, surf spots and places of cultural interest, the surfvillas are the perfect getaway for your holiday away from the crowds.
Reviews

Facilities

Options

Getting there

Surf Lessons

Waves

Terms
5 REVIEWS
Summary
Accommodation
Surf Lessons

Kimberley
United Kingdom
August 2023
Travelled with family
How did you like the accommodation?
The Maverick Surf Villas is an amazing place. So much to do yet so tranquil, chilled and peaceful at the same time. Plenty of space for guests to relax and make new friends or just spend time curled up with a book. The accommodation is really nicely done with modern interiors and a decent kitchen where you can prepare meals if you want to. We loved all the different outdoor areas and had fun trying everything from volley ball to boules and star gazing to an evening fire in the super cool fire pit. The people we met were just brilliant and we'll definitely keep in touch with our new German friends who were so lovely and made the holiday. If there was one small grumble it was the lack of air conditioning in our room - only because we hadn't picked up on that before we booked and there were four of us in the room so it did get a little stuffy at night. The ensuite had a window mesh though so we were able to open that and the bedroom door so it wasn't bad. The breakfast was fab - simple but plenty to choose from and available till 10am, so you didn't have to rush out of bed if you didn't want to. The place organises fun nights like movie nights and trips to restaurants - the owner took us to his favourite fish restaurant and we were amazed to find our kids tucking into Octopus, Squid and Sea Bass - it was a fantastic meal and a real highlight. Julia offers the most wonderful yoga lessons that I would thoroughly recommend - next time I will aim to fit a massage in as well. Julia also kindly organised a horse trek for my daughter and me which was just a few minutes ' drive away and great fun as you took a good hour-long trail around the dinosaur park. We can't wait to return and have had the most perfect holiday we could ever have asked for. Thank you to the Maverick Team.
How were the surf lessons?
We were all complete beginners and by the end, most of us were getting up consistently and even managing to catch our own waves (I wasn't so quick to pick things up). The instructors were so much fun and so patient and my goodness they couldn't have worked harder - making sure we got the right waves to try and giving us a good push to get going. I felt that they really took our safety seriously and made sure we were doing the correct things - particularly on the first day when the waves were a little strong. We all had such a good laugh and the buzz when you got a good wave or made some progress was fun - it also felt like the guys were genuinely happy when you achieved a bit more than your last attempt. The guys were just so helpful too - giving us tips on places to go and places to eat - even a full itinerary written out of how best to approach going to Lisbon for a day with a car - it was fantastic. The beaches were great - busy but not too busy considering it was the high of summer. They were all so clean! The water was cold but the wetsuits did a great job so you didn't feel the cold at all once you were in. My aim is to work on my strength and flexibility so next year I will be able to keep up with the rest of my family!

Tina
Bad Salzdetfurth
September 2019
Travelled with friends
How did you like the accommodation?
My stay at the Maverick was just great! The house is amazing - absolutely more than hostel standard, the hostess incredibly warm and engaging and the location with beautiful views of the Portuguese countryside! The Maverick is just highly recommended! 5 stars.

Charlotte
Melbourne, Australia
August 2019
Travelled as a couple
How did you like the accommodation?
The staff Julia and team are amazing and really helpful. They know everything about the surf around and always here to help you. Tiago is a good surf instructor and, also a good surf guide in the case you have no idea where to go. He is so cool. The view at night is beautiful, it is quiet from the crowd of tourists and feels so peaceful at night. The breakfast is so good. Always good to have a nap on the infinity swimming pool near the volley ball game. I miss these guys. We will be back, one of the best and friendlest place I have been in this aera.
How were the surf lessons?
The staff Julia and team are amazing and really helpful. They know everything about the surf around and always here to help you. Tiago is a good surf instructor and, also a good surf guide in the case you have no idea where to go. He is so cool.
- Less Reviews

Carina
Brussels, Belgium
August 2019
Travelled with family
How did you like the accommodation?
The Maverick is a great place. We received a warm welcome when we were picked-up from the bus station in Lourinha. The atmosphere in the villas is great and you feel like at home, because the hostess Julia and her little helpers really care about you having a great time. They love the region and are always eager to give insider tips and show you the Portugal how they love it.
The breakfast was delicious, the best hostel breakfast I got ever offered. And the kitchen is wonderfully suited to cook for ourselves, it is very large and it's great fun.
There is a free shuttle down to the beach and when you just feel like relaxing by the pool, this is also a great place for it.
Me and my family really enjoyed our stay, I would recommend these Surfvillas to everyone, even for those who want to lie on the beach and watch the others go surfing :)

How were the surf lessons?
Tiago is a great guy and and excellant surf instructor. Taking lessons with Tiago was the highlight of my children's trip. I would recommend him 100%.
He is a great instructor; always patient and very conscious about the safety. The way he interacts with the kids in the water makes all the difference to the other surf courses we have tried so far. I would recommend him to everyone!!!!!



Eljoda
Püttlingen, Germany
July 2019
Travelled with family
How did you like the accommodation?
We had a brilliant time in Maverick! We were there for a week and I can only say it was a fantastic time in every aspect. The house, the rooms, the pool, the sports facilities, the service, everything was awesome! Hostess Julia and the entire team try to meet virtually every need, so you are comfortable and feel at home away from home, it's all very informal and laid-back. The house is awesome, nothing is missing, decorated individually. The large garden area fulfills every wish, my tip is the nightly chill-out on the Dream Pool - madness !!!!! Every night you are offered another program, where you can participate, but not necessarily. We were, for example, one evening out with the other guests of the Mavericks in a great seaside restaurant. This was an evening that will stay with me for a long time. Or the pizza evening in the hostel, just great and friendly. This is not a normal hostel standard, it is the total package, the warmth of Julia and the team and Dennis who even goes up as far as Lisbon to help you out. The surf course that we have booked, was a success, we are so thrilled. All in all an indescribable vacation, we come back again and again ........ and looking forward to the next time!!!!!!!!
How were the surf lessons?
The surf course that we have booked, was a success, we are so thrilled.
+ More Reviews
Number of people: 59
Extras:
Baby Cot €10
Laundry €5

You can never get lost
When you book you will receive our confirmation email with full travel directions of how to get to us.
We provide Airport Transfers from and to Lisbon and they can be booked in the booking steps.
Price for 1-4 people: €80
Price for more than 4: €120
- Nearest Airport: Lisbon
- Distance from Airport in kms: 69
- Time from Airport in a car: 1 hour
- There is no train from the airport
- There is a bus from the airport
Come Surf With Us
Surf Lessons can be added in the booking steps if they are not already included in a package.
Instructors
The Maverick is located close to Portugal's best surf spots for all levels from beginners to advanced surfers. There are many beaches within 10-15 min driving distance to choose from whether you are surfing, beach walking or sunbathing. Our Surf team of locals who have been surfing in the area for more than 30 years are happy to point you to the best spots.
Main Surf Beach: Praia da Areia Branca
Surf Lessons we offer:
Kids Surf Lessons
We offer lessons for kids aged 6-12. Each day includes up to 4 hours surf per day, divided into 2x 2hr sessions. Wetsuit and board are included. Parents are welcome to come along. We pick you up from the Maverick and take you to the beach. Safety and fun are our main priorities. We have 1 instructor for every 5 students. 5 days x 4hrs = €240, 5 days x 2hrs = €150, single surf lesson = €35
Beginner Surf Lessons
Each day includes up to 4 hours surf per day, divided into 2x 2hr sessions. Wetsuit and board are included. We have 1 instructor for every 5 students. The beginners's lessons are taught in waist deep water. You will learn everything from standing techniques to turning and finally paddling outside and learning how to catch "green" waves.
Intermediate Surf Lessons
We will take you to the best waves in the area. Each day includes up to 4 hours surf per day, divided into 2x 2hr sessions. Wetsuit&board are included. We have 1 instructor for every 5 students. You will advance from catching your first green waves to reading waves better and working on your techniques for left and right turns.
Private Surf Lessons
You can book our surf instructors for private lessons as well. They will take you to the best spot for your abilities and will give you all their attention.
Yoga
We offer Yoga 1-2 times per day in our beautiful Yoga Shala. Classes are either Vinyasa, Hatha, Yin or Aerial Yoga.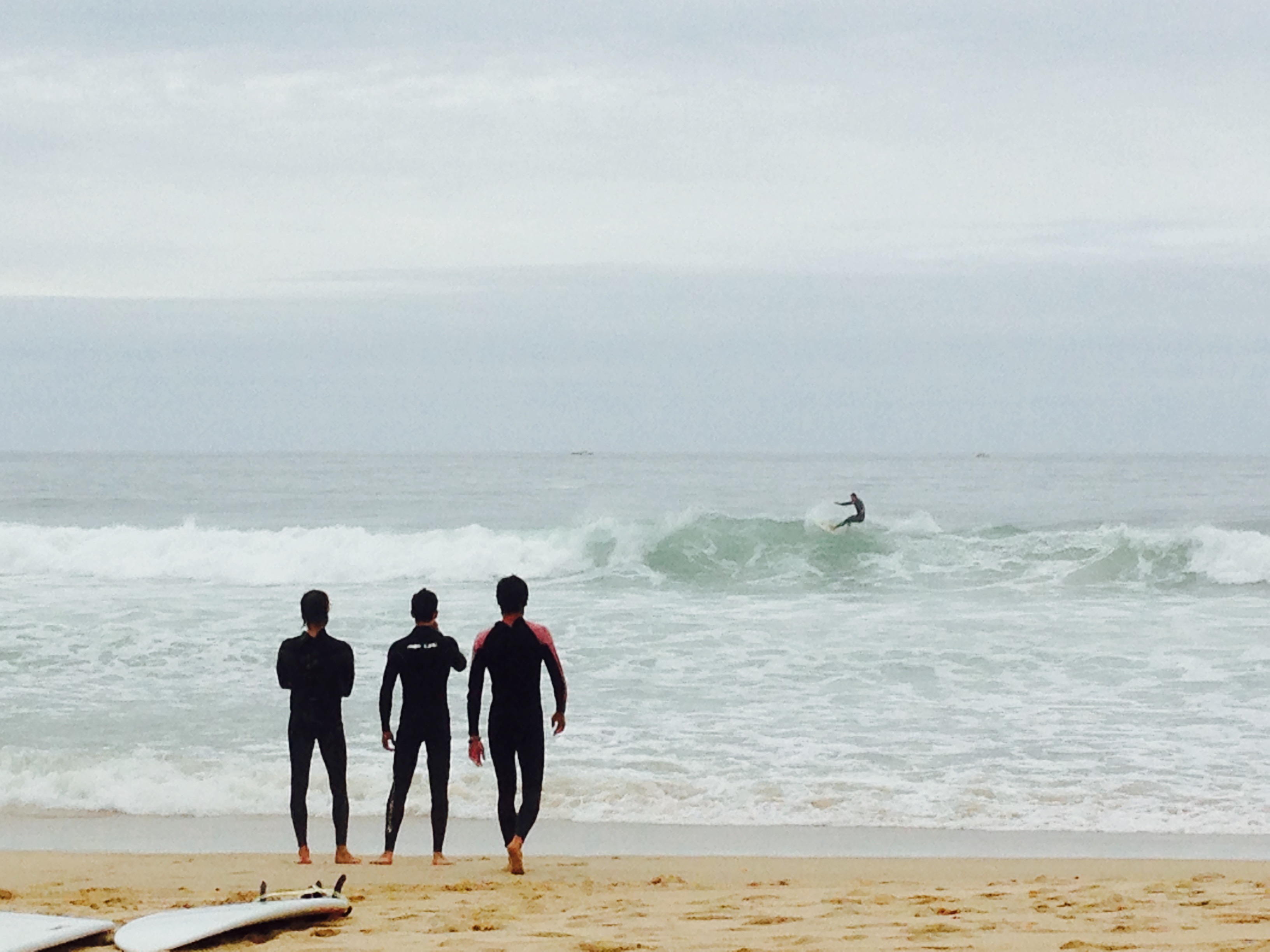 Praia da Areia Branca
Level: All Levels
Praia da Areia Branca in Peniche is a long beach with several breaks over sand banks, rocks and the river. It offers good surf conditions especially in summer for beginners, but can work at any time of the year. Works best in offshore winds from the east with some shelter here from north winds. The river break provides left and right handers. Best around low tide when the tide is falling. Even when there are waves, it's not likley to be crowded and that's one of the main advantages of the spot.
Surf conditions in Peniche:
Beginners:

JAN

FEB

MAR

APR

MAY

JUN

JUL

AUG

SEP

OCT

NOV

DEC
Intermediates:

JAN

FEB

MAR

APR

MAY

JUN

JUL

AUG

SEP

OCT

NOV

DEC
Advanced:

JAN

FEB

MAR

APR

MAY

JUN

JUL

AUG

SEP

OCT

NOV

DEC
Rain
Wetsuits
JAN/FEB
MAR/APR
MAY/JUN
JUL/AUG
SEP/OCT
NOV/DEC
---
The best thing about the Peniche & Baleal peninsula is that the beaches face both north and south, and are all within a few kilometres of each other. So on nearly all conditions there is surf - it is well known as one of Portugal's most consistent surf destinations and a great place for a Surfing Holiday.
The
WSL World Tour
comes to Peniche every year in October and is a great time to visit if you want to watch the worlds best surfers such as Kelly Slater, Gabriel Medina & Mick Fanning battle it out to win. Surf everyday while watching the event also.
The areas main surf beach is called
Cantinho da Baía
, its starts in Peniche and ends up in the area knows as Baleal. The spot is famous for its consistency and for being ideal for beginners and intermediate surfers and is where some of the best Baleal Surf Camps are located. Protected from the bigger swell by the headland makes it's almost always possible to surf here even when there is big swell hitting the coast. The beach stretches 4kms further west with many spots to surf - a great place to get away from crowds.
On the other side of the Baleal headland is Prainha, another great protected surf spot for beginner and intermediate surfers. And next to this is
Lagide
, a reef break and one of the best surf spots in Portugal if you have big swell and southerly winds. It's a long perfect left with a shallow reef at low tides - great for intermediate/advanced surfers.
On the other side of Peniche (south) is the area's and arguably Portugal's most famous break
Supertubos
. It's a powerful wave breaking in very shallow sand bar, advanced/pro surfers only! Other waves such as
Molhe Leste, Consolação, Porto Batel
and
Almagreira
are all close by giving every kind of alternative including many uncrowded areas; a great area to explore and Surf Portugal's best waves!
And don't forget you can head south and surf
Ericeira
- less than an hour's drive away.
Come Surf Peniche with us…
PAYMENT
A small deposit is required to secure your booking.
Your balance is due to the property 28 days before arrival. The Property will contact you to collect payment. If you book within this 28 days then the property will contact you shortly after you book to collect the balance.
CANCELLING YOUR BOOKING
To cancel go to the MyAccount section and log in or register and you can cancel from within your account.
Your deposit is non refundable but can be used for the same property/surf school within one year of your original booking.
You can cancel anytime up to 30 days before travelling and you will be refunded the balance.
The following cards are accepted at this property:
The Surfholidays Advantage
Easy messaging with a local surf host & expert to plan & book your dream surf holiday
1 Customize your surf trip with the help of a local surf host
Surfholidays has handpicked the world's top surf camps, accommodation & surf schools so you will have peace of mind and an unforgettable trip that meets your exact requirements.
2 Secure & easy booking
You can book instantly or message a host directly & request a custom option. Once you are happy with the trip, you can easily book via Surfholidays' secure payment platform.
3 Support before and after your trip
Our team at Surfholidays and your local host onsite are available before and during your trip to ensure things run smoothly.
4 Authentic travel experiences
Surfholidays hosts ensure that you will have the best experience based on up-to-date local insights. On top of that, the vast majority of your money will go straight to support and grow local surf towns.
Surfholidays offers a 100% satisfaction guarantee
If you are not fully satisfied, we'll work with you to make it right.