ECO Lifestyle + Lodge
ECO Lifestyle + Lodge
Tent Bay , Bridgetown - East Coast & Bathsheba, Barbados
Chat with a host who can help organise your trip...
The Place
Couples
Families
Solo travellers
Surrounded by tropical gardens, ECO Lifestyle Losge is the perfect small hotel and B&B on the east coast. Hammocks are strung lazily between coconut palms from which you can marvel at the panoramic ocean views. 10 cozy and individual decorated and furnished rooms and apartments offer all you need. All have private bathrooms and A/C. Choose the one which suits you best. Breakfast is not included, but can be booked direct at the property. The Wi to fi is free of charge.

Experience the natural side of the island, where unspoiled beaches, tidal pools and surfing guarantee an unforgettable vacation.
Location
Bathsheba is a rural and beautiful village at the east coast. There are Chattel Houses, small wooden homes, spread out over slopes decorated with palm trees; not a single three to story to building in the area. The hotel lays on the southern end of the village called Tent Bay. It is a fishing bay with colorful fishing boats rocking in the azure blue ocean.

Visitors can cool down in one of the natural dipping pools at the beach or watch Bathsheba Barbados' best surfing. Surfers can catch the waves at the world famous Soup Bowl – just a brief walk away from us.
Reviews

Facilities

Room types

Getting there

Surf Lessons

Waves

Terms
5 REVIEWS
Summary
Accommodation
Surf Lessons

Stephanie
Newport, Rhode Island
October 2019
Travelled as a couple
How did you like the accommodation?
Loved our stay. Staff are wonderful!
My husband and I stayed at Sea-U Guesthouse on our honeymoon. We knew we wanted to spend the trip surfing and away from touristy areas, so Sea-U really fit the bill! The grounds are beautiful and overlook Tent Bay... We had a room in the building below the main house, and it was perfect: decently sized for the both of us with a comfortable bed with mosquito net, which was useful! Our room was equipped with AC, but we didn't use it once as the ocean breeze coupled with the ceiling fan cooled the room nicely in the evening. The balcony was the best part of the room, and we were lucky enough to have it to ourselves as we visited the Guest House in the off-season and the room beside ours was vacant. The staff might have been the best part. Everyone was extremely friendly, helpful, and accommodating.
How were the surf lessons?
We LOVED Sea Cat, the groundskeeper - maintenance - all around helpful guy. Sometimes when you travel you meet really great / memorable people and he is definitely one of them...My husband and I looked forward to our daily conversations with him. He was also a helpful surf guide having been one of the first local surfers on the Island back in the day. Location couldn't have been better for us ... The surf breaks Parlors and Soup Bowls were just a 10 second drive away (we definitely could have just walked down the hill to Parlors - haha) and we really loved the slow pace of this part of the Island. Some really beautiful beaches are just a short drive away and it's more than likely that you'll have those beaches to yourself.

Melissa
Brooklyn, NY
September 2019
Travelled as a couple
How did you like the accommodation?
Friendly, Pretty, and Super Chill!
A monkey yelling at a bird woke us up one morning. It was awesome. Rooms are simple, cute, and clean and open up to a deck with hammocks and chairs where you can meet your neighbors and swap traveling tips. We stayed for a week, and met a lot of friendly, interesting people. It's a short walk to the water and "downtown," but if staying during September, note that some of the local restaurants may be closed for the season. (If that happens, go to Dina's.) The hotel offers to book activities for you, which was very helpful (albeit a little confusing at times). Snorkeling cruise was pretty fun and funny. Ocean swimming isn't recommended in Bathsheba but the tide pools are interesting and beautiful.
How were the surf lessons?
Definitely take a surf lesson with Kevin! Beginners, don't be scared--he's a lifeguard who knows the area really well and a great instructor. That was one of my favorite days.

Charles
N/A
September 2019
Travelled as a couple
How did you like the accommodation?
It's really 6 stars!
First off I gotta say the cast and crew of this hotel are absolutely amazing! They arranged a pickup from the hotel with a taxi (Anthony?) that was incredibly knowledgeable and friendly. He gave us a great rundown on the island as he drove us across. When we arrived we were greeted like returning family and shown to our little bungalow off from the main house. The room was immaculately clean and comfortable! The bed was HUGE and soft.
How were the surf lessons?
After some amazing surfing at soup bowl, we met C-Cat. This guy is top notch! He greeted us withFRESH coconut, which we promptly mixed our delicious Mt. Gay rum into. He gave us great info on bus travel, surf advice, restaurant reviews, directions to the botanical gardens, and found a pair of flippers for the wife to use. The next day we were able to set up a catamaran with cool runnings(YOU MUST DO THIS!!!) and also surfing lessons for the wife for the following day(With Barrys Surf School, they are excellent) Also, Cannot forget the wonderful woman who runs the hotel, she is beyond super nice and took care of everything for us. I cannot say enough good things about this hotel and the people working here! 6 STARS all the way!!!!!!!
- Less Reviews

Maggie
N/A
August 2019
Travelled as a couple
How did you like the accommodation?
Loved our stay. Staff are wonderful!
My husband and I stayed at Sea-U for 3 nights and loved every minute of it. If you are looking for peace and quiet, this is the place for you. No TVs so bring cards or books to keep you busy. Breakfast is good. They give you an array of fruits and breads but also will cook to order eggs and bacon. Sometimes even pancakes! Pancakes are delicious. Dinner was delicious. They made a 3-course meal: fried plantains wrapped in bacon, chicken curry, and bread pudding. Can definitely tell it's homemade with TLC. The bar is cool because it's an honesty bar where you write down what you drank. really really fair prices. Their homemade Rum Punch is delicious.
How were the surf lessons?
If you're staying here, you probably somewhat appreciate surfing. So make sure you take the fun little walking trail down to the beach to either watch the surfers or surf yourself. Sea Cat is the man - surfing that beach for 20+ years. All staff in general were wonderful and kind.

Onando
Ventura, California
August 2019
Travelled with friends
How did you like the accommodation?
Wish there were more places like this!
The atmosphere is excellent, very relaxing, trees with ocean views. Nearby hotels cost more and offer less. I know because we check them out personally, also, really enjoyed the plantation balcony. Thank you for the great time.
How were the surf lessons?
Great place to bring your girlfriend and surf Soupbowl. The water is a short walk away.
+ More Reviews
Number of people: 2
Additional Fees:
Vat 10%
Room Levy US4.48/per room night
Product Development Levy 2.5%
Service Charge 10%
You can never get lost
When you book you will receive our confirmation email with full travel directions of how to get to us.
We provide Airport Transfers from and to Bridgetown (BGI) and they can be booked in the booking steps.
Price for 1-4 people: USD$40
- Nearest Airport: Bridgetown (BGI)
- Distance from Airport in kms: 24 km
- Time from Airport in a car: 40 min.
- There is no train from the airport
- There is no bus from the airport
Come Surf With Us
Surf Lessons can be added in the booking steps if they are not already included in a package.
Instructors
The New York Times reported about Bathsheba surfing: "'I've been going for over 20 years, and I'd put Soup Bowl as one of the top three waves in the world,' said Kelly Slater.
The hotel is only a couple of walking minute away and a great base.




Main Surf Beach: Soup Bowl and Parlors
Surf Lessons we offer:
Beginner Surf Lessons
Available to book in the checkout.
Intermediate Surf Lessons
Available to book in the checkout.
Advanced Surf Lessons
Available to book in the checkout.
Private Surf Lessons
Available to book in the checkout.
Surf Guide
Available to book in the checkout.
Yoga
Private Yoga lessons available.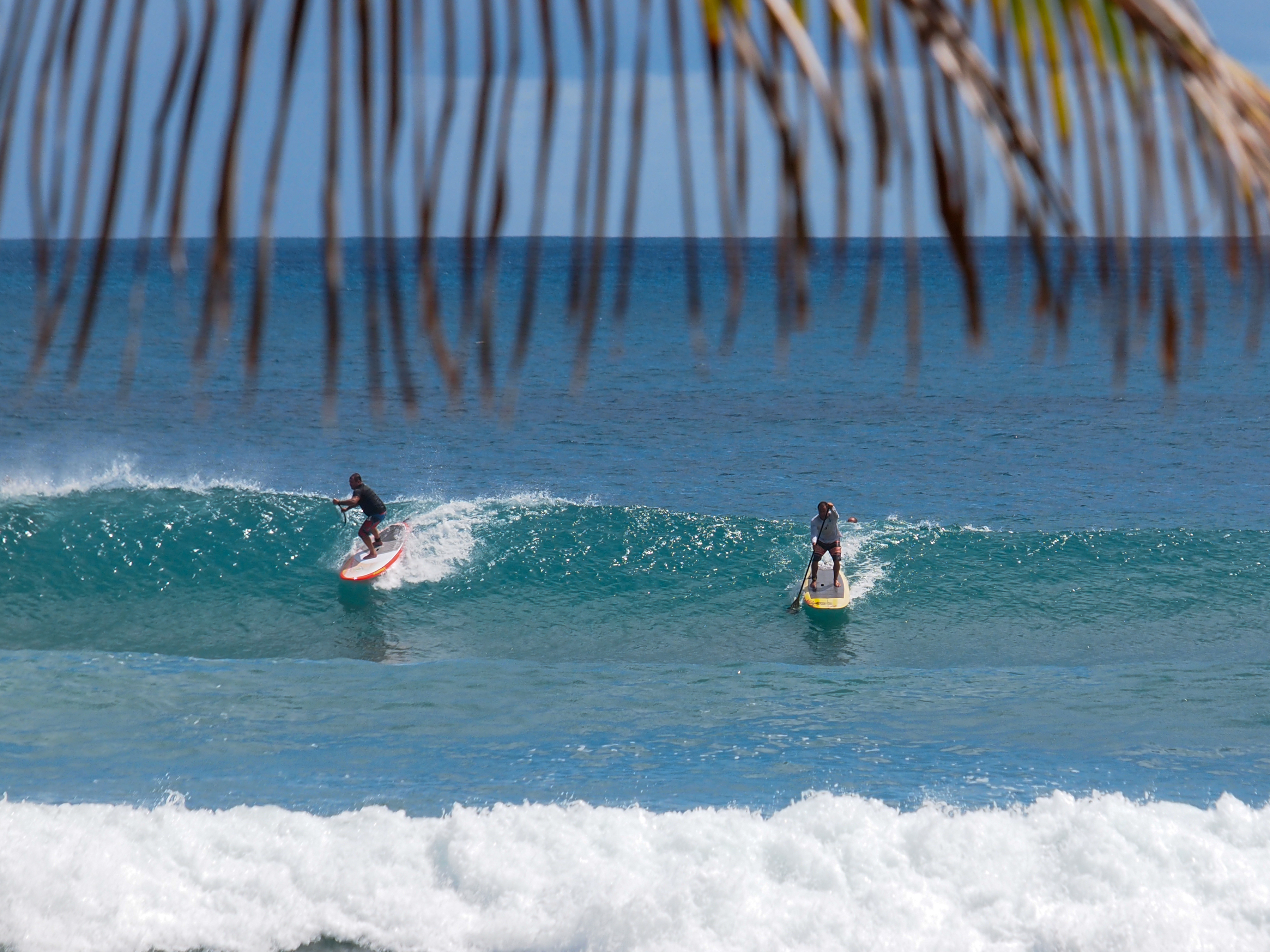 Parlour
Level: All Levels
Parlour Is located on the east coast of Barbados in the town of Bathsheba. Parlour is a left and Right peak better known for the size swell it can hold on bigger days. Parlour also has great waves on the smaller days and is great for longboarding and SUPing due to the deep water and softer breaking waves with wide open faces. Parlour Barbados is great for Advanced/intermediate Longboards and SUPers. Parlour is on the Windy Side of the Island but faces slightly more south and the wind tends to be more side shore making the faces of the wave clean even if the outside looks choppy. The current runs North up the Beach and is right where the channel is to paddle out by the big mushroom rock, The beach is beautiful at Parlour and the rocks are very sharp and full of sea urchins so tread lightly. Before you paddle out ask the locals about the line up and stay safe.

The best time of year to score great waves at Parlour would be in the Winter months DEC – MAY, however the waves are very consistent in Bathsheba and hurricane swells are also great from JULY to NOV. Low Tide is usually the best time to Surf at Parlour or Low going High, this gives the wave more power as the swell rolls in over the deep reef shelf and rolls in softly. Early in the morning is a good time to surf Parlour especially during the week when most Locals are at work.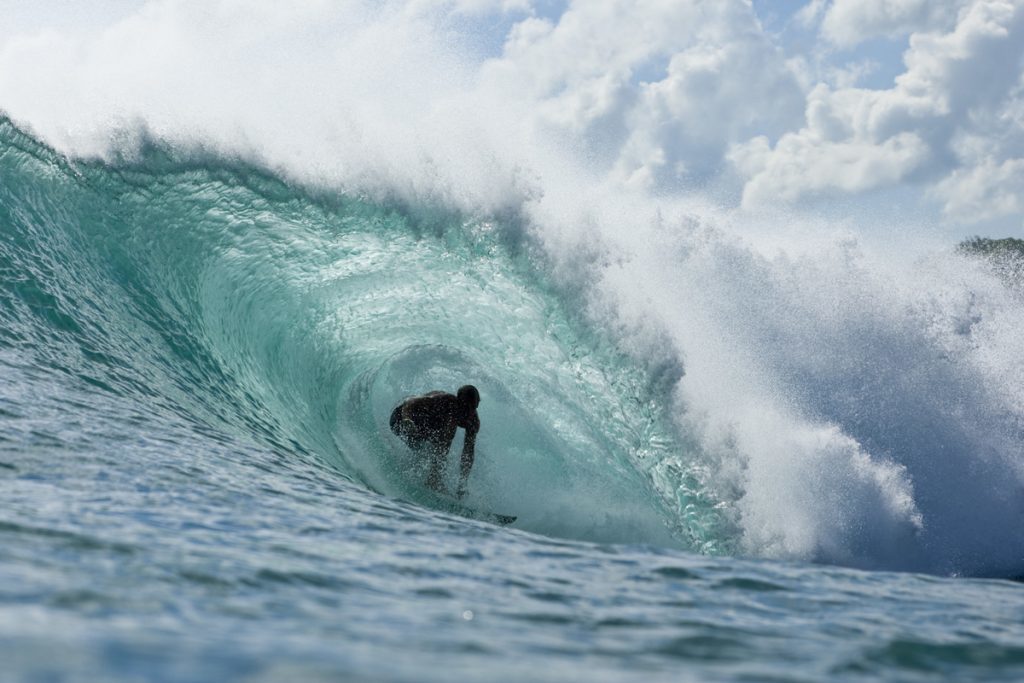 Soup Bowl - Right Point Break
Level: Advanced
The East coast is home of the Soup Bowl – a world class right point break that is really heavy and hollow. This wave is for experienced Surfers. When the Surf is up, Soup Bowl Barbados can be compared to the north shore of Oahu. As it faces the east, the wind can often be a factor but there is always waves to Surf.
The waves break in about 7 feet of water on a rock shelf that sticks out into the Atlantic Ocean. Soup Bowl breaks best on a North swell but East and South east swells produce good waves as well. This wave is famous for its heavy barrels and big Surf. Every year surfers like Kelly Slater, Taylor Knoxs and the Malloy brothers come to the island of Barbados usually to film for upcoming Surf videos.
High Rock
Level: Beginner
A fun powerful left for surfers who want to escape the crowd at Soup Bowl
Sand Bank
Level: All Levels
A powerful left and right beach break that can be super fun but watch out for the current
Surf conditions in East Coast & Bathsheba:
Beginners:

JAN

FEB

MAR

APR

MAY

JUN

JUL

AUG

SEP

OCT

NOV

DEC
Intermediates:

JAN

FEB

MAR

APR

MAY

JUN

JUL

AUG

SEP

OCT

NOV

DEC
Advanced:

JAN

FEB

MAR

APR

MAY

JUN

JUL

AUG

SEP

OCT

NOV

DEC
Rain
Wetsuits
JAN/FEB
MAR/APR
MAY/JUN
JUL/AUG
SEP/OCT
NOV/DEC
---
Soup Bowl
Soup Bowl is the islands most famous waves. It almost always has waves and is great fun and can be epic on its day. When Kelly Slater is in town, this is where you'll find him!
There a few different take off spots which helps to thin out the crowd but the first peak gets busy anyway. It's a powerful, hollow wave so only paddle out if you know what your doing. Respect the locals, they are super friendly if you play the game. Watch out for the urchins on the inside and some of the sharper rocks.
Sandbank
About 10 minutes walk north you will find a much more mellow wave called Sandbank. This is ideal for intermediates.
Parlours
Another really good reef break but one that tends to be less crowded than Soup Bowl. It can hold a bigger swell and again is super consistent.
Tent Bay
When the swell is north head for tent bay which is an epic left hander that very rarely gets crowded. The wave itself breaks in front of the Atlantic hotel.
Ragged Point
Next down the line is ragged point which is much more user friendly. This is a fun, mellow beach break best surfed from mid to high tide.
Long Beach
Long beach can have some really fun waves and is a great go to spot on a daily basis. It can close out and be hard to read at times but always worth a mission.
Conset Point
This wave needs a massive north swell to break and therefore is hardly surfed.
The island is only 22kms across so there are plenty of other options to explore further South, West and North.
PAYMENT
A small deposit is required to secure your booking.
Your balance is due at check in.
CANCELLING YOUR BOOKING
To cancel go to the MyAccount section and log in or register and you can cancel from within your account.
Your deposit is non refundable but can be used for the same property/surf school within one year of your original booking.
Due to the intimate nature of our hotel, a strict cancellation policy is in place. We recommend that you take out insurance against the possibility of cancellation fees which are as follows: A refund of the deposit is only valid if it is canceled more than 21 days prior to arrival. No refunds will be made within 21 days of the proposed arrival or after arrival (year round). No shows and early departures shall be deemed to be cancellations. Please note if you have participated in a NON-REFUNDABLE promotional rate plan. There will be no refunds given on promotional reservations. Again, we recommend investing in travel insurance if you foresee any problems.
The following cards are accepted at this property:
The Surfholidays Advantage
Easy messaging with a local surf host & expert to plan & book your dream surf holiday
1 Customize your surf trip with the help of a local surf host
Surfholidays has handpicked the world's top surf camps, accommodation & surf schools so you will have peace of mind and an unforgettable trip that meets your exact requirements.
2 Secure & easy booking
You can book instantly or message a host directly & request a custom option. Once you are happy with the trip, you can easily book via Surfholidays' secure payment platform.
3 Support before and after your trip
Our team at Surfholidays and your local host onsite are available before and during your trip to ensure things run smoothly.
4 Authentic travel experiences
Surfholidays hosts ensure that you will have the best experience based on up-to-date local insights. On top of that, the vast majority of your money will go straight to support and grow local surf towns.
Surfholidays offers a 100% satisfaction guarantee
If you are not fully satisfied, we'll work with you to make it right.