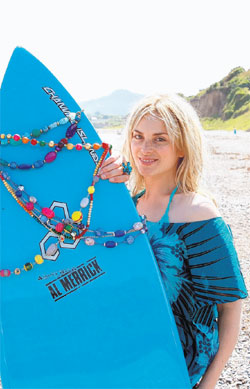 BEACH BABE: Emma Jane gets ready to own the waves
I've been learning to surf for several years now. I almost think I have the hang of it and several weeks later I jump back in the sea only to discover (once again) that I'm useless.I have been on surfing holidays and taken lessons here and there. I have bought my board, a sign that I am determined (by God I'll get my money's worth), and it still has made no difference.
I have been learning for over three years now, yes - a whole three years! I was tired of telling everyone I am a beginner. I decided that there was only one thing left to do - a crash course in surfing. I thought about the west of Ireland, where I have paid €50 for a one-hour lesson on several occasions. But, I'm just not as likely to get into the sea for six days in a row when the wind is howling. I've been there, done that and worn the wetsuit.
And the real surfers out there can stop tut-tutting at me now. I'm just being honest. I contacted surfholidays.com, who recommended Ericeira, a small fishing village located 40 km north of Lisbon, and close to one of their best surf schools.
Immediately, I knew the sun was the missing factor in my surfing equation. Six days of lessons, a board and a wetsuit were available through this company for the bargain price of €98 (not including the flights or accommodation, which was also friendly on the pocket). And the journey began...
Many Irish who travel to Portugal, including myself, have been drawn to The Algarve. However, experiencing the real Portugal is a different experience. I can't recommend Ericeira and its surrounding area highly enough. It has everything you would expect from a small fishing village - from the cobbled streets that are home to fishermen to the family-operated restaurants dotted around the heart of the town.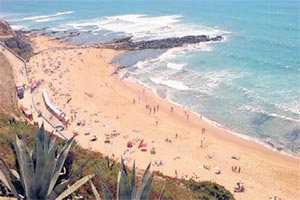 The surfers are slowly descending here, but you still will be out-numbered by the locals - always a good sign in my book.
Every morning, sometime before 11am (there's no set times here), we hear a beep outside the complex. Everyone runs around in a hurry, grabbing wetsuits and factor, and we all finally jump in the surf van to meet our instructor from the Na Onda Surf School.
I inform our teacher (on the first day) that I would like to start with the beginners as we head for Foz do Lizandro beach, a 10-minute drive from our accommodation. Although I have years of surfing behind me this isn't the time to show off my...ahem...surfing skills. I enter the sea, wait for my wave and within minutes I feel the water catch hold of my board.
Up I stand, and off I tumble.
Ten minutes later...Eureka! I have been putting the wrong foot forward on the board. It slipped my mind that I am goofy (left-footed).
I eagerly explain the reason for my beginner-like skills to our teacher. He just pats me on the back. He's heard it all before...
ECO-HOLIDAYING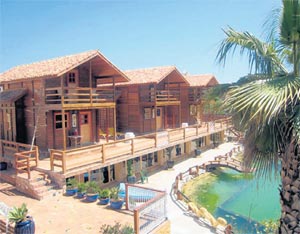 PARADISE: The Eco Lodges are really breathtaking
I adored The Eco-Lodges where we stayed during our surf trip. These wooden lodges look out onto a fresh water pool that's cleaned not with chemicals, but with plants. Each lodge,which can cater for up to five people, comes with an outside hammock - the perfect place to rest those aching muscles in the evening.
This is a charming, intimate yet spacious complex, nestled in a very safe area amongst the locals. Seeing as you're away from the tourists, all of the neighbouring restaurants are extremely cheap and don't have the usual tourist charges.
There's also a clay oven there, a humongous barbecue and even a vegetable garden (visitors can use the veggies from this patch for free for evening meals).
If you're not impressed by all of that, perhaps you'll be pleased by the solar panels that help run the electrical requirements of the complex. The environmentalist inside me was wildly excited. Not since the days of camping in our trailer tent have I felt so pleased with my surroundings (if you've done the whole familycamping-abroad-thing, you'll understand).
The complex is a 10-minute walk from the heart of town. We ventured here most evenings, sitting in the afternoon sun over a coffee and local pastries, before buying our freshly caught dinner from the fishing boats. Nights were spent over the barbecue with a couple of cold, local beers.
I don't think I have ever been on a holiday where I spent so little. If you're prepared to home-cook here, you really could live very well on €15 a day (taking into consideration that your accommodation and surf lessons are paid for in advance). This is recession-friendly holidaying at its best.
By day six of our holiday, my frustration disappears and it all finally comes together. I stand up, and I manage to make it all the way in, holding steady for dear life. I'm checking to see that my (much-better-a-surfer) other half is watching.
This crash course has definitely made a difference.
GETTING THERE
Aer Lingus operate eight weekly flights from Dublin to Lisbon. And two weekly flights from Cork to Lisbon (Mon and Fri).
WHERE TO STAY
A week's stay in the Eco-Lodges in Ericeira, Portugal, starts from €679 for 2 people and €770 for 4 people. Six days of surf lessons is only €98 per person. Visit
surfholidays.com
for info on this holiday and many other surfing holidays. They also offer holidays to Spain, Fuerteventura, France and Ireland.