We sit down with Macarena, host of Casa Cecilia in Santa Teresa, home to some of Costa Rica's best waves, and find out all about her surf business

1. What inspired you to join the team at Casa Cecilia?
When I came to Santa Teresa I already knew that I wanted to stay in this place for couple of years because here I found everything that I was looking for: good waves, good weather, nature, nice people, lots of beautiful beaches and a healthy and simple life style, but I also knew that I would need a good job oportunity to stay here.
After almost one year looking for a good job I met the owners of Casa Cecilia and in that moment I understood that it was the oportunity that I was looking for.
Casa Cecilia sounded perfect for me.. surfers owners, small beach front hotel located in one of the best surf point in Santa Teresa and the customers in general are cool people looking for waves with the best vibes.. Here I could combinate my carreer (hotel manager) with my favorite hobby.. surfing. what could be better?

2. Who are the people behind Casa Cecilia?
A successful businessman from the United States, surf lover for over 40 years and his partner born in Philipinas, another very successful businessman who is always looking for the best waves. They are lifelong friends and decided together to open Casa Cecilia so they could be in their own place in Costa Rica whenever they wanted to come to surf ... and what better place to stay in front of the wave!

3. Describe a typical day at Casa Cecilia?

A normal day at Casa Cecilia starts very early in the morning around 6am when our guests wake up and go straight to the beach to check the waves. Some run to surf, others prefer breakfast while watching the other surfers.

After having breakfast and surfing, the guests take a free time to enjoy the beach in our hammocks drinking fresh coconut water, do some tour like horseback riding, canopy, know the waterfalls of the area, new beaches, Cabo Blanco National Park, go fishing, etc. or just relax in natural pools.

To end the day, all return to meet at the beach at sunset time to surf or just enjoy one of the most magical sunset in the world that Santa Teresa gives us every day. The night has multiple options for dinner, party, listen to live music, try the tropical drinks that fall in love or simply enjoy a bonfire in the hotel, watching the stars and hearing the sea.

4. How did you get into Surfing?
8 years ago I started traveling around the world. My first stop was a surf holiday in New Zealand where I had my first closeness to surfing. My roomate and all his friends were surfers between 35 - 55 years old who lived in a spot previlegiado around several surf spots and only thought about the waves.

I bought my first surfing wetsuit, my roomate lent me a board and I started to go straight to the line up and try to catch a wave. I did not know anything about surfing, so I followed the children (who in these types of places are pretty good kids to surf), I watched what they did and tried to imitate them.

When I managed to surf my first wave, I understood that this was the lifestyle I wanted to choose and that I would never live in a city or any other place where I did not have a wave to surf.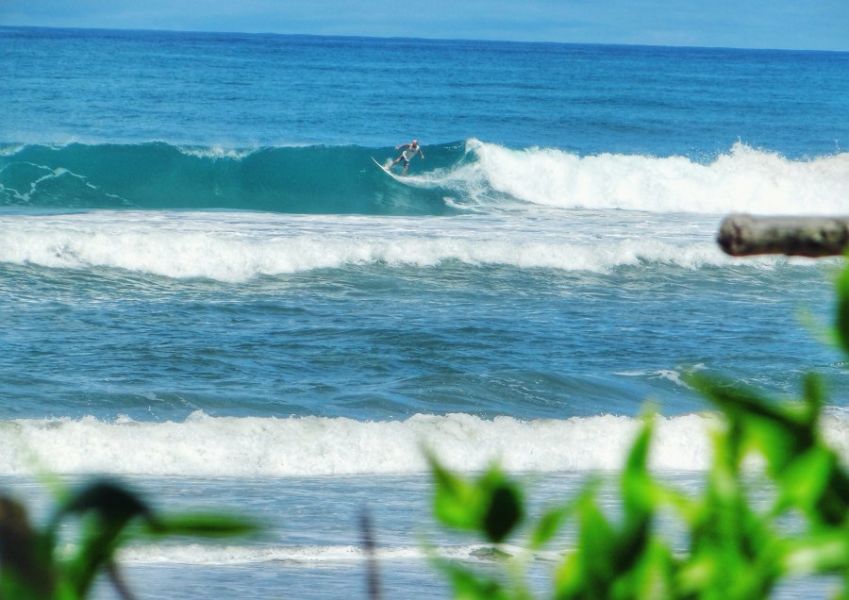 5. What is your favourite wave in the world and why?
To be honest I do not know which is my favorite wave in the world since I still have a long way to go, but I can tell that I love surfing where I live .. Playa Hermosa - Santa Teresa - Costa Rica ..

The beach is of fine sand, you do not have rocks in between the line up, the wave breaks in several points and for both sides right and left (it can be a very long right or left), the water is always warm, there is not much current and you can surf all year round.
It is a perfect spot to learn to surf and improve your level.

6. What one destination would you like to go to surf?

I would love to go surfing to Portugal. I have seen a lot of surfing advertising in Portugal and it looks very friendly and heavenly. In fact I already have my ticket bought for 4 more months! Very excited! I cannot wait!

7. Who is your favourite pro surfer?

To be honest, I do not know much about famous surfers. Kelly Slater is the only pro surfer I always see everywhere. I admire how his name today is known throughout the world and how he managed to stand out in the world of surfing.
I also loved his wavepool where he can surf his own waves when ever he want. Sooo cool!


8. Aside from Surf what 3 things should people do in Santa Teresa

- Practice Yoga in incredible places surrounded by beach and jungle
- Snorkel in natural pools
- Explore the paradisiacal beaches and the National Park Cabo Blanco!