List your place
List your Property/Surf School
on Surfholidays.com
List your House, Apartment, Room, Boat, Surf Shack, Teepee, Surf Camp…
Sign up below and one of our representatives will be in touch to take you through the simple set up process.
If you are listing an Accommodation + Surf school sign up as Accommodation and you can then add your Surf school to this listing
How it Works
1. List for Free

Add your property/surf school for FREE on our website.​




2. Reservations

Once we confirm all your details you can start receiving reservations




3. Live or On Request

If you choose Live Bookings people can book immediately.​ If On Request people can message you first for availability and then book.




4. Payment

People book your property/surf school through our website and pay us a deposit. The client pays you the balance on arrival or in advance at a date of your choosing.​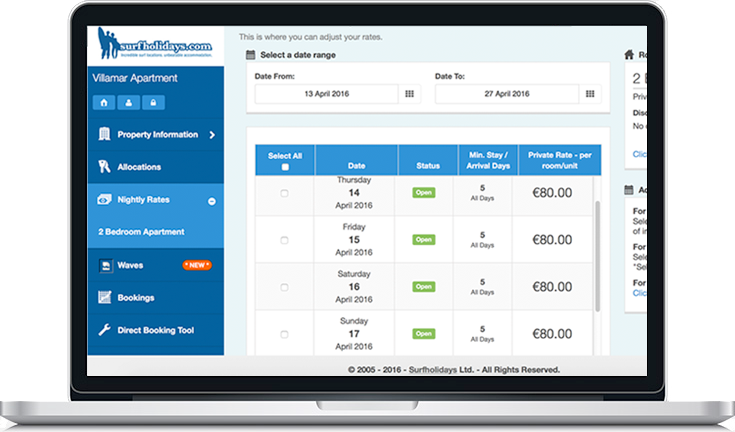 Connections:


What our partners say...
We have listed our properties in Ericeira on surfholidays.com since 2008 ​ and we really enjoy working with them. So far it has been one of our ​ best partners and we simply love working with them. They provide us with​ very good and nice guests!
Hugo Augusto, Villa Ana Margarida, Ericeira, Portugal
We have been working with surfholidays.com for the past 5 years and they have proved invaluable in providing us with bookings and quality guests. Their booking system is very professional and reliable, making them a pleasure to work with.
Nathan Roche, Wave Rider Surf Camp, Fuerteventura.

Surfholidays have provided us with a significant amount of bookings from customers all over Europe that we would not normally reach.
Clara Brito, Helios Beach Bungalows, Ericeira, Portugal.
Working with 1,000 + Surf Accommodation & Schools
Why List on SurfHolidays.com?
Surfholidays.com was set up by surfers for surfers. We understand your pain when it comes to trying to receive booking in advance and getting everything organised so you can offer the highest quality accommodation & surf lessons.
It is FREE to list
Add your property/surf school for FREE on our website.
Marketing
We market your place to a large global audience of surfers and people wanting to learn how to surf.
More customers
By adding your availability to our site you can receive bookings
while you are surfing.
List what you want
You can list what you want:
night rates, packages, discounts, extras, transfers & more.
Come Join Us