LisbonSurfVilla
LisbonSurfVilla
Avenida Afonso de Albuquerque 109, Trafaria - Lisbon, Portugal
Chat with a host who can help organise your trip...
Explore our Available Surf Packages
The Place

Private & Shared room options
Couples
Families
Groups
Solo travellers
This luxurious villa is located 6 mins walk from the beach and has a large garden, various terraces with amazing sunset views, a BBQ, sunbathing deck and chill to out areas.The nearest beach, Praia da Sao Joao, has great waves. many bars and restaurants.
At the villa you will receive breakfast each morning. Bed linen and towels are provided for you. The BBQ is free to use whenever you like and local restaurant 'Paletes' is just around the corner.
The villa has 2 private rooms, a shared room for 8 people and another shared room for 6 people. There are also 4 bathrooms, a fully equipped kitchen, heating, wifi, TV and a self to serving bar with beer.

Lisbon Surf Villa is a perfect stay for surfers, active people and children. There are many great activities to enjoy close by such as surfing (of course!) stand to up paddle, wind/kite surfing, Fun Parque for kids, boat trips, horse to riding, golf, tennis, bike riding, scooter rental, fishing and hiking trails. Being close to Lisbon you can also enjoy some historic sightseeing!
Location
Located in Costa da Caparica, the villa is a 20 minute drive from Lisbon city centre and a 6 minute walk from the beach. The ferry is only 12 minute walk away and has the most amazing views of Lisbon and the Ponte 25 de Abril bridge.

The town centre of Costa de Caparica is only 15 minutes walk or 5 mins bus ride away. Here you will find numerous restaurants, bars and surf shops. The bus stop is right outside the villa!
Reviews

Facilities

Room types

Getting there

Surf Lessons

Waves

Terms
9 REVIEWS
Summary
Accommodation
Surf Lessons

Garratt
United Kingdom
August 2023
Travelled solo
How did you like the accommodation?
Amazing location and friendly staff
How were the surf lessons?
Great lessons and instructors
Reply from Arnaldo
Thank you Garratt ! Hope to see you soon again
Cheers

Salma
France
May 2023
Travelled solo
How did you like the accommodation?
Everything was great !

The house is nice and clean, with a cosy spacious garden we greatly enjoyed. Ricardo, the manager of the house is really friendly and welcoming, and very quick to answer on Whatsapp if you have any question. The breakfast is also very good (with plant milk options, fresh juice, and fruits), served by lovely people from Ricardo's family. Everyone there seems to care a lot about you enjoying your stay. It feels "homey", I would definitely come back !
How were the surf lessons?
One of the best surf lessons I have had !

All the instructors I met (Thiago, Miguel, Ari and Simon) were so committed and really doing their best for us to improve and enjoy the moment. They gave us great advice, and were always encouraging.

Safety point - it appeared to me that they were paying high attention to everyone and all boards in the water, no matter the level, which is super reassuring.

Thanks again to all of them !
Reply from Arnaldo
Thank you so much Salma !!! Hope to see you again soon! ????????????

Ellie
United Kingdom
June 2022
Travelled solo
How did you like the accommodation?
Ricardo was very a great host and the couple who prepared the breakfast were the sweetest!
How were the surf lessons?
Loved the guys at the Surf School and enjoyed the ease of cycling 5mins to the beach to find them.
Reply from Arnaldo
Thank you Ellie!
Hope to see you soon!
Cheers
- Less Reviews

Alexander
Canada
December 2019
Travelled solo
How did you like the accommodation?
Great place, amazing staff who went above and beyond! Will definitely be my surf hub for all time.
How were the surf lessons?
Very knowledgeable and patient instructors who knew what they were doing. A great experience
Reply from Arnaldo
Thank very much Alexander
Hope to see you soon !

Regards
LSV

Aleksandra
Warsaw, Poland
September 2019
Travelled with friends
How did you like the accommodation?
Very comfortable Surf Villa located close to the beatiful beach and ferry to Lisbon. Really friendly and helpful owners :)
How were the surf lessons?
I fell in love with surfing even more! Great instructors and always fun during surf lessons. I'd love to get back there soon! I absolutely recommend it!

Corinna
Germany
September 2019
Travelled solo
How did you like the accommodation?
It is a big very beautiful house with a nice garden and a big pool. The atmosphere was good and calm and Riccardo is a very good and caring host. We really enjoyed our stay.
How were the surf lessons?
The surf lessons were awesome. The teachers helpt us a lot and we progressed quicker than we thought. We had a lot of fun!

Teodora
Galway, Ireland
August 2019
Travelled solo
How did you like the accommodation?
The house was amazing swimming pool garden really nice kitchen and living room. Close to the beach and a short distance to the ferry to cross in Lisbon.

Michaël
Wommelgem, Belgium
July 2019
Travelled with friends
How did you like the accommodation?
The Accommodation was amazing!
Really beautifull and clean house, the owners will take very good care of you. It was like I found a second home.
Situated perfectly for going to Lisbon or a more quietly town, the choices are just perfect.
How were the surf lessons?
Great lessons & great instructor!
Learned so much from the time I have spend there and had the best time.
The beach is endless which makes it perfect to find a quiet or a crowded spot, whatever you wish.

Lara
CROWS NEST, Australia
June 2019
Travelled with friends
How did you like the accommodation?
This is a beautiful villa, with spacious rooms, balconies with hammocks and a pool. A delicious breakfast is served by delightful hosts who do their utmost to make you feel at home.
How were the surf lessons?
The surf lessons were great fun and brilliant for beginners. Could not recommend the villa and surf lessons enough. Enjoy!
+ More Reviews
Number of people: 18
Additional Fees:
Late Check In (after 9PM): 25€
Extras:
Extra bed €35 per night (breakfast included)
Extra Bath towels €3

You can never get lost
When you book you will receive our confirmation email with full travel directions of how to get to us.
We don't provide airport transfers but you can book one easily here: Airport Transfers
- Nearest Airport: Lisbon Airport
- Distance from Airport in kms: 17
- Time from Airport in a car: 15-20
- There is no train from the airport
- There is no bus from the airport
Come Surf With Us
Surf Lessons can be added in the booking steps if they are not already included in a package.
Instructors
First of all let me tell you that Caparica beach was considered the second best city beach in the world ! 30 km of sand will made your dream come true.....here we have all type of conditions of waves. from beginners to advanced surfers! just ask our head instrutor were!
Main Surf Beach: Sao Joao da Caparica
Surf Lessons we offer:
Kids Surf Lessons
This is the best opportunity for your children to experience real life and to give them a break from their technological lifestyle. Every day, we will assess the place according the tide, wind, swell size and direction, the same way experienced surfers would do. The waves aren't made by a machine, so they are not always perfect on the same beach, depending on the day. Let us take your children to
Beginner Surf Lessons
In these two-hour surf lessons we introduce surfing fundamentals, etiquette, safety, wave dynamics, paddling skills, surfboard positioning, maneuvering, proper stand-up and riding techniques.
Intermediate Surf Lessons
Our Intermediate surf lessons are designed for surfers looking to fine-tune their surfing ability or take it to the next level. Our instructors join you in the water, analyze each wave you catch and provide detailed feedback to help you reach your surfing goals.
Advanced Surf Lessons
This course will help you improve your bottom turn and to learn top turns or cutbacks, how to duck dive, and how to take control of your speed. Progress from passively gliding down the wave to actively surfing it.
Learn how to generate speed, choose the right manoeuvres to stay in the power pocket of the wave, and how to improve your paddling technique so you use less energy.
Private Surf Lessons
A Beginner Private Surf Lesson is private instruction for you or your group of friends/family/co-workers. It can be 1-on-1 with an instructor or up to as many people as you'd like to bring. We assign one instructor for every 4 surfers in your group.
Yoga
Private instruction is here to help you tap into a deeper awareness of your body and reach your next level. Either a beginner or advanced yogi, private lessons benefit all. Focusing on individuals needs while accommodating personal alignments. Breathing, movement, relaxation, and stillness. Incorporating balance to your body, diet, routine, and lifestyle.

The perfect complement to a day of surf,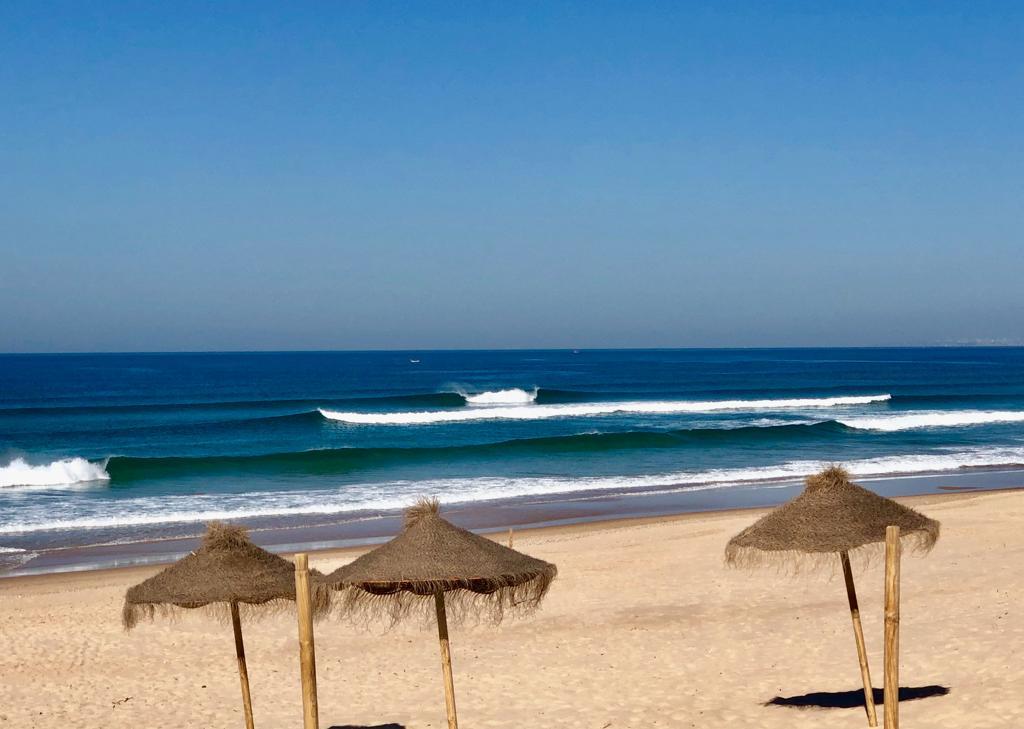 Sao Joao beach
Level: All Levels
Stretching away to the south of the Tejo River is a 30 km strip of coast that is the most consistent zone for Lisbon's surfers. The northern section of this coast is built up and a number of jetties provide variety and stability to the sand bars. Look for the low tide lefts at Covo do Vapor and Rio plus the 7 jetties referred to as CDS. Further south, check Praia da Rainha for average, open beachbreak.
Sao Joao it is 5 minutes walking, right in front to the surfvilla.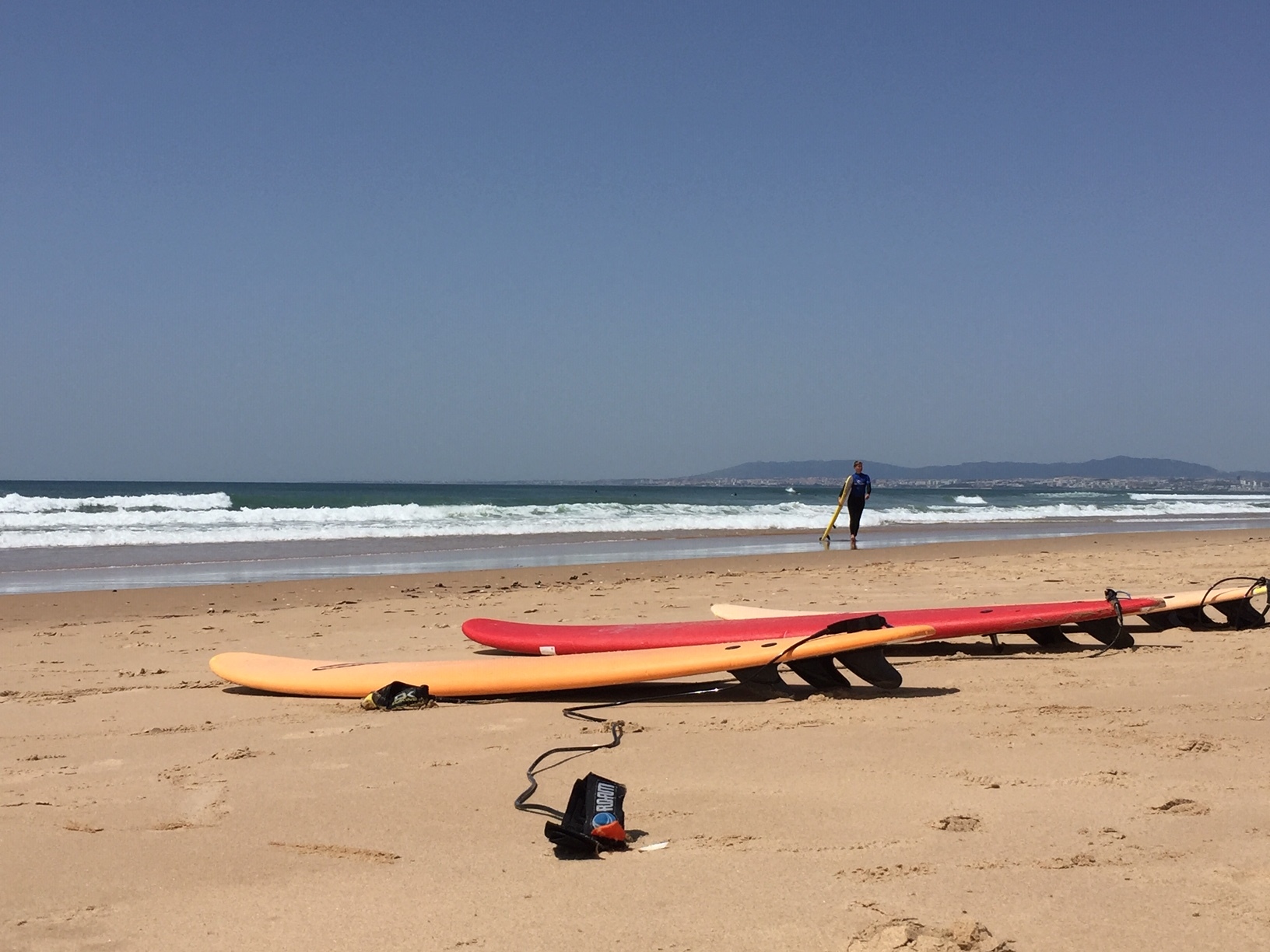 Cabana do Pescado beach
Level: All Levels
10 minutes south by car from the surfvilla, it is one of the waves that we usually choose as well to give surflesson.
Less crowd and great waves.
Surf conditions in Lisbon:
Beginners:

JAN

FEB

MAR

APR

MAY

JUN

JUL

AUG

SEP

OCT

NOV

DEC
Intermediates:

JAN

FEB

MAR

APR

MAY

JUN

JUL

AUG

SEP

OCT

NOV

DEC
Advanced:

JAN

FEB

MAR

APR

MAY

JUN

JUL

AUG

SEP

OCT

NOV

DEC
Rain
Wetsuits
JAN/FEB
MAR/APR
MAY/JUN
JUL/AUG
SEP/OCT
NOV/DEC
---
Downtown Lisbon city itself does not have a beach and walking around siteseeing you may be oblivious to the fact that dozens of beautiful white sandy surf beaches are only a 5 minute car drive away (Or 4 train stops!)
The surrounding beaches pick up all the swells the Atlantic have to offer making it one of the most consistent surf destinations in the World.
The area has a good selection for all standards. Closest to the city would be Caxias & Santo Amaro de Oeiras.
Caxias
is a beautiful beach that on its day can produce perfect lefthander barrels.
Oeiras
is more of a winter wave and is one of the best waves in Portugal.
Next stop is
Carcavelos
, probably Portugal's most famous wave. Its one of the best beach breaks in Europe and regularly hosts National competitions. It suits all standards, a perfect place to learn and a great place to score some fast beach barrels with multiple peaks along the 1km stretch of beach.
There are many other spots along the coastline that runs from Lisbon out to Estoril & Cascais. Long boarders will love
Sao Pedro
and short boarders will thrive on spots like
Poca and Sao Joao
. Then on the other side of Cascais there is the stunning long white sandy
Guincho
beach, one of Portugal's most consistent surf spots, usually best in the morning as it can be exposed to afternoon onshore winds.
Across the river Tejo in Setubal, a 20 minute drive away, is the less crowded
Costa de Caparica
. Perfect for beginner/intermediates as the man made jetties create nice consistent waves. The beach stretches for 30kms and all of it is surfable!
Lisbon is also a great base to explore other regions. The surf mecca of
Ericeira
is only 35 minutes drive away and 1 hour north is
Peniche
, host of the WSL World Tour every October.
Come Surf Lisbon with us...
PAYMENT
A small deposit is required to secure your booking.
Your balance is due at check in.
CANCELLING YOUR BOOKING
To cancel go to the MyAccount section and log in or register and you can cancel from within your account.
Your deposit is non refundable but can be used for the same property/surf school within one year of your original booking.
You can cancels anytime up to 7 days before travelling and you will not be charged the balance.
The Surfholidays Advantage
Easy messaging with a local surf host & expert to plan & book your dream surf holiday
1 Customize your surf trip with the help of a local surf host
Surfholidays has handpicked the world's top surf camps, accommodation & surf schools so you will have peace of mind and an unforgettable trip that meets your exact requirements.
2 Secure & easy booking
You can book instantly or message a host directly & request a custom option. Once you are happy with the trip, you can easily book via Surfholidays' secure payment platform.
3 Support before and after your trip
Our team at Surfholidays and your local host onsite are available before and during your trip to ensure things run smoothly.
4 Authentic travel experiences
Surfholidays hosts ensure that you will have the best experience based on up-to-date local insights. On top of that, the vast majority of your money will go straight to support and grow local surf towns.
Surfholidays offers a 100% satisfaction guarantee
If you are not fully satisfied, we'll work with you to make it right.