Morocco has long been a fixture on the European surfer's radar. Little more than a short 3-hour flight from most British airports, the consistency of the waves, mixed with a uniquely diverse culture, make Moroccan surf camps some of the most appealing destinations in the world. A mix of rugged point breaks and sandy-bottomed beach peaks means a surf camp in Morocco is the ideal place to learn to surf, as well as further hone your skills.
We break down 5 of our favourite below: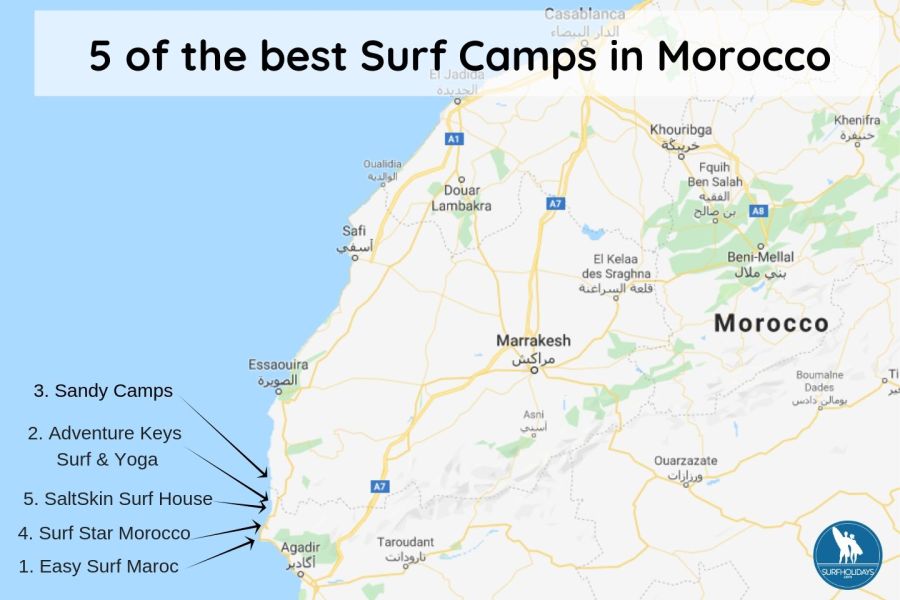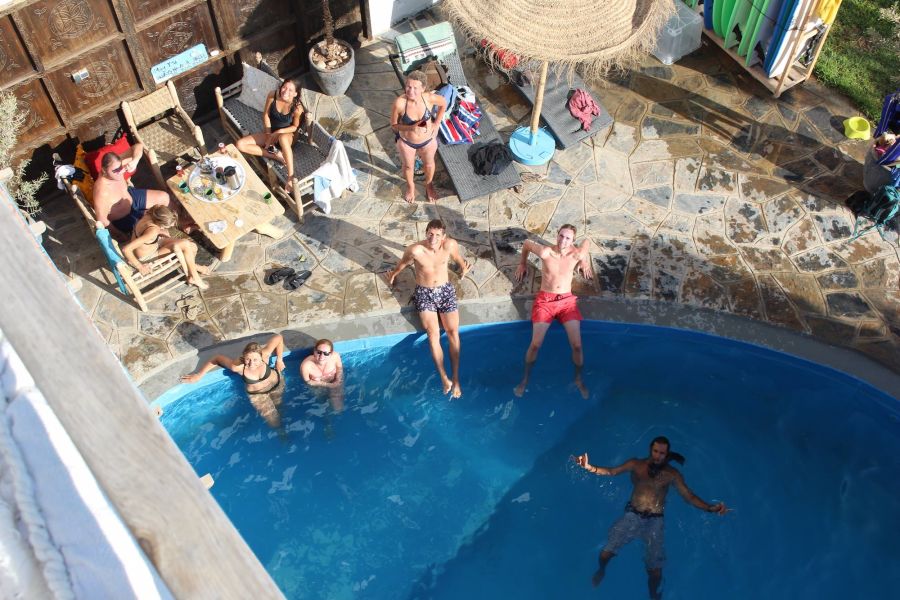 Sleeps: 18
Location: Aourir/Banana Village, a traditional Berber dwelling with relaxed locals and a friendly atmosphere.
How to get there: 20 kilometres (40-minute drive) from Agadir airport
Owners: Nikki
Surf available: 10-minute drive from the peaks dotted in and around Taghazout. The world-renowned waves at Anchor Point, Panorama's and Killers are also within easy reach.
Nearest wave: A walkable distance from the home spots of Banana Point, KM11 and K12, a variety of waves for all abilities.
X-Factor: Situated close enough to Taghazout to enjoy all it has to offer, but just far enough away to be fully immersed in a truly Moroccan travelling experience. In-house chefs and a 90m² top floor yoga room are amongst some of the facilities on offer in this stylish beach retreat
Deal: Surf & Yoga: 7 nights €445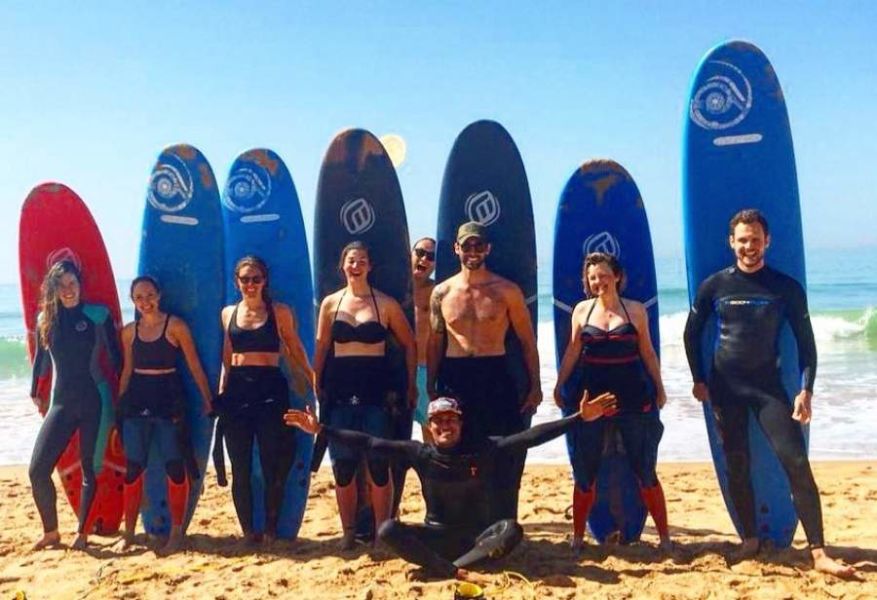 Sleeps: 13
Location: Prominently resting over the banana tree plantations in the small village of Tamraght, this small surf house offers Moroccan tradition in a modern comfortable environment.
How to get there: 35 kilometres (50-minutes) from Agadir airport
Owners: Sahar
Surf available: Located in Taghazout are the beginner and intermediate spots of Panoramas and Hash Point. Sitting slightly further south are Devil's Rock and Banana Point. Just 10 kilometres north is Tamri, offering a great selection of waves for surfers of all standards.
Nearest wave: SaltSkin Surfhouse is walking distance from Banana Point, Devil's Rock, Cro Cro and KM11.
X-Factor: Everything in the surf house is homemade. Each day SaltSkin design a menu using fresh products, freshly caught fish, and local vegetables, to ensure a variety of delicious Moroccan meals with traditional flavours.
Deal: Learn to Surf Package: 7 nights €500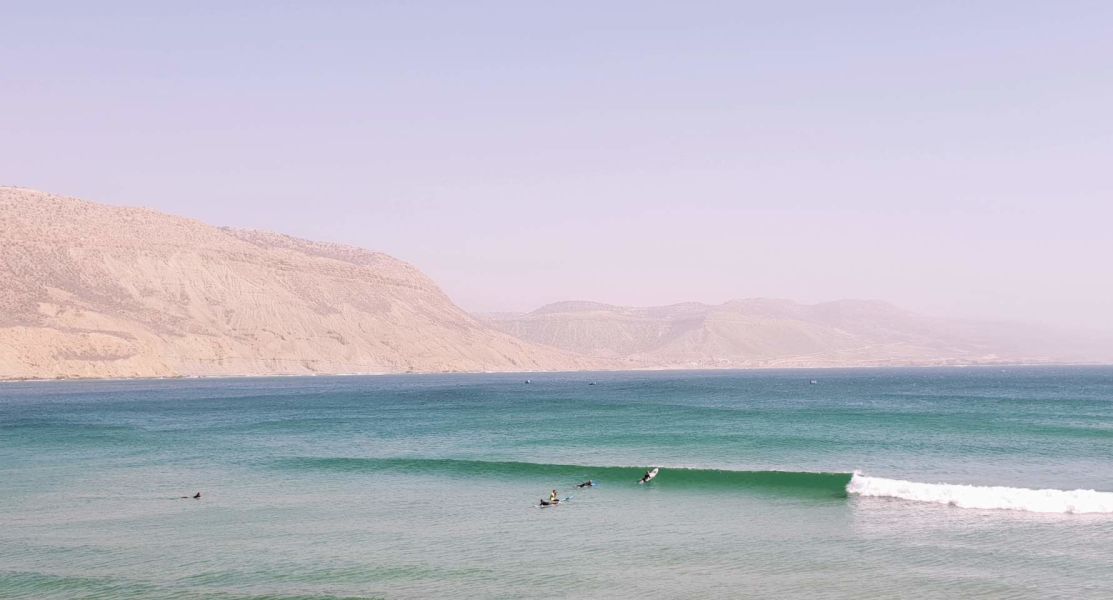 Sleeps: 50
Location: Nestled in an oasis of greenery between mountains and ocean, Sandy Camps is the perfect starting point to discover the small fishermen's harbour of Imsouane, famously home to the longest wave in Morocco.
How to get there: 80 kilometres (1½ hours from Agadir airport)
Owners: Sandra
Surf available: Far less crowded than some of Morocco's big-name spots, the sheltered waves dotted around this stretch of coastline will reward all surfers, whatever you're riding. The beach break at L'Oued offers a low-key user-friendly entry into surfing, whilst the waves pumping into The Cathedral offer longer more technical rides.
Nearest wave: 'The Magic Bay' at Imsouane is just 50-metres away from the surf and yoga camp. On its day, this surf spot offers 500-metre sections of perfectly peeling waves to repeatedly glide in to.
X-Factor: Less crowded and more authentic than other Moroccan surf spots, Sandy Camp's location offers the chance to indulge in an unspoilt side of North African culture.
Deal: 8 Day Surf Camp: €399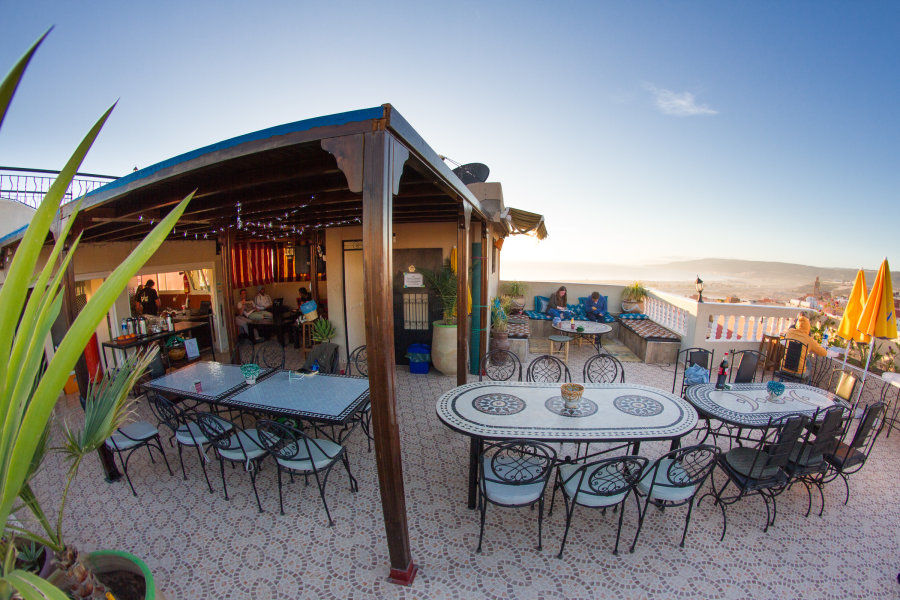 Sleeps: 30
Location: Overlooking Taghazout Bay, but actually situated in the small village of Tamraght, this small and relaxed Moroccan surf camp is 10-minutes walk from the nearest beach and a 2-minute drive to 5 of the areas most popular peaks.
How to get there: 30 kilometres (35-minutes drive) from Agadir airport
Owners: Momo
Surf available: The surf guides will show you the legendary waves of K17, Anchor Point and Killers, rest assured there is no shortage of waves on offer for surfers of every ability.
Nearest wave: Being 100-metres from Cro Cro Beach, the areas most consistent beach break, means that even the most discerning traveller can score plenty of high-quality waves.
X-Factor: The intimate nature of this small surf camp offers a relaxed and friendly atmosphere for solo travellers, couples, and small groups. The 3 roof terraces are the perfect place to relax with a cold beer or take part in a stunning sunset yoga session.
Deal: Surf & Yoga: 7 nights €520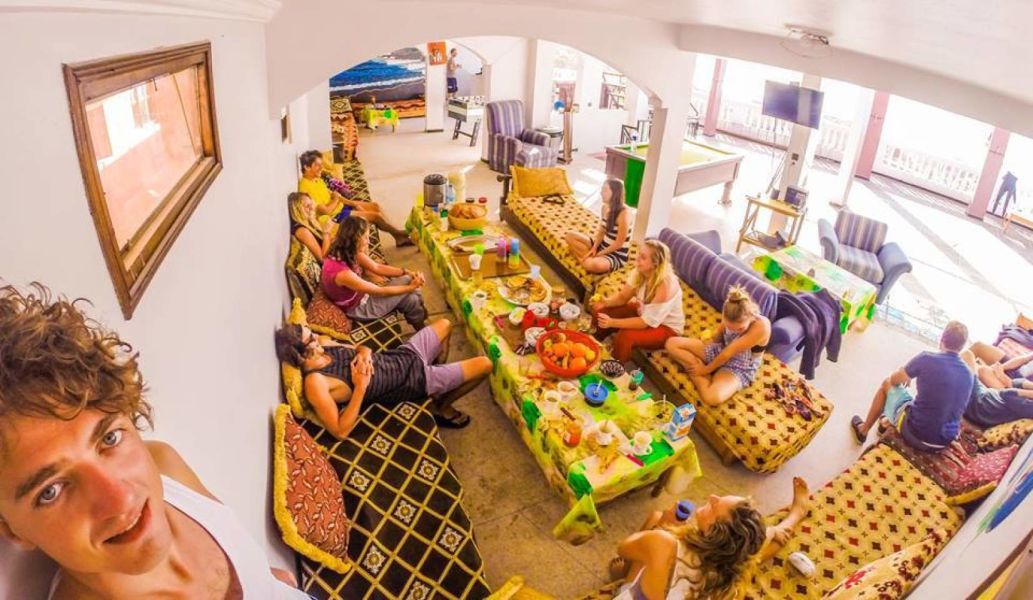 Sleeps: 60
Location: In the heart of Taghazout, the town centre is a leisurely stroll from the front door of this Moroccan surf hostel.
How to get there: 45 kilometres (45-minute drive) from Agadir airport
Owners: Rubes
Surf available: Being centrally located in Taghazout means the options are plentiful. Beginners might choose to head for the sandy shores of Camel Beach or Tamri Beach, whilst those surfers with more experience will certainly be satisfied with the offerings at Boilers, Spider Point and Anchor Point.
Nearest wave: Just 50 metres from the waves breaking in front of Taghazout village and the aptly named Hash Point.
X-Factor: Situated a few minutes walk from the beach, post-surf sessions can be spent recuperating on the beach or exploring the fascinating diversity and culture in the village of Taghazout.
Deal: All Inclusive : 7 nights €389
---
For more information on planning a surf holiday to Morocco check out our Morocco page.