Ocean Spray Beach Apartments
Ocean Spray Beach Apartments
Ocean Spray Apartments Inch Marlow, Christ Church - South Coast, Barbados
Chat with a host who can help organise your trip...
Explore our Available Surf Packages
The Place
Couples
Families
Groups
Solo travellers
Ocean Spray Beach Apartments
A boutique serviced apartment complex featuring studios, one bedrooms and multiple room apartments. We offer the benefits of home with some hotel type amenities.
Located off the beaten path in the country side, in one of the best beginner surf spots in the Caribbean. The sea spray, amazing shoreline of the bay and lush gardens offers an ideal setting to getaway and relax.
Nearby is Silver Sands & Long Beach, and Oistins town for shopping and entertainment.
Location
Located on the South coast of Barbados, nestled in a small bay in front of the best spot to learn to surf, Surfer's Point. There are 2 other nearby surf spots – South Point and Freight's Bay. 5 minutes by bus in the direction of Oistins is Miami Beach, a calm and popular swimming beach. The world famous Crane Beach is about 15 minutes to the east and nearby is Harrismith and Bottoms's Bay beaches.
Reviews

Facilities

Room types

Getting there

Surf Lessons

Waves

Terms
6 REVIEWS
Summary
Accommodation
Surf Lessons

Zoe
Dorking, Uk
October 2019
Travelled as a couple
How did you like the accommodation?
Ocean Spray has such a warm and friendly vibe to it, the staff are all wonderful and the food delicous! If you go there, movie night is a must! The freshly homemade indian cuisine was the best meal of the whole trip!

The location has everything if you are looking to just chill out and relax away from it all. We would wake up and go to bed to the sound of the waves, stunning sunrises, you straight away feel like you have arrived in paradise.

My recommendation for anyone staying would be to hire a car, it allowed us to explore the island but you will be grateful for it in the evenings so you can visit Oistins and St. Lawrence Gap for the variety of different restaurants available. Oistins on a Friday night is great fun and the fresh fish is out of this world!

Barbados is a beautiful island and there is no doubt you will have the holiday of a lifetime especially with these guys! We cannot wait to book our next trip back!
How were the surf lessons?
If you are coming on a surf trip like us, we used Ride the Tide surf school who were absolutely fantastic!

Westchester, NY
July 2019
Travelled with family
How did you like the accommodation?
Our family came to Barbados to surf and scuba dive. We rented a car because we knew the hotel was not in the middle of a bustling hub. It would have been a huge pain not to have done so. Our observations:

1. Location - close to Zed's Surf School (walking distance), need a car to go anywhere else. Restaurant on site was good - we ate one dinner there. It really is in the middle of a residential area, which includes nice, okay, and dumpy houses all mixed up. So just be aware, it's not in a resort-y area.

2. Room - we had a 3-bedroom apartment, which was huge and extremely clean, with a really nice balcony. We didn't use the kitchen facilities at all, as breakfast was included and for the other meals it was easy to find casual food. So I can't say anything about those. Beds fine - didn't squeak. Hot water was an issue. The hotel's water is solar heated, so if there isn't any sun, there isn't any hot water. Problem! We ran into a few cloudy days, so the water was sort of lukewarm. It was still warm, so it wasn't awful, but if you like a hot shower, as I do, even in a place that's very warm, be aware that it is not guaranteed here. The weather was pretty warm most of the time, but the room was very well ventilated and did not get hot. We rarely if ever used the A/C.

3. Breakfast - a very basic continental breakfast is included, but it's not that great. Presentation was really lacking, and it looked half hearted. One of the responses to a review it says that french toast and pancakes are included, but I think they were extra. If there were included, no one ever told us. One kind of jelly - guava - so if you don't like guava jelly, you're out of luck. I ended up having toast every day. The 'hot' dishes were fried potatoes, fried plaintains and baked beans, which to an American are weird choices for morning foods, especially when the potatoes don't have any protein to go with them. It was just - odd. There was fruit salad, but the fruit was cut into very small pieces and the watermelon was loaded with seeds. Again, I'm whining, but it was just sort of a pain. I don't like watermelon seeds. This might be fine for you, but for me it just wasn't great.

4. Yoga - they had a yoga instructor who gave yoga classes every day. It was extra but not that much. She was very good and my husband and I both enjoyed it. It's wonderful to do yoga next to the beach! And there's a pavilion where you do it that's very Zen and peaceful.

So the nice, big, clean apartment part was really good, and my husband said that compared to the resorts it was way less expensive, so that's good too. Location close to Zed's Surf School was great, and it wasn't far from Oisins. There's a surf and kiteboarding school at the hotel, but we didn't use it. The hotel feels sort of remote but Barbados isn't that big so nothing is that far - as long as you have a car. All in all it was a very good experience, with those few minor issues that may or may not be relevant to other people.

James
Sligo
May 2019
Travelled as a couple
How did you like the accommodation?
Situated in Inch Marlow, the apartments are conveniently close to both the airport (though there is no aircraft noise, as not in the flight path), and a few minutes drive from Oistins (where you must experience the Oistins Fish Fry).

Taxi from the airport was 30 US$, and reception were very friendly, and showed us to our apartment. We had arranged a hire car through reception, and that was dropped off at the apartments for us without any problem.

The apartment we stayed in was a studio, with lovely kingsize bed, and ensuite shower / toilet. There was also a small kitchenette with cooker and sink etc.
A TV was provided, but with so much to do, it never got switched on.
The apartment opened out onto a grassed area with sunbeds and access to the restaurant (for breakfast, lunch and dinner). There was also a surf school and supplies shop on site.

Breakfast was included, and there was a selection of cereals, bread and toast, and hot foods including eggs, potatoes, bacon and baked beans.
A very peaceful location, and I would thoroughly recommend it.


- Less Reviews

Frany
Ottowa, Canada
April 2019
Travelled with family
How did you like the accommodation?
This was a lovely apartment-style hotel right by the sea. We had a 2 bedroom unit which came with a good-sized living-dining room and a full kitchen, plus a balcony overlooking the sea. The hotel is very near to a surfing beach which means the there really isn't any good swimming by the hotel. The staff were friendly and helpful, the breakfast provided was substantial, we ate in the hotel restaurant (open air) one evening and the food was very good. The hotel was clean and well-maintained.

This is a great location for people who want to surf or kite board or are planning to rent a car to travel around Barbados.

Andy
Atlanta, Georgia
January 2019
Travelled solo
How did you like the accommodation?
Traveled to Barbados to surf. Ocean Spray Beach Apartments was a few doors down from the surfing school. For those that kite surf, you can launch from the beach in front of the hotel. There is also a kite surfing school that rents equipment located on the property.

The room was comfortable and clean. View and breeze from balcony was excellent. The staff was very helpful and friendly. Breakfast and lunch was offered daily in the restaurant. If you want to relax after a day of surfing, you can pre-order dinner and it will be delivered to your room.

If you are looking for big nightlife, this may not be your place. There are vans and taxis that will take you all over the island, but the property is quiet after dark. I started planning a return trip to Ocean Spray before I got on the airplane home.

DAVID
TENAFLY, United States of America
December 2018
Travelled solo
How did you like the accommodation?
Ocean Spray was nice, quiet, spacious and comfortable and is directly by the sea. It took me only a day to settle in, get my bearings, and make my way around the South coast. It is convenient enough to get around the island by rental car, taxi, or local bus. There is a restaurant at Ocean Spray that is open for breakfast, and dinner a couple of nights during the week, and the apartments have a kitchenette so you can stock up on additional supplies. It is a very relaxing place and a nice respite from the touristy areas.
How were the surf lessons?
I took a lesson for three days. Both Sam (Barry's Surf) and Jay (Ride The Tide) were terrific instructors. I went to Freights all three days during my stay. The waves were good.
+ More Reviews
Number of people: 60
Extras:
extra bed, US $10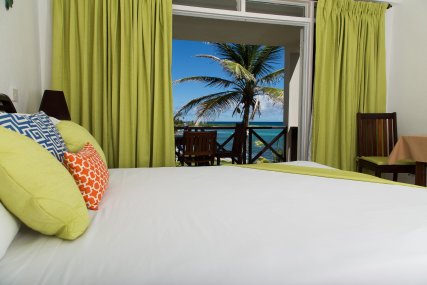 Studio
Room Type: Private
Sleeps:

2
This bright and spacious air to conditioned studio with sea views includes a fully equipped kitchen, seating area, and a balcony or patio with sea views. It also comes with a flat to screen TV with cable channels, safety to deposit box and a bathroom with a shower and bath.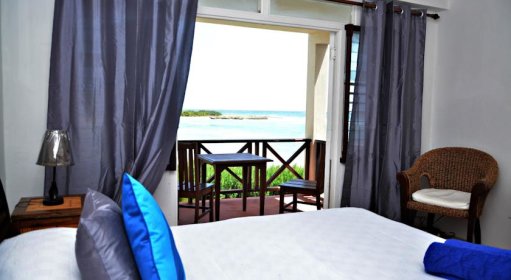 One Bedroom
Room Type: Private
Sleeps:

4
Bright, spacious apartment with 2 extra beds in the living room. Additional facilities include cable TV and a large kitchen with microwave.
You can never get lost
When you book you will receive our confirmation email with full travel directions of how to get to us.
We provide Airport Transfers from and to Grantley Adams International Airport and they can be booked in the booking steps.
Price for 1-4 people: USD$30
- Nearest Airport: Grantley Adams International Airport
- Distance from Airport in kms: 3.5
- Time from Airport in a car: 10 mins
- There is no train from the airport
- There is no bus from the airport
Looking for Surf Schools in South Coast
Please wait...
Surf conditions in South Coast:
Beginners:

JAN

FEB

MAR

APR

MAY

JUN

JUL

AUG

SEP

OCT

NOV

DEC
Intermediates:

JAN

FEB

MAR

APR

MAY

JUN

JUL

AUG

SEP

OCT

NOV

DEC
Advanced:

JAN

FEB

MAR

APR

MAY

JUN

JUL

AUG

SEP

OCT

NOV

DEC
Rain
Wetsuits
JAN/FEB
MAR/APR
MAY/JUN
JUL/AUG
SEP/OCT
NOV/DEC
---
The island is only 22kms across so there are plenty of other options to explore further East, West and North. Below are a selection of options along the South Coast
South Point
One of the most consistent spots on the island. Breaks over flat reef and can produce fun lefts.
Surfers Point
A great beginners beach break and longboarders wave. Perfect for kids also.
Freights
Sand bottom left, not the most consistent but can produce some glorious long intermediate waves and photo perfect tropical barrels.
Silver Sands
Consistent fun right reefbreak that can get more interesting as the swell increases.
Brandons
Right and Left reef break , on the less consistent South West side!
Crane Beach
On the Eastern South side. Very consistent beach break that suits all standards.
Long Beach
Long beach can have some really fun waves and is a great go to spot on a daily basis. It can close out and be hard to read at times but always worth a look.
PAYMENT
A small deposit is required to secure your booking.
Your balance is due at check in.
CANCELLING YOUR BOOKING
To cancel go to the MyAccount section and log in or register and you can cancel from within your account.
Your deposit is non refundable but can be used for the same property/surf school within one year of your original booking.
You can cancel anytime up to 30 days before travelling you will not be charged the balance.
Similar Surf Packages in South Coast, Barbados
The Surfholidays Advantage
Easy messaging with a local surf host & expert to plan & book your dream surf holiday
1 Customize your surf trip with the help of a local surf host
Surfholidays has handpicked the world's top surf camps, accommodation & surf schools so you will have peace of mind and an unforgettable trip that meets your exact requirements.
2 Secure & easy booking
You can book instantly or message a host directly & request a custom option. Once you are happy with the trip, you can easily book via Surfholidays' secure payment platform.
3 Support before and after your trip
Our team at Surfholidays and your local host onsite are available before and during your trip to ensure things run smoothly.
4 Authentic travel experiences
Surfholidays hosts ensure that you will have the best experience based on up-to-date local insights. On top of that, the vast majority of your money will go straight to support and grow local surf towns.
Surfholidays offers a 100% satisfaction guarantee
If you are not fully satisfied, we'll work with you to make it right.