Santosha Barbados
Santosha Barbados
East Coast Road, St Andrew, Windy Hill - East Coast & Bathsheba, Barbados
Chat with a host who can help organise your trip...
The Place
Couples
Families
Groups
Solo travellers
Santosha sits on 2.5 acres of land and the Balinese inspired structure, built almost entirely of organic materials such as purple and green heart timber, is nestled in a rocky outcrop, known as Windy Hill. There are ten rooms set over three floors, all equipped with everything to make it your home away from home. Rooms overlook the wild Atlantic ocean offering views of the unique coastline and although there is no restaurant, they can be stocked with groceries or ready meals and guests can barbecue on the deck of our saltwater swimming pool.
Location
Santosha is located on the East Coast Road, a 5 minute walk from the island's longest beach, Walkers Beach and a 10 minute drive from Soup Bowl to lauded as one the best three waves in the world by Kelly Slater who has been coming to the island for over 20 years. We are a 40 minute drive from the airport and 20 minutes from the Platinum East Coast.
Facilities

Options

Getting there

Waves

Terms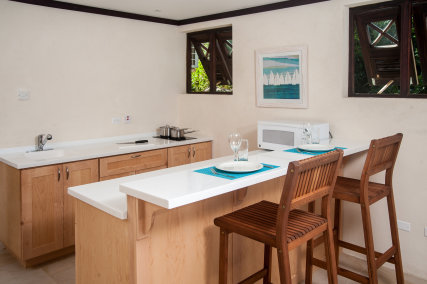 Garden Studio
Room Type: Private
Sleeps:

2
Our cosy ground level, self catering, studio apartments can be furnished with either two twins or a king sized bed. There is a fully equipped kitchen and outdoor seating overlooking the pool. Amenities include satellite TV, air conditioning and free Wifi.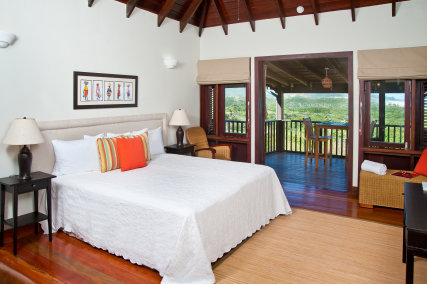 Upper Level Studio
Room Type: Private
Sleeps:

2
A large open plan self catering, studio apartment which can be furnished with either two twins or a king sized bed. There is a fully equipped kitchen and a spacious balcony which is ideal for al fresco dining overlooking the ocean. Amenities include satellite TV, air conditioning and free Wifi.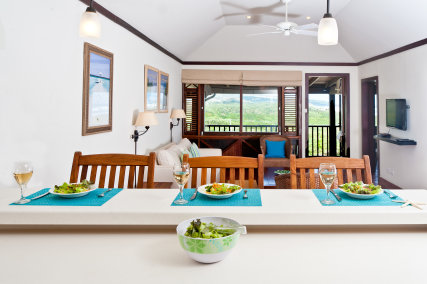 One Bedroom Suite
Room Type: Private
Sleeps:

4
Our one bedroom self catering, suites consist of a spacious double bedroom, en to suite bathroom, dressing room and additional powder room. There is a large open plan living area with a double sofa bed and a fully equipped kitchen. A generous balcony provides al fresco dining with views over the ocean. Amenities include satellite TV, air conditioning and free Wifi.
You can never get lost
When you book you will receive our confirmation email with full travel directions of how to get to us.
We provide Airport Transfers from and to GAIA and they can be booked in the booking steps.
Price for 1-4 people: USD$50
Price for more than 4: USD$80
- Nearest Airport: GAIA
- Distance from Airport in kms: 30
- Time from Airport in a car: 40 Mins
- There is no train from the airport
- There is no bus from the airport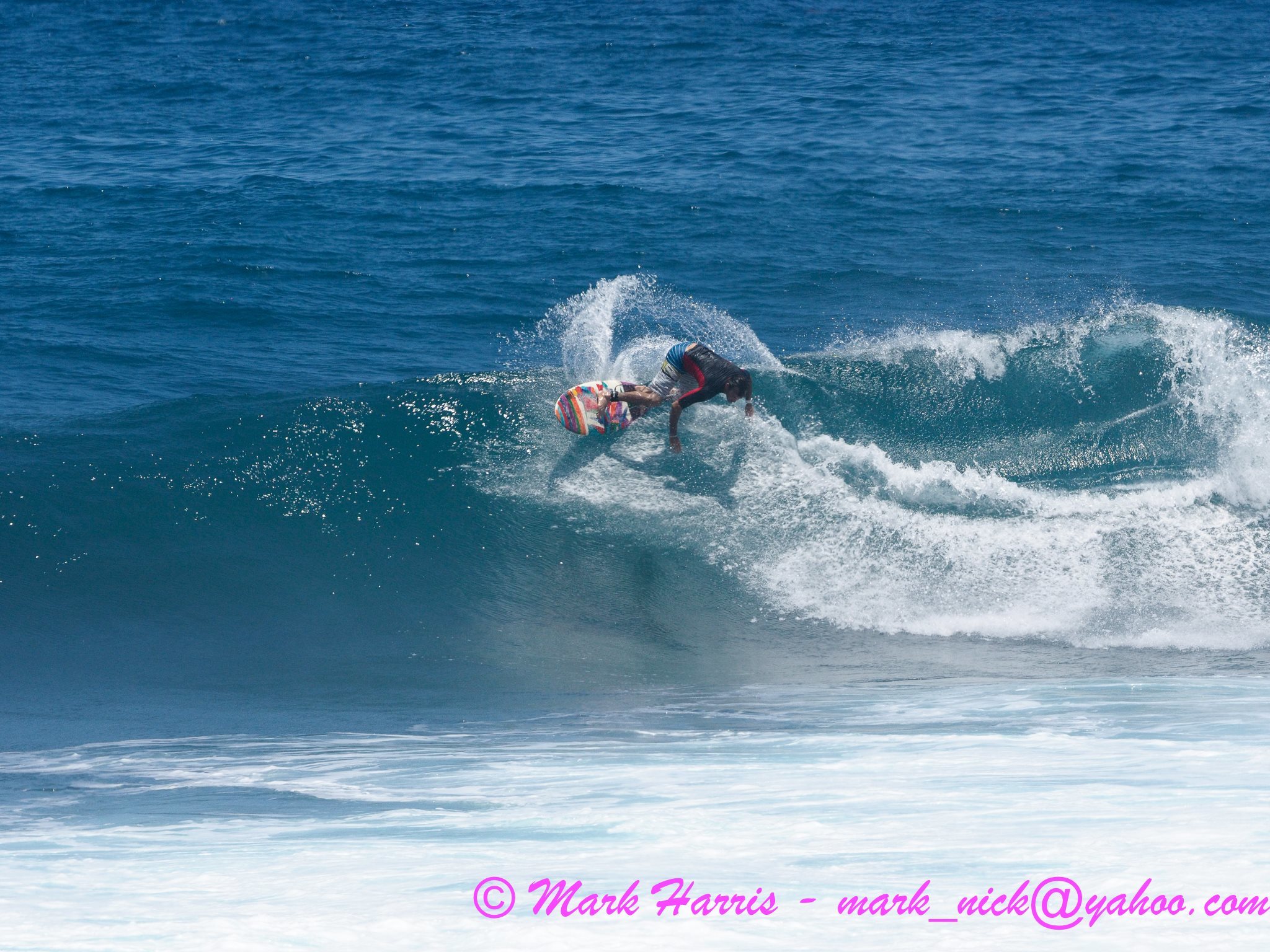 Soup Bowl
Level: Advanced
Famous east coast right, full of power and intensity. Vertical drops, thick bowls and big shut down sections that even work in the regular onshore trade winds. Kelly Slater puts Soup Bowl in his "top 3 waves in the world" thanks to it's "really good curve that allows all sorts of manoeuvres and airs". Winter N swells bring the heavy Bowls, while a hurricane S direction may provide the fun Soup part of the name, while still holding excellent shape. No matter what direction, this is a wave of consequence as it shifts up the size scale.

Some days you do need to be Slater to get a set off the dialled to in local crew, but there's rarely a flat day and average midweek crowds will often be mellow. Another unavoidable constant is the army of urchins on the inside along with the omnipresent NE to E trade to winds.
Parlour
Level: Intermediate
It's only a 300m paddle down to Parlours, an expanse of peaking right and left runners that seem to improve as the swell builds. Less power and intensity than Soup Bowls on any given day and a scatter gun line to up keeps crowds low and paddling high, especially at double to overhead.

Almost as reliable as Soup Bowls, just without the hassling for set waves.
Maycocks
Level: Intermediate
The long, tapering shoulders of Maycocks, are a fun alternative to Duppies and will always be smaller and more manageable on a big wrapping N swell. Low to mid tide is preferred and the trades are always offshore. Handles the biggest swells on an outside section that keeps the chargers happy.

Set in beautiful scenery, but difficult to find without directions.
Duppies
Level: Advanced
On the NW tip of the island is Duppies, a consistent, powerful right that suffers from strong currents. Probably the best wave on the island after Soupbowls, it is not for the faint hearted. It breaks some distance offshore, is reputed to be sharky, and the name refers to malevolent spirits and ghosts, so the vibe is heavy.

Cliffs mean getting caught in the north to south current is a scary proposition.
Brandons
Level: Beginner
Close to Bridgetown is Brandons, a sandy reef peak that only works on big hurricane or SE windswells and is offshore in NE trades. Mainly groomed, speedy lefts with the odd tuck section, or fleeting, rounder rights.

It gets crowded in winter and is dominated by town locals who love the place. Sloppy and beginner to friendly in summer.
Freights
Level: Beginner
Freights probably has the best lefts on the south coast, but it rarely lines to up, since a big S swell is required. Long, fast and hollow when on, there are 3 defined sections starting at the cliffs on the point, where feathered walls flow into the central reef barrels and if you are lucky, more bowls through the inside. Has many moods when small with plenty of shorter rights and lazy, longboard shoulders that make this a useful beginner spot.
Surf conditions in East Coast & Bathsheba:
Beginners:

JAN

FEB

MAR

APR

MAY

JUN

JUL

AUG

SEP

OCT

NOV

DEC
Intermediates:

JAN

FEB

MAR

APR

MAY

JUN

JUL

AUG

SEP

OCT

NOV

DEC
Advanced:

JAN

FEB

MAR

APR

MAY

JUN

JUL

AUG

SEP

OCT

NOV

DEC
Rain
Wetsuits
JAN/FEB
MAR/APR
MAY/JUN
JUL/AUG
SEP/OCT
NOV/DEC
---
Soup Bowl
Soup Bowl is the islands most famous waves. It almost always has waves and is great fun and can be epic on its day. When Kelly Slater is in town, this is where you'll find him!
There a few different take off spots which helps to thin out the crowd but the first peak gets busy anyway. It's a powerful, hollow wave so only paddle out if you know what your doing. Respect the locals, they are super friendly if you play the game. Watch out for the urchins on the inside and some of the sharper rocks.
Sandbank
About 10 minutes walk north you will find a much more mellow wave called Sandbank. This is ideal for intermediates.
Parlours
Another really good reef break but one that tends to be less crowded than Soup Bowl. It can hold a bigger swell and again is super consistent.
Tent Bay
When the swell is north head for tent bay which is an epic left hander that very rarely gets crowded. The wave itself breaks in front of the Atlantic hotel.
Ragged Point
Next down the line is ragged point which is much more user friendly. This is a fun, mellow beach break best surfed from mid to high tide.
Long Beach
Long beach can have some really fun waves and is a great go to spot on a daily basis. It can close out and be hard to read at times but always worth a mission.
Conset Point
This wave needs a massive north swell to break and therefore is hardly surfed.
The island is only 22kms across so there are plenty of other options to explore further South, West and North.
PAYMENT
A small deposit is required to secure your booking.
Your balance is due to the property 30 days before arrival. The Property will contact you to collect payment. If you book within this 30 days then the property will contact you shortly after you book to collect the balance.
CANCELLING YOUR BOOKING
To cancel go to the MyAccount section and log in or register and you can cancel from within your account.
Your deposit is non refundable but can be used for the same property/surf school within one year of your original booking.
You can cancel anytime up to 30 days before travelling and you will be refunded the balance.
The Surfholidays Advantage
Easy messaging with a local surf host & expert to plan & book your dream surf holiday
1 Customize your surf trip with the help of a local surf host
Surfholidays has handpicked the world's top surf camps, accommodation & surf schools so you will have peace of mind and an unforgettable trip that meets your exact requirements.
2 Secure & easy booking
You can book instantly or message a host directly & request a custom option. Once you are happy with the trip, you can easily book via Surfholidays' secure payment platform.
3 Support before and after your trip
Our team at Surfholidays and your local host onsite are available before and during your trip to ensure things run smoothly.
4 Authentic travel experiences
Surfholidays hosts ensure that you will have the best experience based on up-to-date local insights. On top of that, the vast majority of your money will go straight to support and grow local surf towns.
Surfholidays offers a 100% satisfaction guarantee
If you are not fully satisfied, we'll work with you to make it right.