The surf beaches in the Algarve stretch from Faro in the South East across to Arrifana in the South West and offer many type of waves throughout the year.
The majority of consistent surf beaches are in the South West corner along the Vicentina Coast. We take a look at 7 of the best...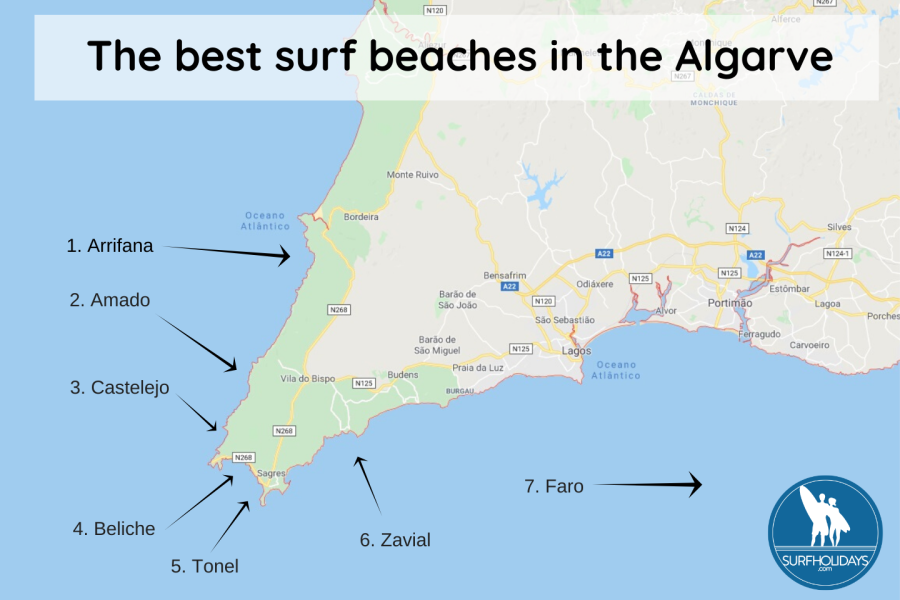 The best surf beaches in the Algarve

1. Arrifana Beach:

Photo by Arrifana Surf Lodge

Arrifana is a great fun wave to surf at any level of skill, it offers a crescent shaped wave and the right hand wave is excellent on a large swell.

The location is really nice and the area is great to hang out along the wild western Sagres & Vicentina coast. The beach can be crowded on a good day of swell, which is to be expected, but the beach offers a lot on all conditions.

With high tide the wave can go a little soft but on a lower tide it speeds up and can be a great little ripper of a wave.
Check out our recommended options below for where to stay close to Arrifana beach: Arrifana Surf Camp


2. Amado Beach:

Photo by cm- aligezur.pt

Amado offers a lot of variety on many different wave conditions. It has great right and left running waves so offers waves for both goofy and regular footed surfers.

Tides do not effect waves and it can be surfed generally all year round, being one of the most consistent in the Algarve as it is open to all Atlantic swells, while still being sheltered by the north west winds.
Amado beach is in a protected area where no development is allowed so the Surf Schools and Surf Camps are located in towns such as Lagos and they travel to Amado beach each day to surf.
Check out our recommended option below for where to stay close to Amado Beach: The Surf Experience


3. Castelejo Beach:

Photo by Andy Troy


This very isolated beach, 12km north of Sagres, offers beautiful views and very consistent swells all year round as it is west facing.

With Castelejo being so west facing it can be effected by westerly winds. During summer months Castelejo can catch any small Atlantic swells making it a great beach to learn how to surf in the summer sun.

In the autumn it lights up and can offer world class waves if the winds play ball and the sandbars have had time to reset after the winter storms. Multiple sandbars ensures you can catch waves along the whole beach.
Check out our recommended options below for where to stay close to Castelejo Beach...Jho La Surf Camp:


4. Beliche Beach:

Photo by Luis Gamito

A small sheltered beach north of Sagres, Beliche beach offers a great peak wave with the right swell.

The large cliffs make this a spectacular beach to surf. The best months to surf Beliche are before and after the main summer months.

A treat of a wave and beach to surf for the intermediate to advanced surfer when its working.
Check out our recommended options below for where to stay close to Beliche beach...Casa Azul:

5. Tonel:

Photo by Danny Bastiaanse

Tonal beach is within walking distance of Sagres town centre and is a great beach to surf for beginners to intermediates. The waves are consistent but varied. It provides waves all year round and in winter months can get very swells hitting it which can be spectacular.

It is sheltered from the north wind and has some great right and left handers to offer all along the beach. Sagres offers great bars and restaurants and there are many places to stay just a stones throw from this great beach.

It is easy to access and is one of the most beautiful surf beaches in the Algarve when the conditions are good.
Check out our recommended options below for where to stay close to Tonel beach...Martinhal Beach Resort:

6. Zavial:

Photo by Nuno Potes

East of the town of Sagres, Zavial is one of the best known southern Portuguese waves. it can be fast and hollow and gets offshore winds a lot of the time so can make even smaller swells stand up.

The beach is not as exposed to west winds but does get good swells wrapping around and hitting it. Its a clean hollow wave when it gets good swell and on small swells is great for beginners and intermediates.

On top of all that it is also a great beach just to chill out at and have a relaxing swim when the waves are not breaking on it.
Check out our recommended options below for where to stay close to Zavial beach..Memmo Baleeira


7. Praia de Faro

Photo by Clube Surf de Faro

Praia de Faro is a beach right below Faro situated on a sand spit that offers fairly consistent beginner waves all year round. While the waves are not always huge they are great for learning and it offers good beginner and longboard waves throughout the summer.

It can be reached by bridge from Faro and is a great beach to learn how to surf with good surf schools and surf camps in the area. The beaches run for miles and there are waves for everyone when the swells are good.
----
To sum up...
The Algarve to many is seen as a place to relax on a beach and chill out but it also has some of the best surf in Europe and even gets summer swells which are great for learning how to surf.
On the southern western tip is the small town of Sagres which offers many options for both the the advanced surfer and the beginner and everyone in-beween. There are lots of Sagres surf camps and surf schools that offer lessons and equipment rental for all and in the quieter more sheltered beaches there is SUP on offer. Lots of these schools and camps also base themselves out of Sagres and travel to many of the beaches we will mention.

It is easily accessible through Faro airport and has a diverse number of towns to stay in from quiet villages to bustling town of Lagos for the night owls. The Algarve is a great place to go on a surf holiday all year round as it offers sun, surf and a great vibe, be that in the towns, villages or deep in the amazing countryside.

----