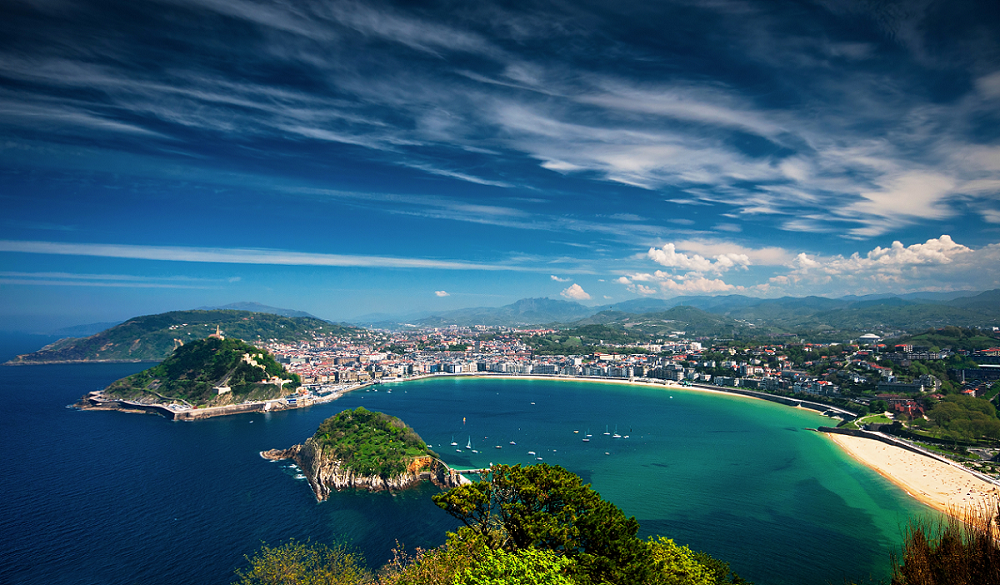 San Sebastian is a very popular surfing spot, however the area is famous for its exceptional restaurants and experimental pintxos (
Basque tapas
).
There are 4 Michelin restaurants in the San Sebastian area but you really don't need to break the bank to experience some of the best Pintoxs you will have ever tasted.
The world renowned restaurants of San Sebastian have raised the bar for the smaller eateries. So after a day
surfing in San Sebastian
head into the old town to sample the best it has to offer.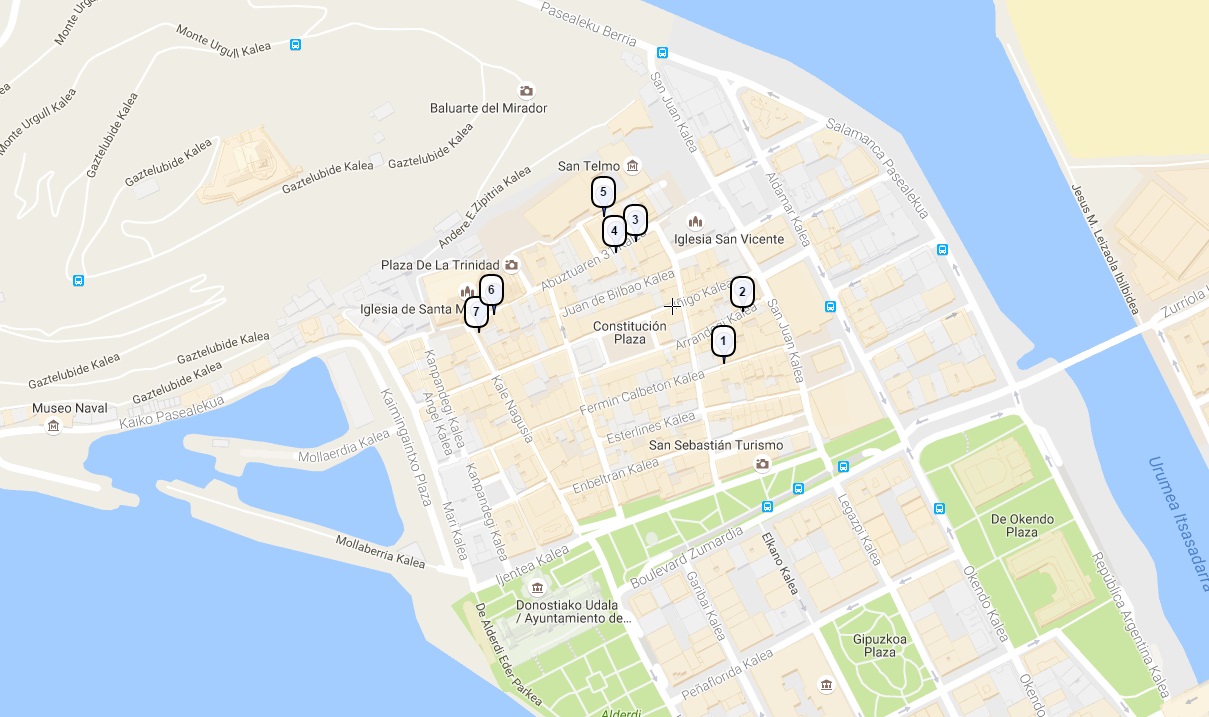 The pintxo crawl in San Sebastian is not for the faint hearted and while speaking Spanish is not essential a few words go along way while jostling to the bar to order a few dishes. Be prepared to move around several bars each night while sampling the local red wine (normally
Rioja
), White wine (
Albarino
) Txakoli (light sparkling white wine) or local Cider (
Sidra
).
Here are a list of our favourite and what we consider the best Pintxos Restaurants in San Sebastian including the dishes that are not to be missed! Remember what you see is not what you get, so don't be put off by the drab exterior of some places and more importantly don't be lured to trendy bars with fancy cocktails as this is not authentic San Sebastian.
1. Borda Berri

Fermin Calbeton Kalea
First on the list of best Pintxos restaurants in San Sebastian is Borda Berri. In my many years visiting the area this is ALWAYS the first port of call. It looks a bit run down but the food will bring a tear to your eye. Be sure to order the sheep's cheese risotto (Idiazabal) if there are more than one of you, you WILL need one each to avoid an argument. Also try the veal cheek and the duck. You will not be able to visit Borda Berri just once.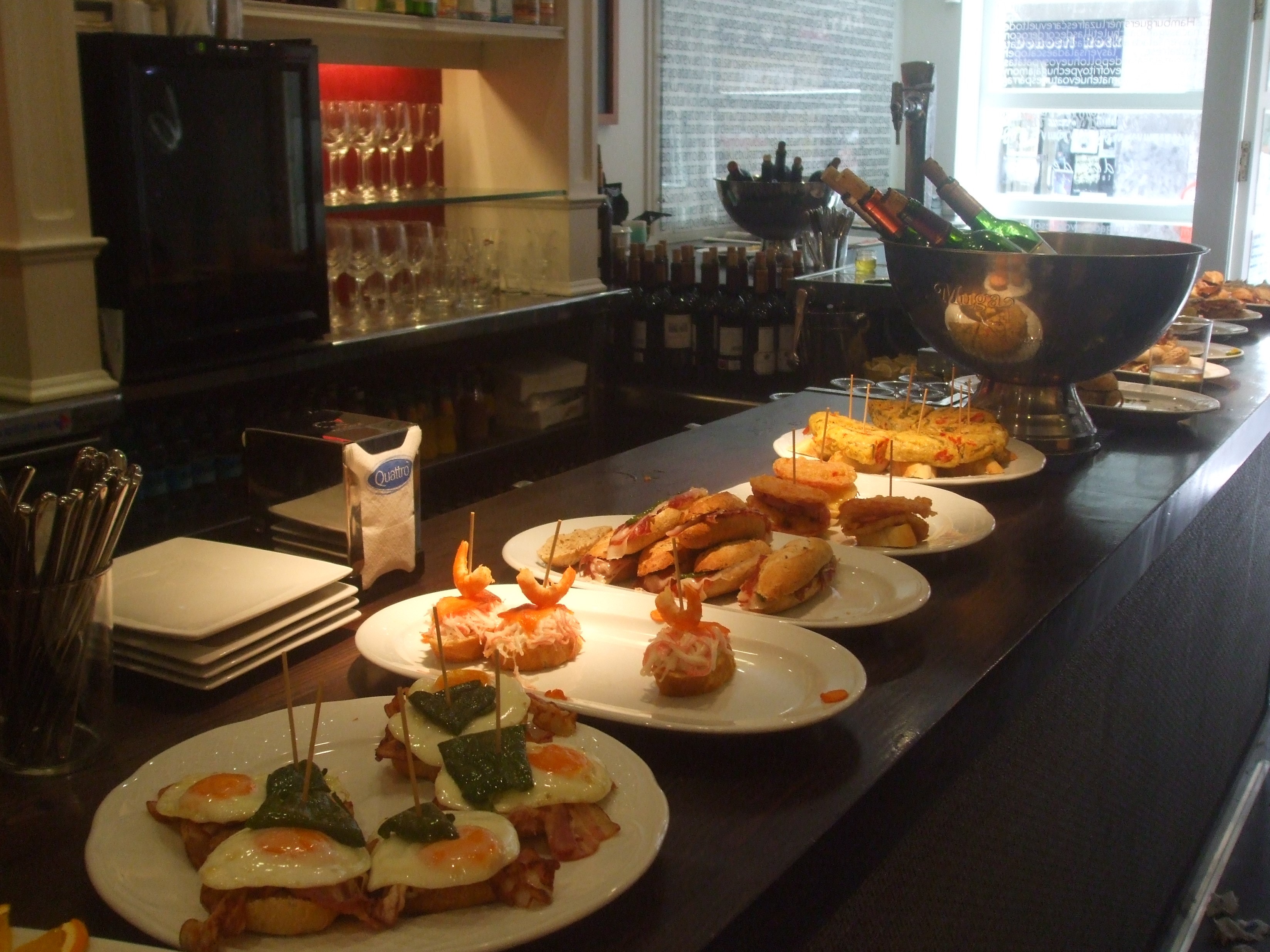 2. Bar Nestor
Arrandegi Kalea
Around the corner sits Bar Nestor. This place is a must. They only serve 3 things. Steak, Tomatoes and Green peppers (Padron Peppers) you will need to put your name on the list as this place is hugely popular and it doesn't take long to work out why. A visit to Bar Nestor can nearly stand alone on a night out as the portions are large and not like the neighbouring pintxo bars. The staff are great fun and you will not want to leave. Or won't be able to leave after the huge steaks they serve.. roll yourself out the door…
3. La Viná

Abuztuaren 31 Kalea
A couple of streets up you will find an old family run pintxos bar called La Viná; try the cold octopus salad. Then look to the back wall and see the stacks and stacks of their famous cheesecake. One portion is 2 slices and is perfect to share, stand in or out of La Viná and watch these cheesecakes being devoured in gleeful silence.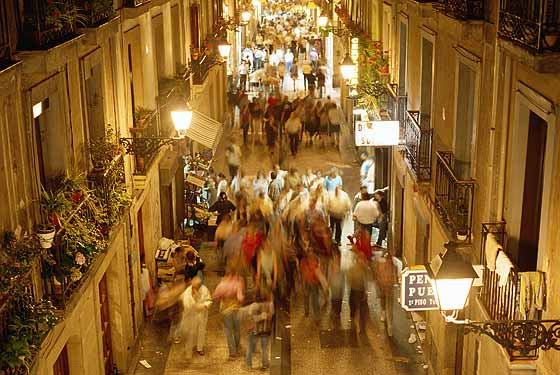 4. La Cepa

Abuztuaren 31 Kalea
Next door (ish) to La Viná you will find La Cepa. The most impressive thing about this bar is all the ham that they hang over the bar. Order an assortment of Iberian Ham. Simple. Delicious.
5. Cuchara de San Telmo

Abuztuaren 31 Kalea
When your feet start to ache, make your way across from La Cepa and tucked away beside the San Telmo Museo is Cuchara de San Telmo, Where there are a few seats outside. This place is well known for its pork specialities. Ministers feet (pigs trotters) and crispy grilled pigs ear are not for the faint hearted.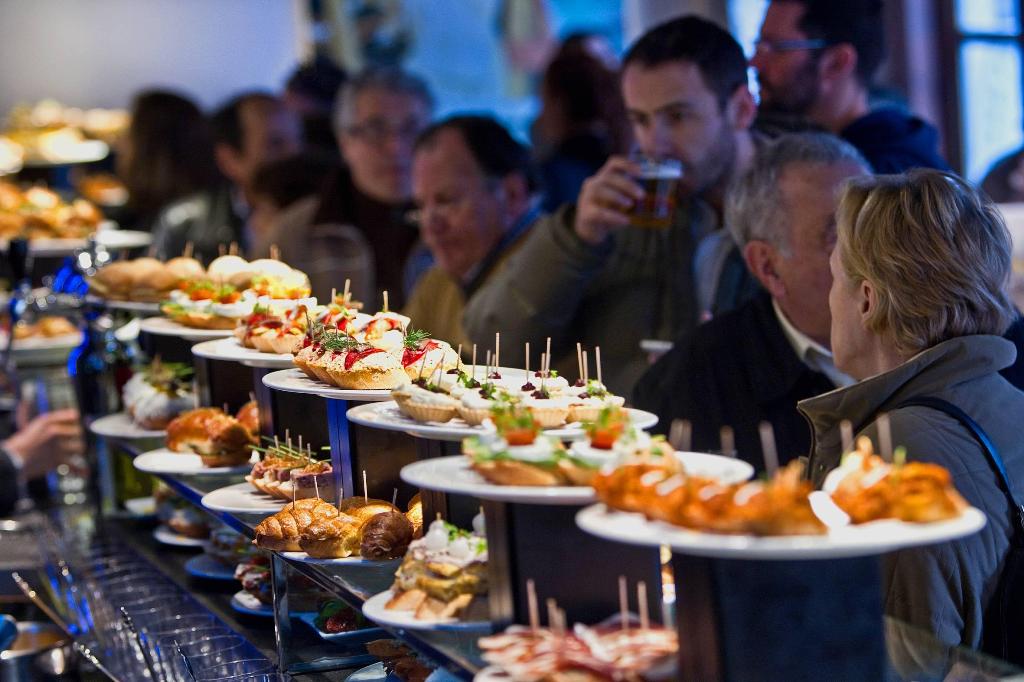 Photo Credit: The London Foodie
6.A Fuegro Negro
Abuztuaren 31 Kalea
Further down Abuztuaren 31 Kalea on the way to the cathedral is the very cool A Fuegro Negro. With its black interiors and wall art it oozes chic. If you only have one thing here make it the Kobi beef slider (Makcobe) served with banana crisps. This bar is very comfortable so don't be surprised if you end up staying for a further glass of wine just to take a time out from the hustle and bustle.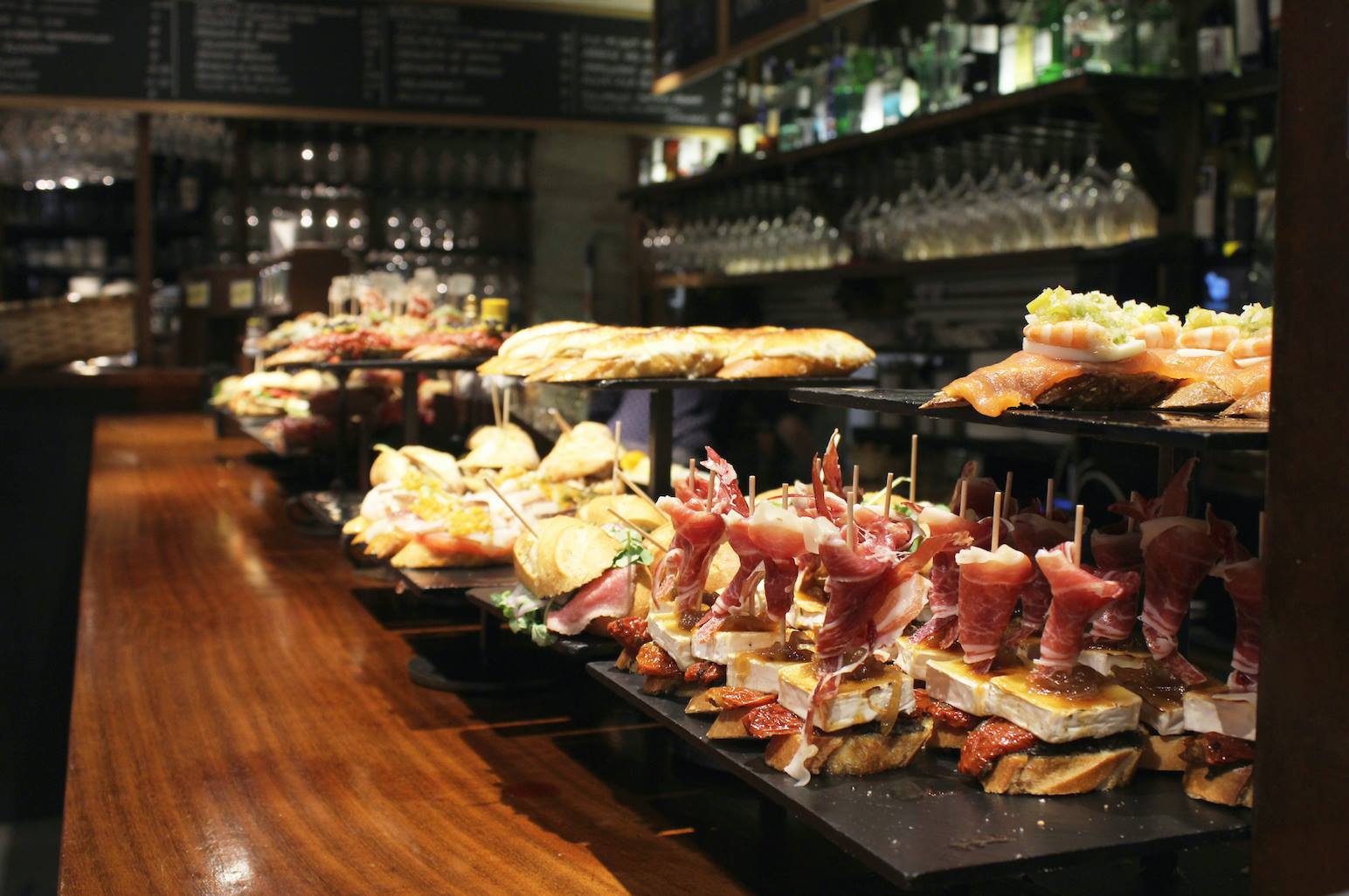 7. Atari Gastroteka
Calle Mayor

Practically next door to A Fuegro Negro is the always packed Atari Gastroteka. Most people spend the majority of their night here, casually ordering hot and cold Pintxos and sitting on the cathedral steps enjoying the buzz of the old town.
Dishes of note here are the house cured salmon, beef cheek, Fois gras with white chocolate and their impressive display of cold pintxos on the bar. The deserts are also to die for, specifically the cheese ice cream. Atari are also excellent mixologists and do a very impressive Gin and Tonic and Aperol Spritz.

When you have had your fill in the best Pintxos restaurants in San Sebastian and Atari are kicking you out there is a relaxed small bar down the road called Coté (fermin Calbeton Kalea) they have a full bar and great music…. This is where you will find the fun as people from all nationalities gather inside and out over a beer.
Or for a quieter pace head to the square (Constitución Plaza).
Here you will always find a seat to relax over a late drink and plan the rest of your surfing holiday in Spain. Enjoy!!!