We believe the best surf towns in the world, should not only be a location for the surfer who's looking to prove themselves in more challenging waves, but should cater for the people who are just beginning to start out in the sport as well, whilst offering plenty of fun and exciting activities for those wanting a bit more from their surf holiday.

To give you a nudge in the right direction, we have listed 15 of the best surf towns in the world below, so have a read, add them to your surf holiday bucket list and start ticking them off!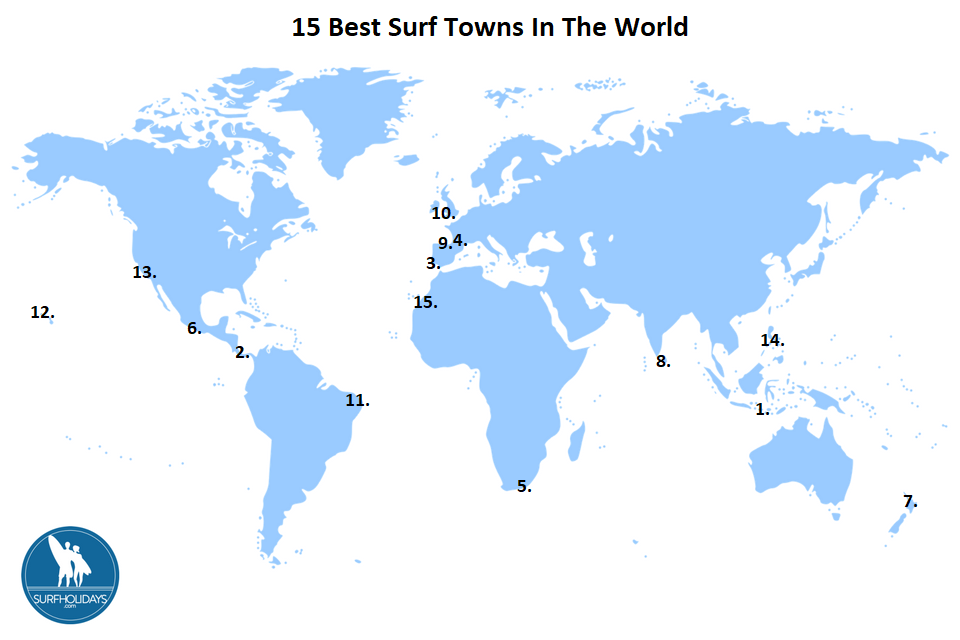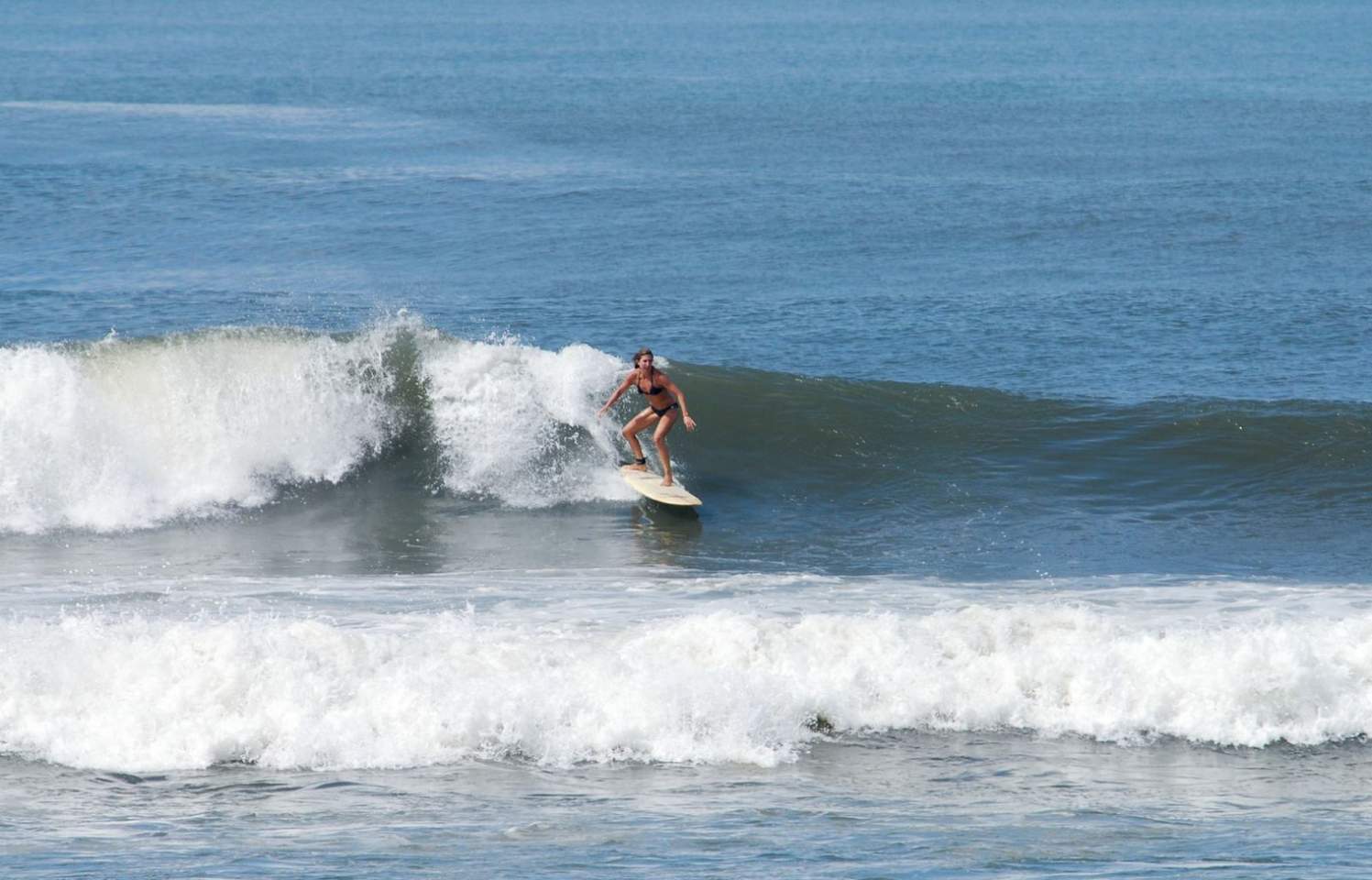 Location: South coast of Bali, Indonesia.

How to get there: Situated a 20km drive North from the main tourist area of Kuta and the islands capital Denpasar and the International Airport. Taxis & private cars are plentiful and cheap.

Why: Pronounced Changuu. A much less busy spot than Kuta, it is arguably the best place to stay in Bali. The main village is made up of three streets so its nice and small and has that laid back village vibe (hipster in a good way!) - full of cool cafés and chill out bars rather than the big nightclubs, commercial stores and resorts found in Kuta. The beach stretches for 8km and the surf here suits all levels, with Echo beach probably being the most well known. It is being developed fast so get there quick before its too late!

Best time to go: April to September is a great time for advanced surfers as the swell is at it's biggest during the dry season, for beginners head over in between October and March and for families we suggest March to June.

The Best Surf Camps in Canggu: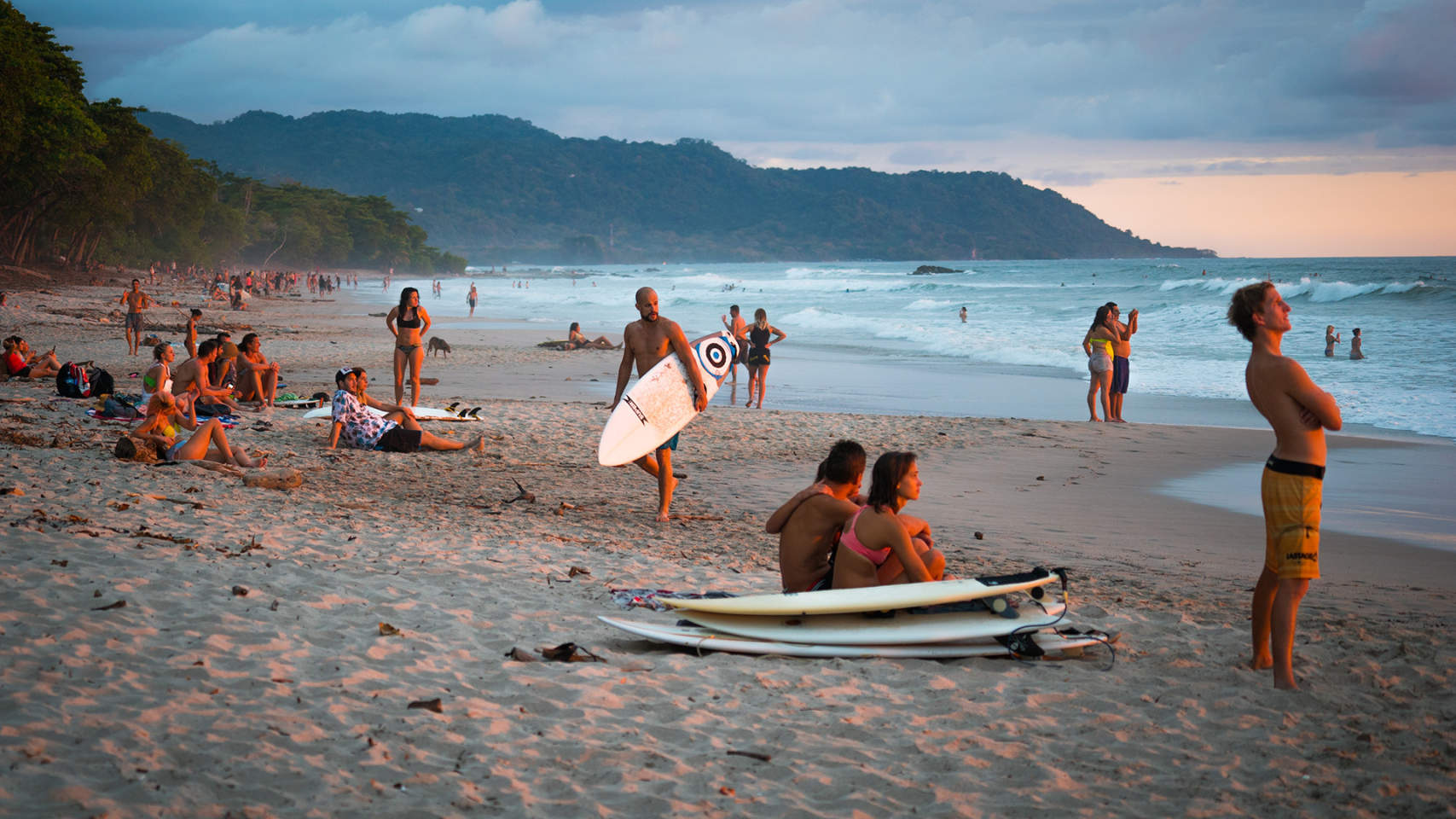 Location: Santa Teresa is a small town in Puntarenas Province, West coast of Costa Rica.

How to get there: Fly into Costa Rica's capital, San Jose and you can get a connecting flight to Tambor whcih only takes 20 minutes. Tambor is 4 minutes from Santa Teresa.

Why: Santa Teresa was a long hidden secret until the early 2000's. It has since grown into a perfect little surf town with delicious restaurants thanks to some ex-pat chefs leaving high pressure kitchens in big cities for a more chilled out pace of life. The roads are not fully opaved so it has that dusty beach feel. It has some of the best surf lodges and yoga retreats in Costa Rica. The beaches are for learning and intermediates.

What we also love about Santa Teresa is its access to exploring...snorkelling in the crystal clear waters, hiking the numerous rainforest trails and visiting nearby villages like Mal Pais & Manzanillo

Best time to go: Anytime of the year but more advanced surfers should stick to April to October for the biggest surf.

The Best Surf Camps in Santa Teresa: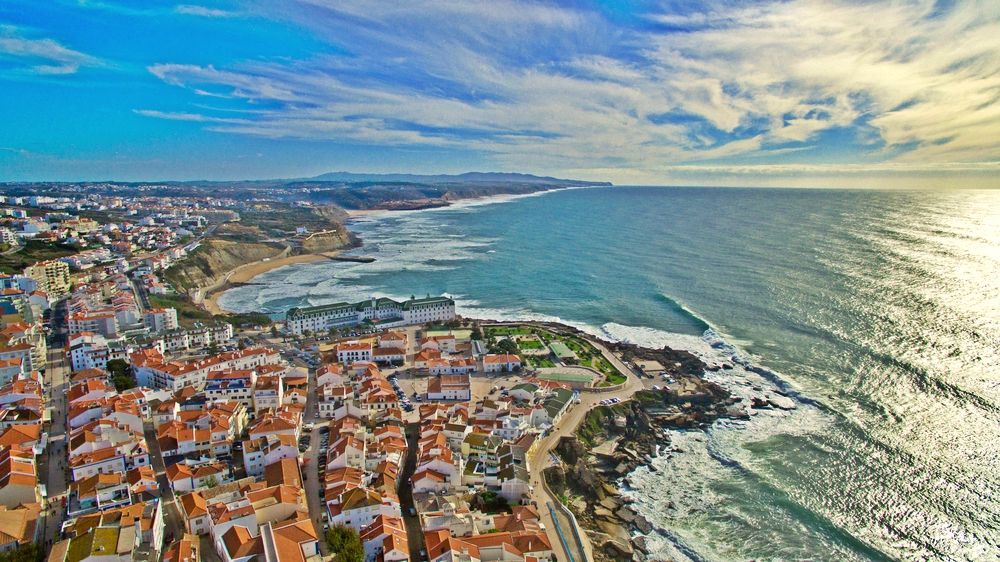 Location: Central Portugal, 40 km north of the capital Lisbon, Portugal

How to get there: Fly to Lisbon and it's a 30 minutes easy drive north. Bus & Taxis easily available also.

Why: Ericeira is a delightful traditional village that sees the old Portuguese way of life mixing with the new modern surfing culture. The old town is set on cliffs and full of bustling cafés, shops, restaurants and bars. You won't find any signs of mass tourism or fast food chains and thast one of the reasons it an easy pick in our top surf towns in the world. The area has 12 different surf beaches all within 8kms, each suiting different standards, from the stunning beginners beach Foz do Lizandro to the epic fast barrelling World Class Coxos.

Best Time to go: July & August is peak time & great for families. June & September are great for beginners & intermediates as the summer crowds are gone. For advanced surfers go in October & November.

The Best Surf Camps in Ericeira: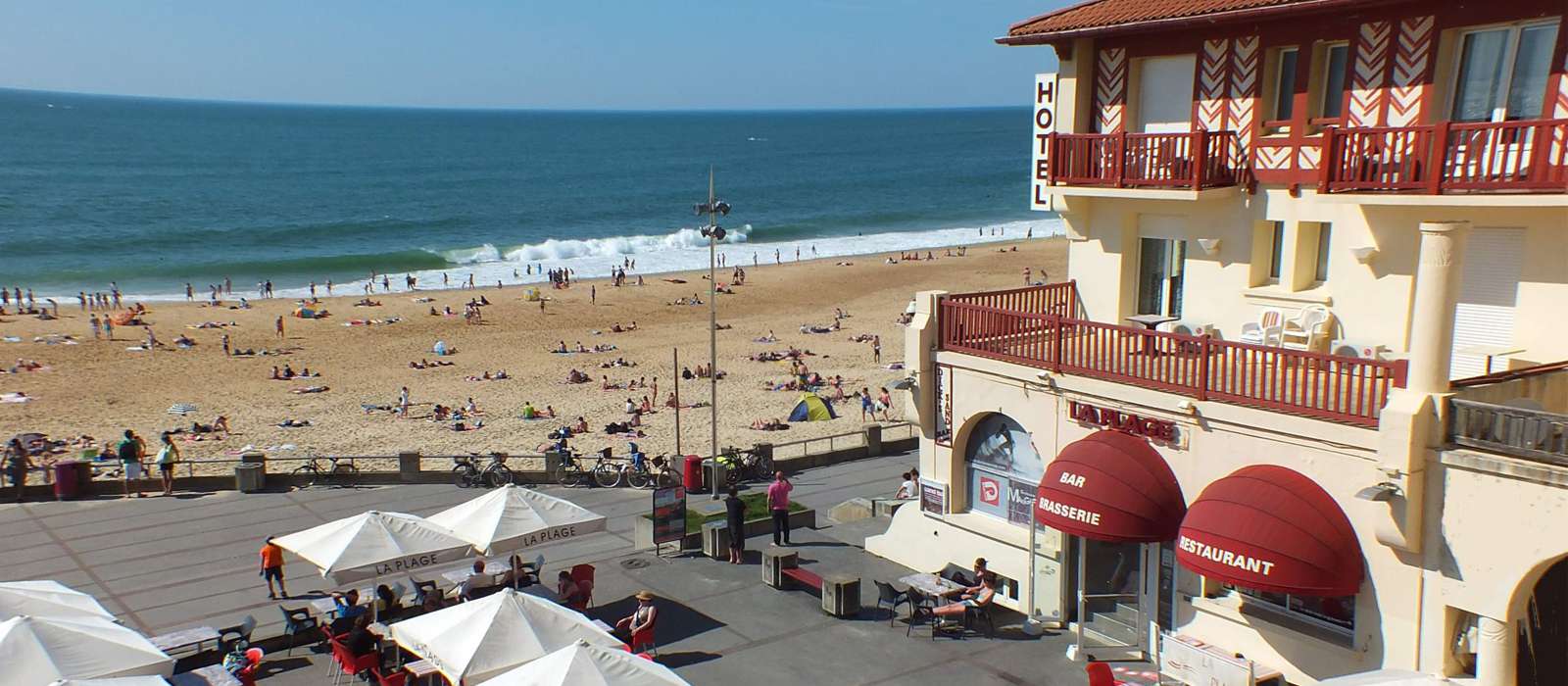 Location: Landes, South West France.

How to get there: Fly into Biarritz which is 25km to the south of Hossegor. No direct bus from Biarrritz but Taxi's are abundant. Hire cars can be cheap if booked in advance.

Why: Hossegor is arguably one of the most famous surf towns in the world, and for good reason. Home to the Quiksilver Pro WSL event it has miles and miles of beach breaks, from easy learning peaks to some of the most epic fast hollow board breaking barrels in the world. The beach front boast a great mix of party bars, restaurants and cafés. The town Capbreton is across the river and is perfect if you are looking for something a little fancier or quieter.

The stunning Biarritz is nearby with its beautiful art deco architecture world class restaurants, And San Sebastian in Spain is only an hour away, making it a great base to explore. Also great for mountain biking and hiking.

Best time to go: For families, beginner and intermediate surfers, head here between the European summer months, advanced surfers should visit during the Autumn.

The Best Surf Camps in Hossogor: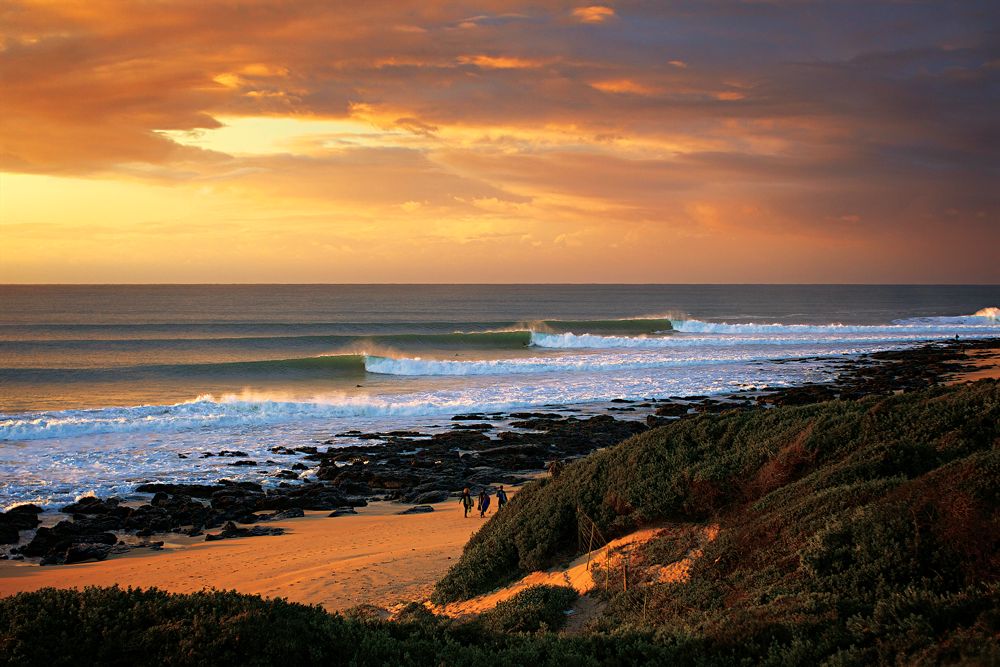 Location: Located in the Eastern Cape province of South Africa.

How to get there: All major airlines fly into Cape Town, and from there you can either get a connecting flight to Port Elizabeth which is 1 hour away, or make the 6 hour scenic road journey through rental car or bus service.

Why: Jeffreys Bay is home to one of best right hand surf break in the world, known as J-Bay and is considered a paradise for visitors and locals due to abundant sunshine, wildlife, perfect points and fun beach break set ups for beginner and intermediate surfers. There is a thriving local craft industry to explore between surfs and a great mix of surf cafés, bars and restaurants. The area is also great for non surf activities such as the Kabeljous and Seekoei estuaries and within Jeffreys Bay itself, the Noorsekloof nature reserve.

Best time to go: All levels of surfer will score great waves between March and October.

The Best Places in Jeffreys Bay: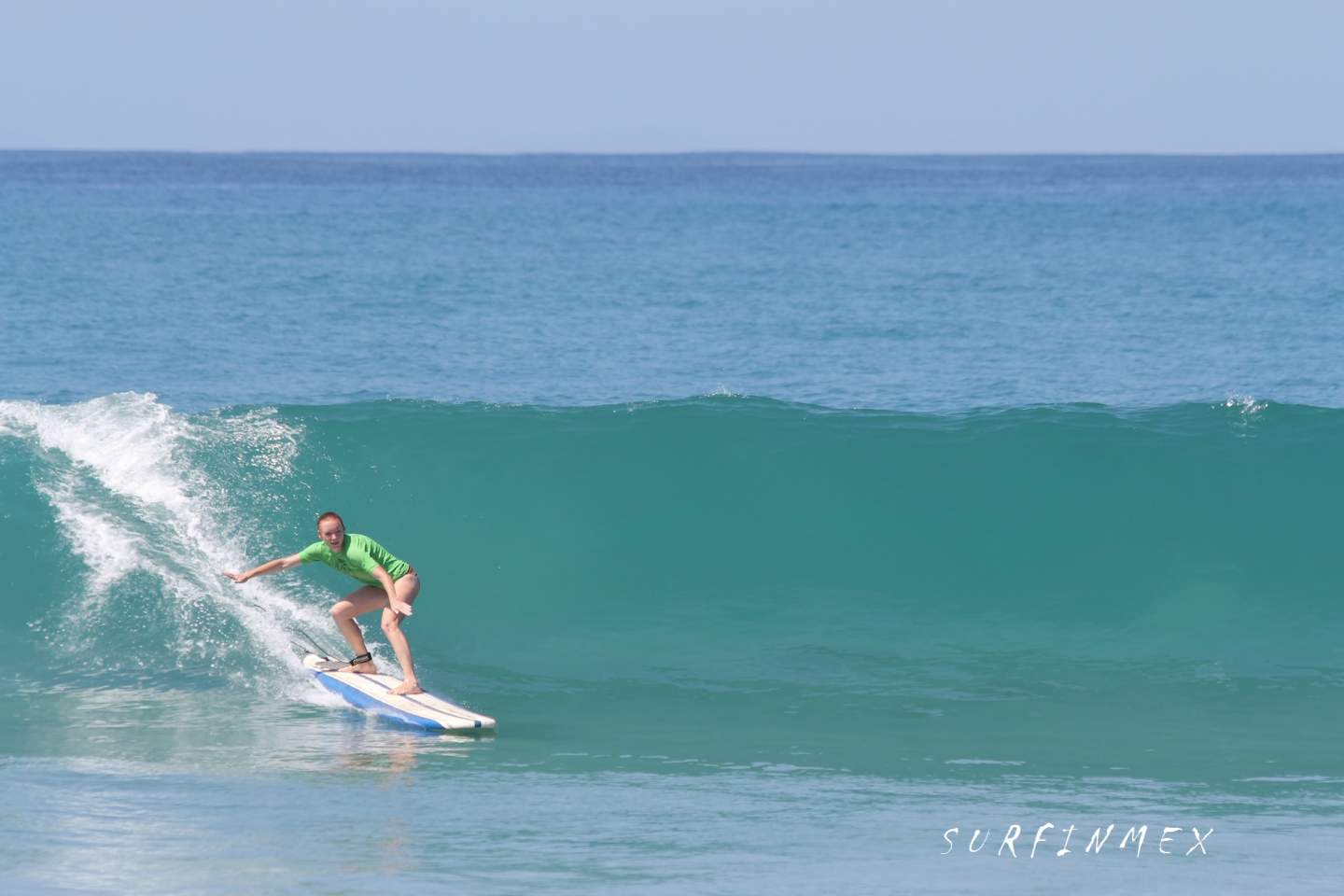 Location: Oaxaca state, Southern Mexico, Pacific Coast.

How to get there: Fly into Mexico City where you can either get a gruelling, but scenic 15 hour+ bus ride down or alternatively get a connecting flight from Mexico City to Puerto Escondido Airport, a few kms away from town.

Why: Aside from the world's beast beach break, 'The Mexican Pipeline', Puerto Escondido is enriched in cultural history, colourful architecture, vibrant markets and some of the most delicious food you can find. There are many secluded coves to explore and nearby Oaxaca is rich in art and history and the best place to grab some of the finest coffee in the world.

Best time to go: The best time for families is between April and June, whilst surfers of all abilities should head here between April and September.

The Best Surf Camps in Puerto Escondido:
7. Raglan, New Zealand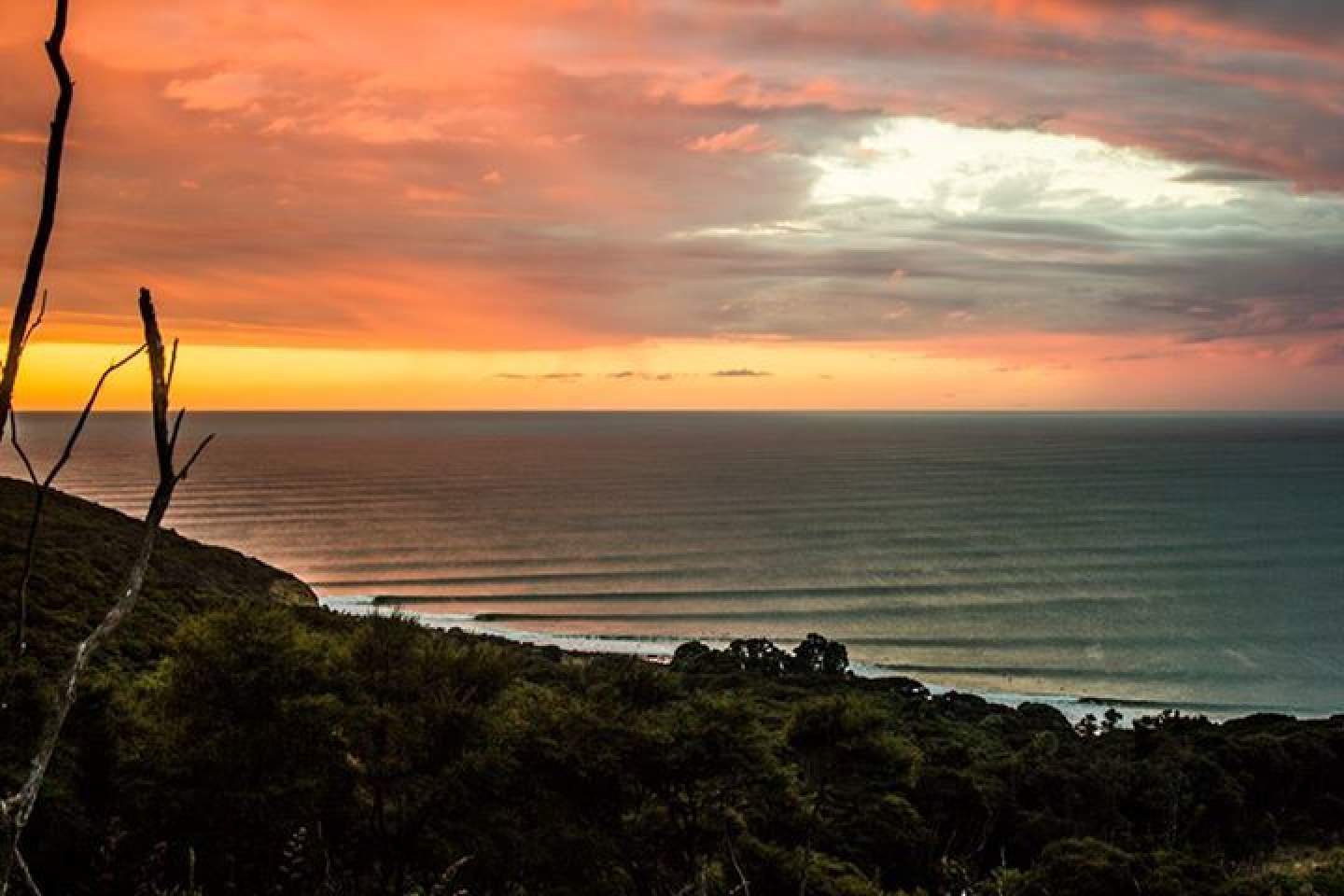 Location: Waikato Region, North Island.

How to get there: Fly into Auckland International, from there you can either get a connecting bus or train to Raglan via Hamilton.

Why: Raglan is known as a foodie heaven and makes for a fantastic place for sampling local organic produce such as seafood, meat and local cheeses as well as friendly cafes and live music when you want to wind down from surfing all day. The small town has 3 world class left hand point breaks and 2 beach breaks. This part of the country is steeped in a proud Maori heritage and offers the chance to see it up close and personal. Raglan is also home to all the extreme adrenalin rush activities such as sky diving, whitewater rafting and rock climbing.

Best time to go: Between December and April.

The Best Places to stay in Raglan Bay: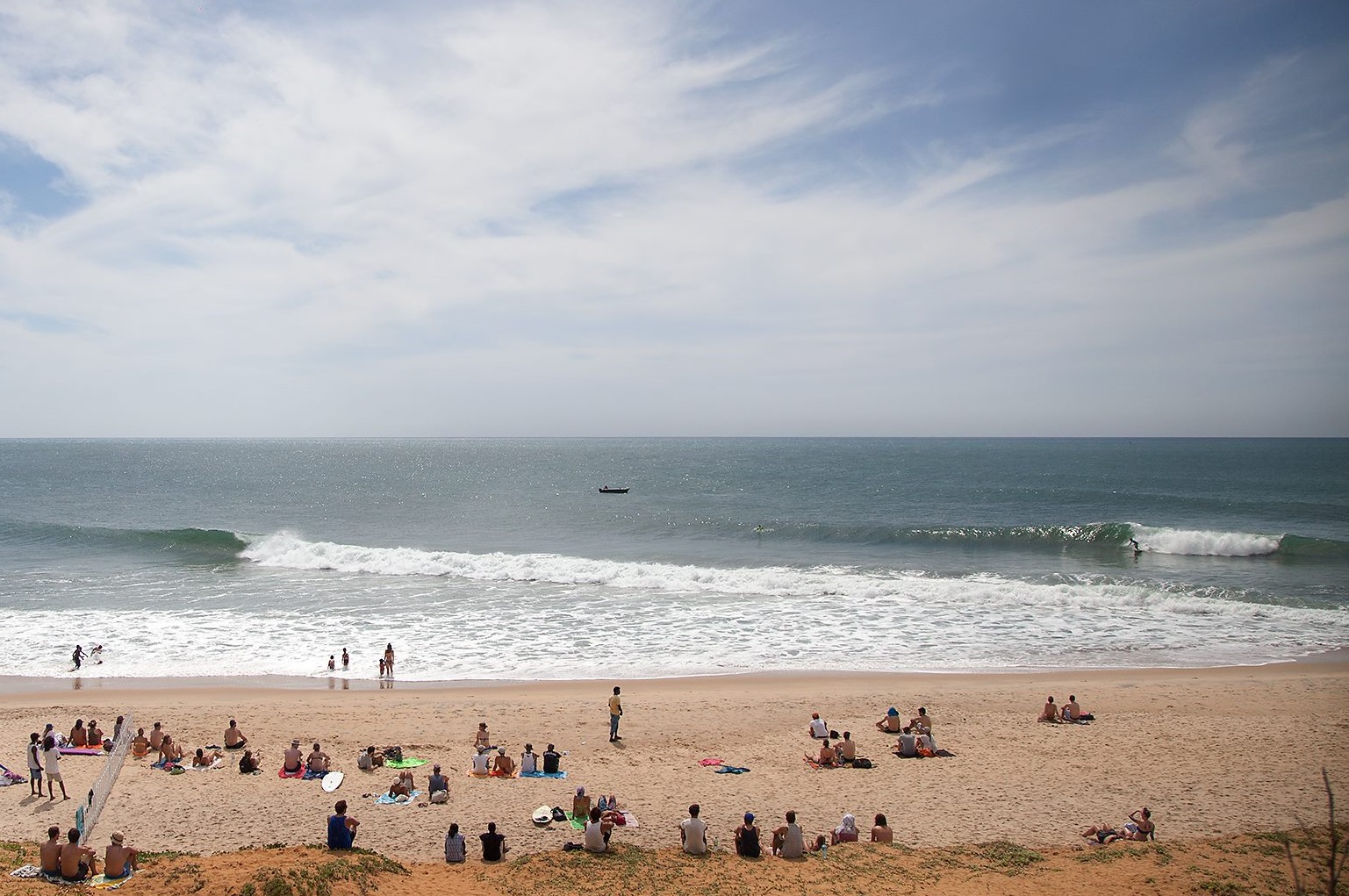 Location: South East Sri Lanka.

How to get there: Arrive into Bandaranaike International Airport near the capital Colombo. Then make the 320 km journey by train, minibus or shuttle. Often best to overnight along the way t break up the journey.

Why: The area is extremely beautiful and is on the edge of Yala East National Park and is the perfect place to spot elephants, wild boar, water buffalo and exotic birds. A-Bay as it is known sits on a gorgeous moon shaped bay that has a host of beach side cafes and food shacks, as well as all the amenities you need for a surf holiday, including plenty of yoga studios.

Arugam bay has some perfect fun right handers that rarely get above head high, so it's perfect for intermediates and beginners.

Best time to go: April and October, the swell dies down outside of these months.

The Best Surf Camps in Arugam Bay: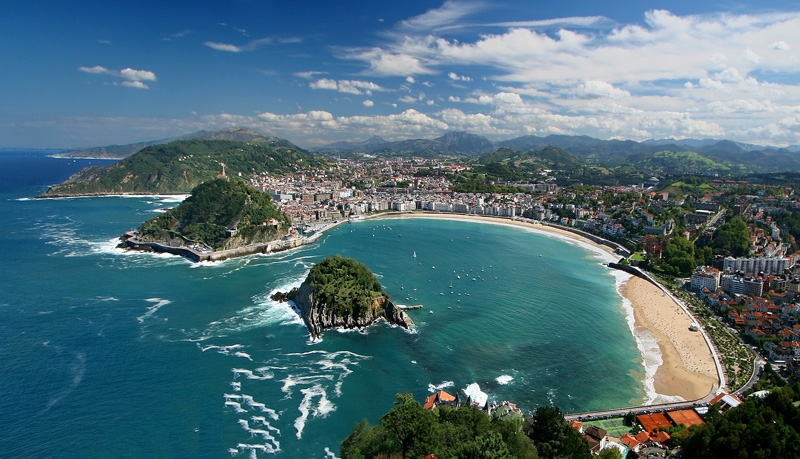 Location: Bay Of Biscay, Basque Region, Northern Spain.

How to get there: Bilbao Airport is 100 kms away, with a vast array of transit options to San Sebastian.

Why: San Sebastian is a mix of just about everything...it has a large student population so it caters for people who want to stay young, but it also has some of the best restaurants in Spain (more Michelin stars than any where else) - and all at reasonable prices, many offer tasting menus cheaper than fast food restaurants. It is home to movie stars & film festivals, a famous Opera house and a delightfully charismatic old town full of Pinxtos bars. Elegant art deco buildings are around every corner as well as a rich art heritage engrained on the city.

But best off all are its three spectacular beaches, two of which offer great surf, in particular the beginner & intermediate surf at Zurriola beach. Advanced surfers can score hear also and the surf town of Zarautz is only a 20 minute train drive away.

Best time to go: August is too busy, just avoided it if possible! From May, June, September & October are best.

The Best Places to Stay in San Sebastian:


10. Woolacombe, England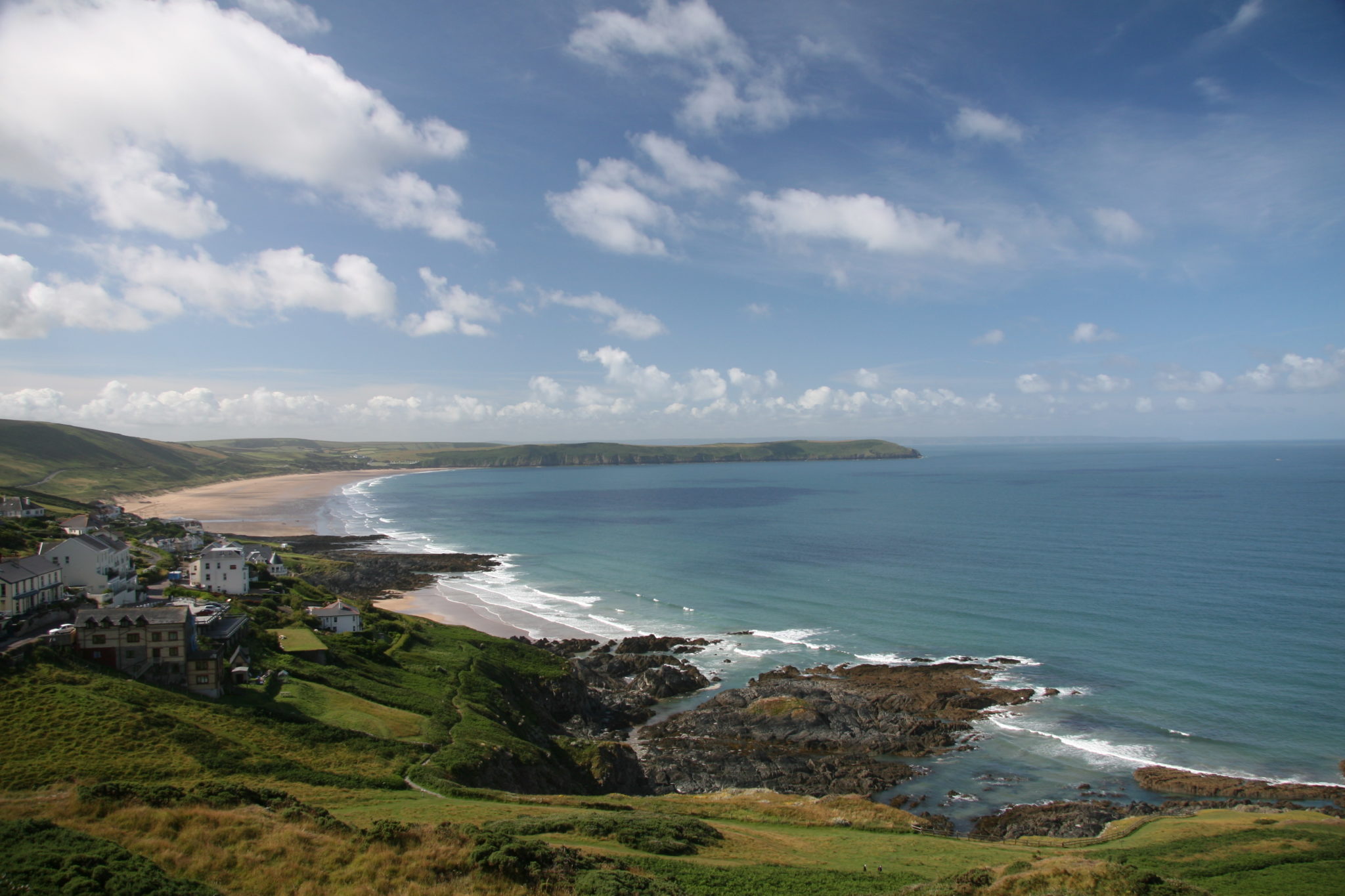 Location: North Devon, South West England.

How to get there: Bristol Airport is a 2hour drive away, with good bus and rail options available. Exeter airport is 1 hour.

Why: One of the most scenic and beautiful stretches of coastline in Britain. Woolacombe is a vibrant coastal town, surrounded by national parks and protected land. Explore the windey coastal roads in between Woolacombe, Croyde and Saunton where you will find long rolling surf great for learning and progressing. When you're not in the water experience some of the UK's most beautiful areas, small old rural villages with delicious restaurants and friendly bars.

Best time to go: June to October, whilst more advanced surfers should head here between Autumn and Winter.

The Best place to near Woolocombe:
11. Pipa, Brazil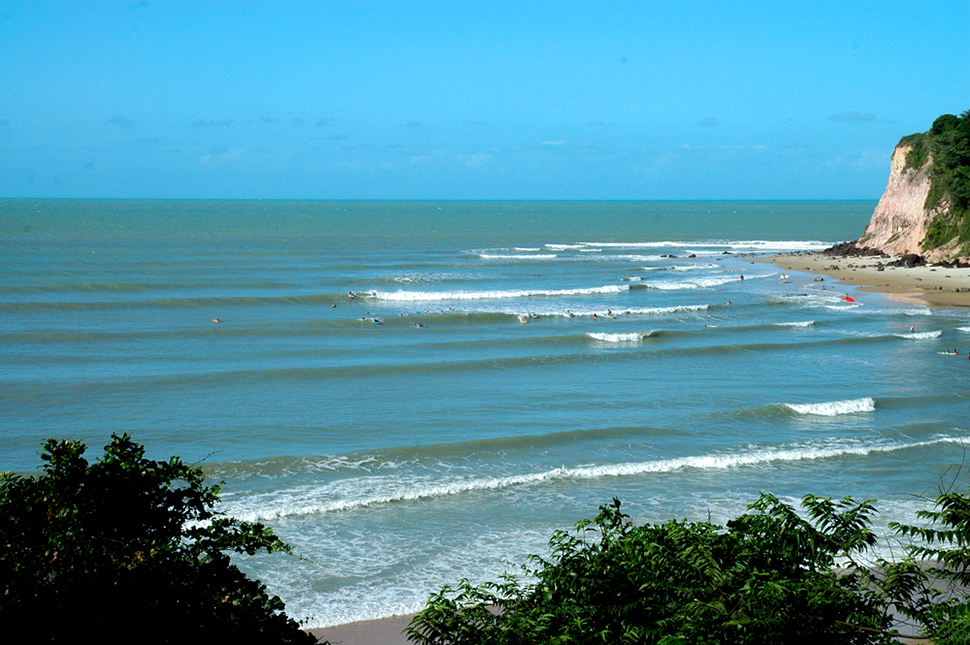 Location: Rio Grande do Norte State, North East Brazil.

How to get there: Arrive into Natal International airport before making the 115km journey south to Pipa.

Why: Pipa has grown from a small unpaved village in the 80s to one of Northern Brazil's coolest beach towns. It is still small and unspoilt and retains that sense of magic. Pipa provides the entire package for people seeking adventure and unspoilt beauty on their getaway. The areas alluring landscapes, beautiful beaches and great waves for both beginners and advanced surfers has attracted a great mix of people now calling it home.

The restaurants and lively bars offer delicious food, with no sign of big commercial restaurants or cafés chains. In a word: paradise. beaches are surrounded by cliffs and sand dunes, a pretty unusual setup for the region

Best time to go: October to April.

The Best Place to Stay Near Pipa:

12. North Shore, Hawaii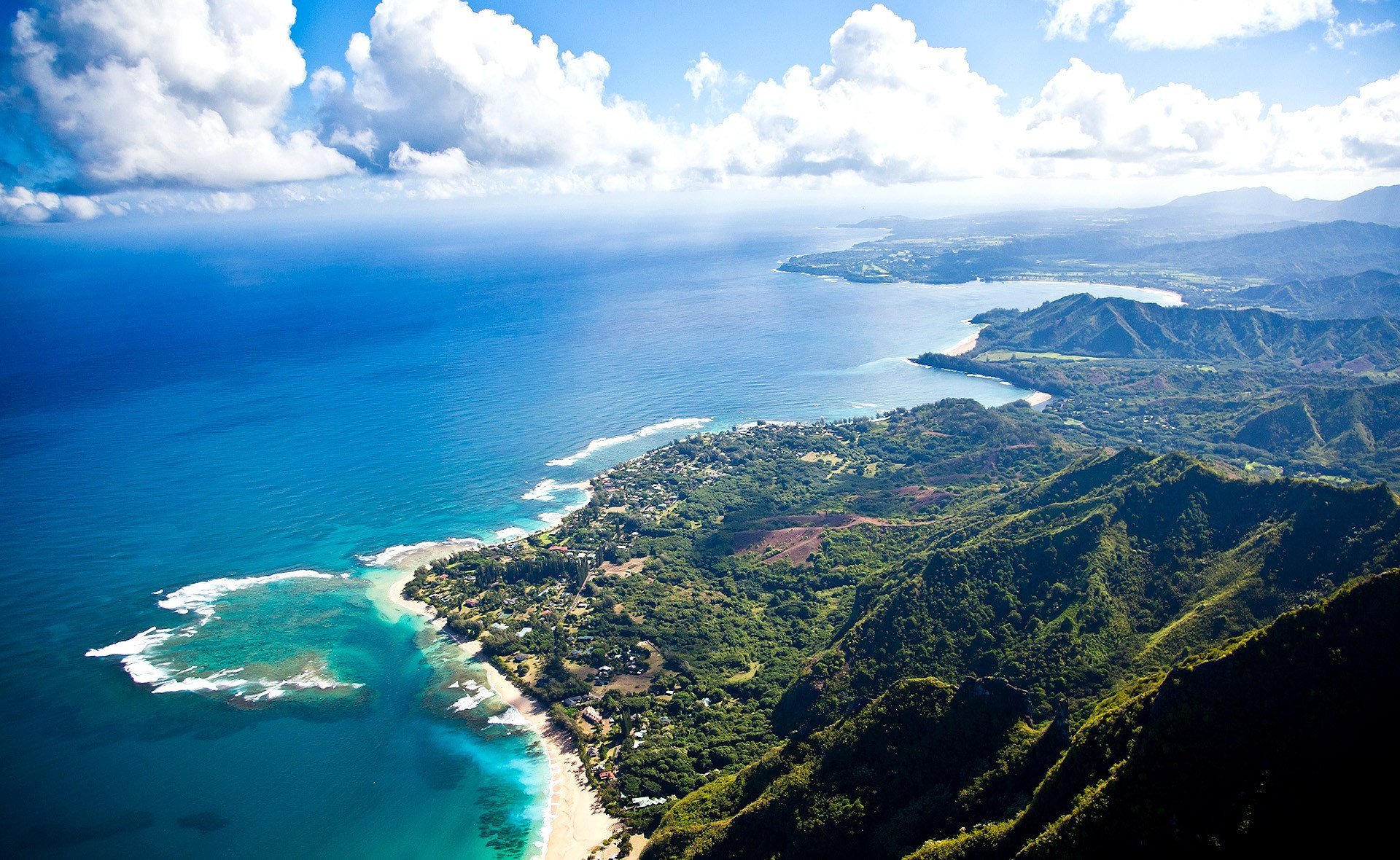 Location: Northern Oahu, Hawaii.

How to get there: Once you arrive at Honolulu International it's a 30 minute drive to the North Shore, with options for rental cars, bus service or private transfers.

Why: Stretching for more than 7 miles, the surf beaches of the North Shore are probably the most famous in the world and are home to the most iconic surf competitions such as the Triple Crown of Surfing, The Eddie at Waimea Bay and the Pipe Masters. If you are like surfing then you have to make a trip here once in your life!

Take a little road trip to Haleiwa Town, where you can shop, eat like a local with a plate lunch and cool off with rainbow-flavored shave ice. Or simply take in the jaw dropping nature of this tropical island paradise. Everywhere you look is stunning.

Best time to go: September to February


The Best Places to Stay in Hawaii: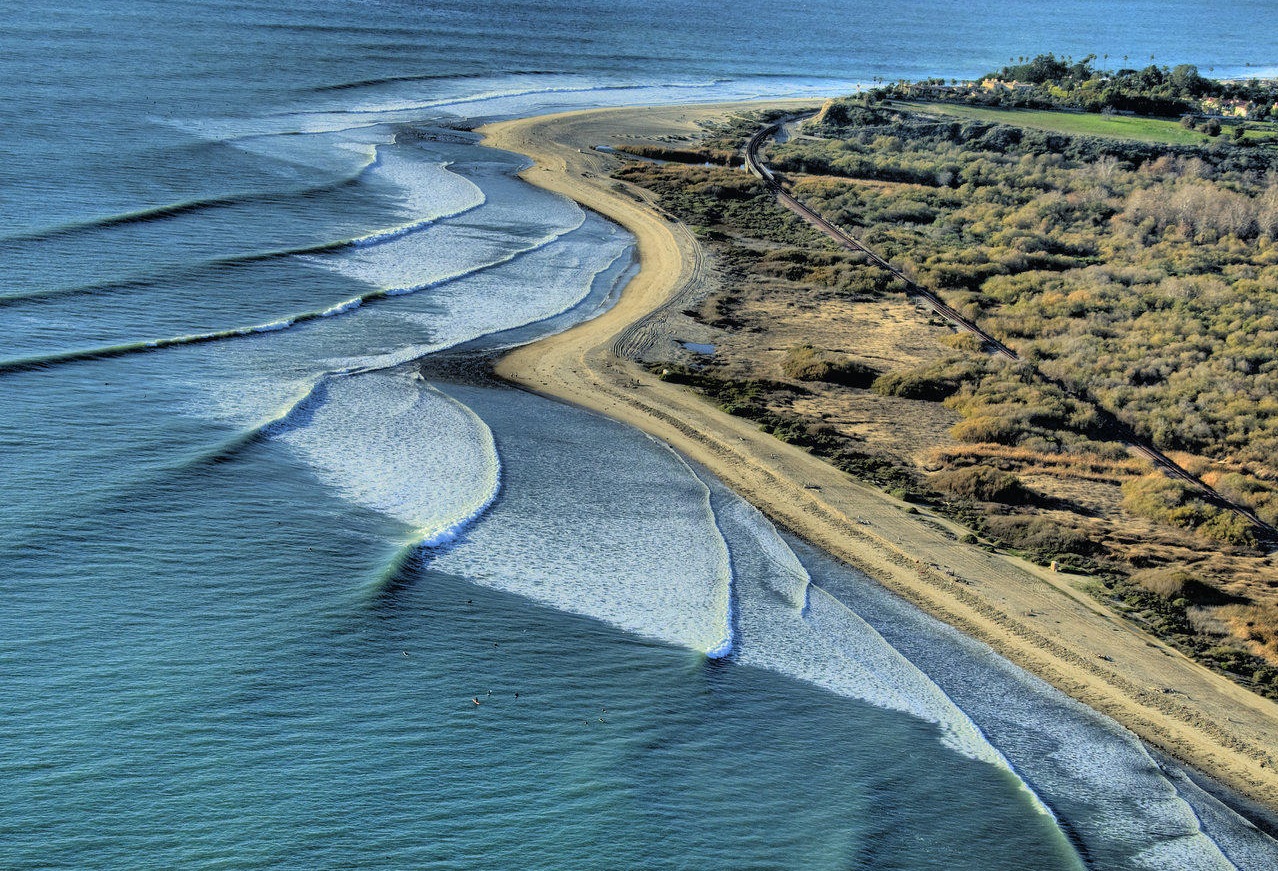 Location: Orange County, California

How to get there: Fly into LAX Los Angeles, one hours drive away

Why: Home to one of the best surf breaks in the world, Trestles and the place to stay to explore the abundant waves of Southern California, from San Diego up to LA. While the California surfing scene has changed dramatically since the like back 50's and 60's, San Clemente still retains a great deal of charm, with its tree lined streets and bustling cafés and restaurants. The downtown area includes an eclectic blend of antique shops, restaurants and boutiques.

Best time to go: April to October.


The Best Places to Stay in San Clemente:
14. Siargao, Philippines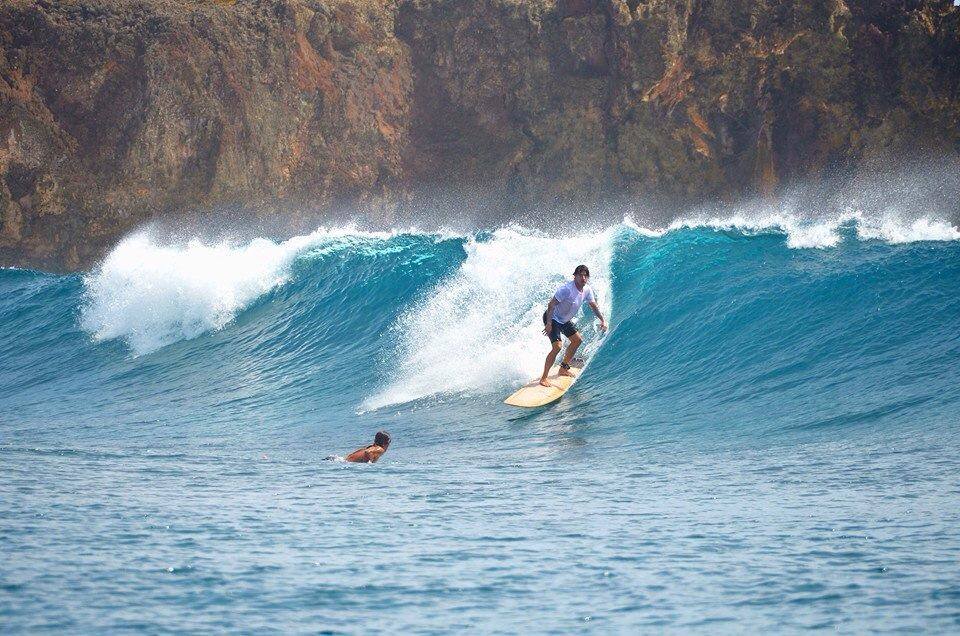 Location: Siargao is an island in the Philippine Sea situated 800kms South East of Manila in the province of Surigao del Norte.

How to get there: Fly into Manilla before catching a connecting flight to Sayuk Airport, this is the airport for Siargao island.

Why: Siargao is an untouched natural paradise where you can leave the modern world behind and get back to nature in one of the most beautiful areas on the planet. I am going to repeat that because it is one of the most beautiful areas in the planet. Most people stay around the General Luna area as it has most of the islands restaurants, cafés & bars. Make the most of the islands in the area and go on island hopping excursions, visit Sugbu Lagoon where you can snorkel in crystal clear water among colorful fish and sting-less jelly fish or marvel at the Sohoton Caves.

This is a surf area that is unrivaled in beauty and relaxation. Siargao is the Surf Capital of the Philippines and home to one of the Worlds best waves, the aptly named Cloud 9. There are m,any other surf break aroun catering for beginners and all levels

Best time to go: August to January.

The Best Place to Stay in Siargao: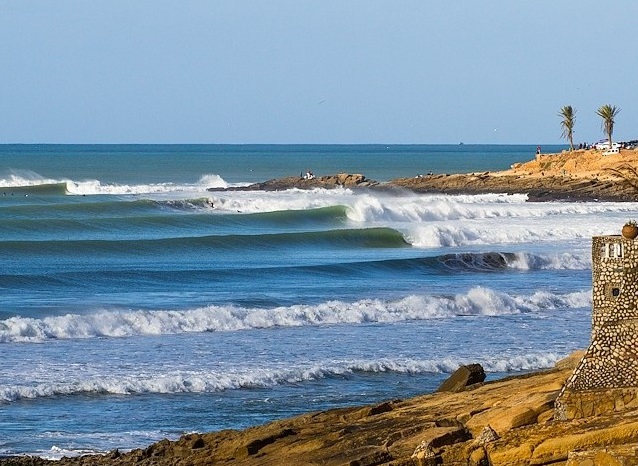 Location: Southern Atlantic Coast, North of Agadir in North West Africa.

How to get there: The airport at Agadir is a 40 minute drive away or if you fly into Marrakesh, you'll have to make the 3 hour journey by bus or private transfer.

Why: Taghazout is the surf mecca of Morocco, home to some of the most perfect right hand waves in the world, and countless surf beaches. The town itself is nice to explore but is very small. Alcohol is prohibited in public so there is not a big restaurant or bar culture. However every one tends to hang out in whatever surf house they are staying in and chill out or party on the roof tops overlooking the surf and beautiful hot African sunsets.

Scenic excursions to Paradise Valley, Bahia Palace and traditional Moroccan markets known as Souks are a must before relaxing with sunset yoga and delicious mint teas on your terrace as the sun dips into the ocean. The coastal roads is stunning and offers views of countless surf breaks.

Best time to go: October to April if you want to escape the Northern Hemisphere chill. There are hardly any waves from May to August and the area is often very busy with non surf tourists clogging up the roads and causing traffic jams.

The Best Places to Stay in Taghazout:
---------------------------
Whilst most surfers worth their salt can rattle off some of the worlds most remote and gnarly waves, when it comes to the worlds best surf towns, well that can be a little trickier!

For the hardy surf traveler the waves are always the priority and whilst you can score some of the best waves of your life, there is often very little to do outside of surfing, which can get a little tedious, pretty quickly!

Many people looking for a surf holiday are often surprised at the amount of surf towns that offer not only world class waves, but plenty to do away from the green walls, from exquisite historical architecture, delicious food, shopping, sightseeing, energetic night-life and the list can go on!

-----

That's our top 15 best surf towns in the world, notable mentions to those that didn't make the cut: Maldives, Mentawaii and Sumatra islands (not really surf towns), Florianopolis, Byron Bay, Noosa, Montanita, Sayulita, Peniche, Salina Cruz, San Juan del Surf, Mancora, Corralejo, Bundoran, Zarautz, Tofino, Santa Cruz, Pichilemu, La Barra, Coffee Bay.

Get in touch and tell us what we are missing...