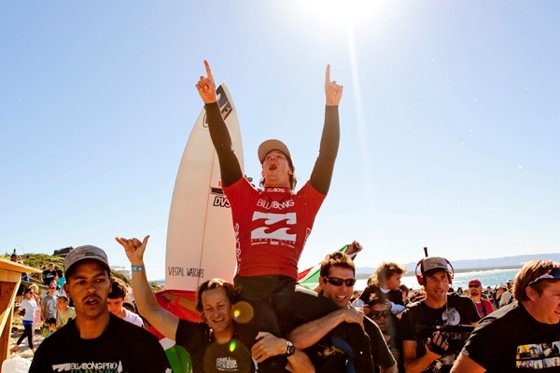 After 4 days of near perfect J-Bay waves and the best surfers in the world battling it out in heat after heat, South African Jordy Smith became the new Billabong Pro J-Bay champion on Sunday 18th July 2010.
At stop number 4 of 10, spectators at the Billabong Pro Jeffrey's Bay witnessed Jordy Smith claim his maiden elite tour win by defeating Australian Adam Melling 17.93 points to 10.00. Smith's victory sees him take the lead in the world championship race for the first time, leading Taj Burrow and Kelly Slater.
Smith had to defeat some of the best surfers in the world to take his place on the podium, including Adriano de Souza in the quarter finals, and Bede Durbidge in the Semis. Runner up Adam Melling also had one of the best contests of his life as Melling's 2nd place finish projected him up the ratings from 41st place to 19th. Melling's new position in the rankings helps him to secure his place in the remainder of this year's ASP dream tour.
So what is it that has got all the surfers vying for a high ranked position? The ASP has raised the stakes so that after the next contest, the Billabong Pro Tahiti, surfers not ranked 32 or above will no longer have their place in the ASP's elite tour guaranteed. This makes for competitive and exciting surfing, because every wave, every heat and every competition result counts.
Our European boys are looking good at the moment. Portuguese Tiago Pires from
Ericeira
, one of our most popular surf holiday destinations, managed another 9th in the contest. Pires now sits comfortably at 15th in the rankings. Joining Pires and flying the European flag was Jeremy Flores, from another superb surf holiday destination of
Capbreton
, France. Flores managed a 33rd, placing him at 24th in the rankings.
So now all eyes will be focused on the Billabong Pro Tahiti August 23rd to 3rd September 2010. In the meantime, check out the highlights from the beautiful waves of Jeffrey's Bay...