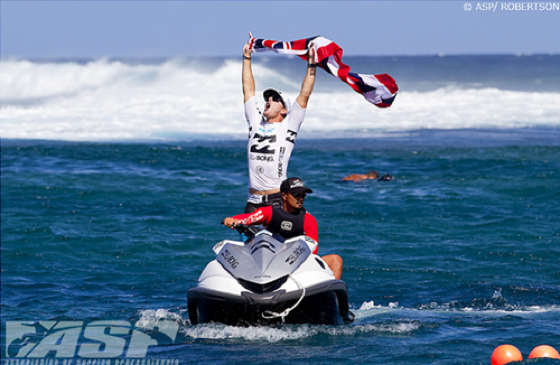 It's official world champion Andy Irons is back in the game after winning his first event of the year- the Billabong Pro Tahiti.
Those lucky enough to be in Tahiti and all the rest of us glued to our computers for the live coverage, would have seen 3 time world champion Andy Irons (HAW) reclaim his winning form last night. Irons defeated CJ Hobgood (USA) 14.67 points to Hobgood's 8.33 in the small but barreling waves of Teahupoo, Tahiti.
Almost more dramatic than the final was the lead up to Irons' winning performance. Irons had to take down 9 times world champion Kelly Slater in the semi finals, and Slater was on blazing form after achieving a perfect 10 score in his previous heat. However, it was Irons and his ability to control the crazy foam ball tubes of Teahupoo that enabled him to clinch his rise into the final, and secure for him a well deserved and waited for win.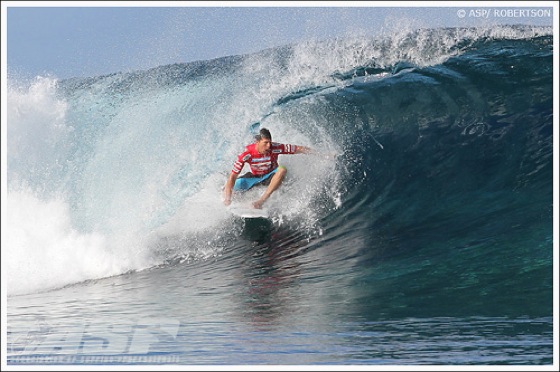 The Billabong Pro Tahiti is stop number 5 of 10 on the world tour, and has been of particularly high interest this year because of the new ASP cut off point. Normally the ASP's elite world tour consists of 45 surfers, however this is all changing with the cropping of the pack. The tour will now consist of 32 seeded surfers, with 2 wildcard entries. It's going to be quick, where next year a surfer can gain entry almost immediately to the tour by gaining enough points on the star and prime series events. This will also mean that a surfer can loose his place on the tour just as quickly. The change should bring more risk but also a lot more to gain.
This year Billabong's contest is the cut off point where unfornunately 13 surfers are dropped from the ASP's world contest events. Those that were placed below 32 on the rankings and cut were:
Kieren Perrow (AUS)
Tom Whitaker (AUS)
Dean Morrison (AUS)
Drew Courtney (AUS)

Neco Padaratz (BRA)

Tanner Gudauskas (USA)

Mick Campbell (AUS)

Kekoa Bacalso (HAW)

Jay Thompson (AUS)

Nate Yeomans (USA)

Ben Dunn (AUS)

Marco Polo (BRA)
Blake Thornton (AUS)
The European boys are still doing well. Jeremy Flores (FRA) has moved to 19th position at the close of Teahupoo as I had his best events of the year, finishing 3rd when he was defeated in the semi final by CJ Hobgood. Tiago Pires (PRT) continues to build on his rankings as he sits comfortably at 13th after also achieving his best result of the year- finishing the event with a 5th after going out in the quarter finals also to CJ Hobgood.
So now the attention turns towards the world title race and the next event at Lower Trestles, California- the Hurley Pro. Slater sits in 2nd position on 30000 points, whilst Jordy Smith (ZAF) is still leading the rankings on 30250 points. Things are heating up. So make sure you tune into Hurley's event that'll run 12 - 18 Sept 2010 at
www.hurley.com/hurleypro
In the meantime, here's what you missed if you didn't see the Billabong Pro Tahiti's final day...